More Than Half of US Wealth Belongs to Baby Boomers: Will Other Generations Catch Up?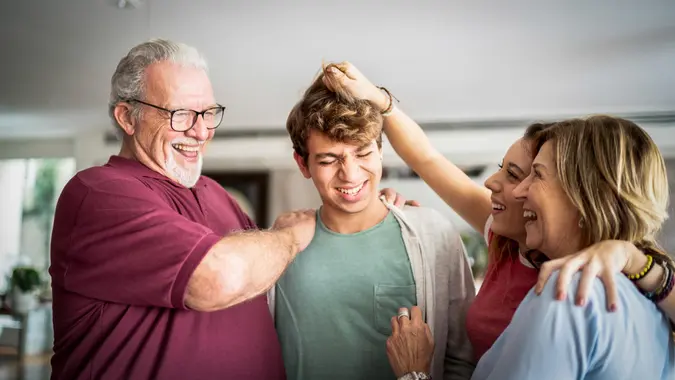 FG Trade / Getty Images
Americans have roughly $156 trillion in assets, according to Visual Capitalist, but half of that wealth — $78.1 trillion — belongs to the baby boomers. The rest is spread out across Generation X, the Silent Generation and Millennials.
Generational wealth comes in many forms, including private businesses, real estate, durable goods, equities and mutual funds, pensions and more. But with such a large percentage of all U.S. assets belonging to one generation, the question remains: Is it possible for other generations to catch up to the huge amount of wealth currently held by baby boomers?
Here's what you need to know, according to experts.
Breakdown of Wealth by Generation
The Visual Capitalist used the Federal Reserve's data from the final quarter of 2022 to provide a general breakdown of generational wealth. Here's what they found:
Baby boomers: $78.1 trillion (50%)
Generation X: $46 trillion (29.5%)
Silent Generation: $18.6 trillion (11.9%)
Millennials: $13.3 trillion (8.5%)
Generation Z: Insufficient data
The majority of all U.S. assets — $41.8 trillion — come from real estate, which is not too surprising considering how much property values have increased over the decades. After that come equities and mutual funds ($33.8 trillion), durable goods and other assets ($33.3 trillion) and pensions ($30.1 trillion). The remaining amount comes from private businesses at $17.1 trillion.
Younger Generations Could Catch Up to Boomers
With such a large disparity in wealth, it might seem unlikely that other generations will ever catch up to Boomers. But one thing to keep in mind is that the younger generations have the power of time and compounding interest on their side.
Make Your Money Work Better for You
"Baby boomers are gearing up to hand over an eye-popping sum of around $78 trillion to the next generations. And this is just the tip of the iceberg; some also have thriving businesses to transfer or sell," said Joe Camberato, CEO of National Business Capital. "What's intriguing is that newer generations might actually have the potential to surpass this. Take into account that baby boomers were born between 1946 and 1964, so they're currently in the 59 to 77 age bracket. They've been amassing this wealth over decades."
"It is possible for other generations to catch up to baby boomers in terms of how much wealth they are passing down," said Blake Whitten, financial advisor at Whitten Retirement Solutions. "However, it will be challenging. The other generations will need to start saving and investing early, make wise financial decisions and live below their means. They will also need to be patient and persistent."
The Next Generations Will Need To Implement Some Key Strategies To Catch Up
Building generational wealth takes time, but here are some ways the younger generations could catch up to baby boomers.
Take Advantage of Compounding Interest
To build as much — or more — wealth as boomers, younger generations will have to take advantage of compounding interest.
"The magic of compounding interest really kicks in after 20 to 25 years of consistent saving and investing. Essentially, millennials who start investing around age 30 might not see those substantial accumulations until they're in their 60s or beyond," said Camberato. "As wealth grows, it can feed on itself, accelerating the process. [With] the right strategies and some financial acumen, other generations have a solid shot at stepping up to the plate and setting their own impressive legacy of wealth transfer."
Make Your Money Work Better for You
Contribute to Retirement Accounts
"Workplace retirement accounts make investing and building wealth more accessible for everyday Americans," said Jordan Mangaliman, CEO of GoldLine Financial Services in Fullerton, CA. "Maximizing contributions to retirement accounts like 401(k)s, IRAs and other investment vehicles can provide tax advantages and compound growth over time."
Build Financial Literacy
A key part of building generational wealth is keeping up with the current trends and being prepared for investment opportunities that come your way. And this isn't just for you — it's for your descendants, as well.
"In a rapidly changing world, staying informed about financial trends, new investment opportunities and economic shifts is crucial for making informed decisions," said Mangaliman. "By keeping financial literacy at the forefront, families can teach younger generations about how to responsibly save, invest and manage their finances. This is crucial to keep the wealth in the family for generations to come and avoid losing what took decades to build."
Reinvest Inherited Wealth
Between now and 2045, baby boomers and the Silent Generation are expected to transfer roughly $84 trillion to their heirs. And while much of this is set to go to millennials, some of it will likely go to other generations. By reinvesting their inheritance, these heirs can continue the cycle of building wealth.
"The upcoming generations have the potential to go even further," said Camberato. "If millennials, for instance, smartly invest the wealth they inherit from baby boomers, along with their own ongoing investments, this could set the stage for a continued growth trend."
Camberato also suggested taking "any inheritance and directing it into avenues that generate more wealth, rather than splurging on luxury indulgences. It's a common tale. People often go all out on lavish items when they come into a windfall, missing out on the power of their money working for them over time. Patience is a real virtue here; it's about investing wisely now to enjoy the finer things later."
Make Your Money Work Better for You
Invest Strategically
"Investing in assets you understand through research is a key part of building generational wealth," said Mangaliman. "Assets like real estate, stocks and bonds can potentially generate returns over the long term that can be passed down to descendants. Diversifying investments and seeking professional advice can help manage risk and enhance wealth growth."
Spend Less, Save More
Another strategy younger generations can use to build wealth is to save more than they spend.
"Most families pay a fixed amount to their savings and spend the rest — which is how they afford bigger and bigger homes as they accept promotions and their pay advances. But, it's a lot more powerful, financially speaking, to save everything and fix your lifestyle costs. The reason this is so powerful is because it sidesteps the illusion of the typical 'pay yourself first' or 'set it and forget it' jargon coming from Wall Street," said Christopher Manske, CFP, president and founder at Manske Wealth Management.
"Those approaches trick people into saving a specific amount of money each month when the proper way to save is to spend a specific amount of money each month," added Manske. "Set your lifestyle and don't change it, and that way, all your bonuses, promotions and other monetary gifts coming your way will go to savings and help you to grow your net worth."
More From GOBankingRates
Make Your Money Work Better for You