The Most Expensive Handbags on the Market and What They Cost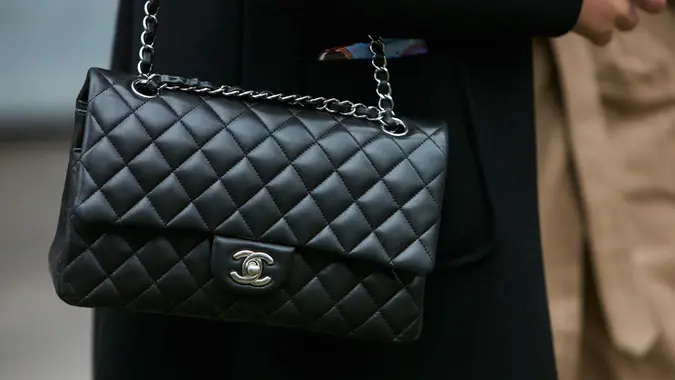 AndreaAstes / iStock.com
Much like shoes and jewelry, handbags are more than just an accessory, they're a status symbol. 
Handbags have long been a part of women's fashion, dating back to 1854, when Louis Vuitton designed one of the first women's handbag, inspired by a suitcase that could be converted into a small, wearable bag. Over the many decades since then, the handbag has been transformed from modern convenience to elite luxury item, with major designers rolling out lines of the most exclusive purses, totes and clutches. 
10 Most Expensive Handbags
What are the 10 most expensive handbags and how much do they cost? These opulent and iconic emblems range from $150,000 to $3.8 million. 
10. Blue Crocodile Hermès Birkin Handbag
Got a spare $150,000 lying around? If so, then you can possibly buy the Blue Crocodile Hermès Birkin Handbag, which sold for roughly that price at a Christie's Auction, purchased by an anonymous buyer. At the time, it was the most a handbag had ever sold for in Europe — and it was in hot demand, with thousands of online bidders vying for it. The handbag, made of crocodile skin, is a deep navy blue shade and decked out in white gold and 18-Karat diamonds.
Make Your Money Work Better for You
You may be able to find this bag — or versions of it — in the ballpark of $95,000 — but you'll have to do some deep digging. This ultra luxurious handbag is exceedingly difficult to find, even used. 
9. Hermès Exceptional Collection Shiny Rouge H Porosus Crocodile 30 cm Birkin Bag 
The Hermès Exceptional Collection Shiny Rouge H Porosus Crocodile 30 cm Birkin Bag, available in a deep crimson, also features 18-Karat white gold and diamond décor. It sold for $203,150 at Heritage Auctions in Texas to an anonymous buyer.
A used version of this bag can be found for around $32,000 in used condition. But that doesn't include the nearly $2,000 you'll pay in tax.  
8. Fuchsia Diamond-Studded Hermès Birkin 
The Fuchsia Diamond-Studded Hermès Birkin says it all the name. It's a glorious pink-hued bag that sparkles with 18-Karat white gold and brilliant diamonds. It fetched $222,000 at a Christie auction in Hong Kong in 2015. 
7. Chanel Diamond Forever Handbag  
There is only one Chanel item on this list of the priciest luxury handbags and that's the Chanel Diamond Forever Handbag. Made out of white crocodile leather and twinkling with 334 diamonds and white gold. Only 13 of these sparkling beauties were made, which is why they can get away with a price-tag of $261,000. 
Make Your Money Work Better for You
6. Niloticus Crocodile Himalaya Birkin 
Another Hermès icon is the Niloticus Crocodile Himalaya Birkin which sold at auction in Hong Kong back in 2017. Featuring 18-Karat white gold, diamond hardware and made of Nile crocodile hide, this chic gem was purchased for $379,000 by an anonymous buyer after just 15 minutes of heated bidding. 
5. Lana Marks Cleopatra Clutch 
Celebrity handbag designer Lana Marks is the creative visionary behind this crocodile clutch. Marks created the bag for Li Bingbing "China's First Lady." It sports 40-Karats of luxury black diamonds, 18-Karat gold and Li Bingbing's name name scrawled in pink gold with pink diamonds. It's valued at $400,000.  
4. Hermès Birkin Bag by Ginza Tanaka
With its Birkin Bag by Ginza Tanaka, Hermès officially crosses over the million dollar line. This piece is decked out in 2,000 diamonds and a pear-shaped 8-Karat removable centerpiece. The strap is also diamond-decked and detachable so that you can conceivably wear it — and the 8-Karat centerpiece — as separate jewelry. It sells for $1.4 million. 
3. Hermès Chaine'd Ancre Bag 
This bucket style mini-tote boasts white gold studs and 1,160 bits of diamonds. This Pierre Hardy creation has retailed for as much as $2 million in part because of its stunning architecture but also its collectible status: only three of these bags exist in the world. 
Make Your Money Work Better for You
2. Hermès Kelly Rose Gold 
Designed by Hermès along with famed jewelry and shoe designer Pierre Hardy — who also co-designed the Hermès Chaine'd Ancre Bag, Hermès Kelly Rose Gold bag is made out of solid rose gold that is molded to resemble crocodile skin. It is crusted with exactly 1,160 diamonds and can be bought for $2 million.
1. Mouawad 1001 Nights Diamond Purse  
Would you like a mansion in a nice city or own a luxury handbag instead? If it's the latter, consider the Mouawad 1001 Nights Diamond Purse. Valued at $3.8 million, the Mouawad 1001 Nights Diamond Purse was declared the most expensive handbag in the world by the Guinness World Records in 2011. The heart-shaped purse is made from 18-Karat gold and features 4,517 diamonds in various colors — along with 4,356 colorless ones. This most expensive handbag in the world was designed by high-end jewelry designer Robert Mouawad. 
Why Are Luxury Handbags So Expensive? 
The Quality: "The raw materials used to make luxury handbags are often rare or of incredibly high quality," said Emily Roberts, a marketing executive at Lux Collective. "And unlike the bags coming out of the fast fashion industry, luxury handbags are made to last. They are meticulously crafted and when cared for, can last for years."
The Prestige: "When you buy a high-end branded handbag, you're also paying for everything that brand represents, and the status that it can bring," Roberts said. "High-end brands can command a high price-tag based on the prestige they have and what that can communicate."
The Fear of Being Excluded: "Demand is so high in some cases people will stay on waitlists for years, paying the price up front until their handbag is ready for shipment," Roberts said. "Add that to the increasing popularity of one-off events and limited-edition releases, the fear-of-missing-out can allow items to command an impressive price-tag." 
The Service: "A luxury customer service experience is more than just a quality product or service with a high price-tag," Roberts said. "It's the high-end customer service that makes brands luxurious, and small businesses can achieve the same with adequate strategies."
Their Ongoing Value: "As we've covered above, unlike fast fashion, high-end fashion is built to stand the test of time. This, combined with the power of their brand — and for limited edition items their rarity — means that they can retain their value."
Is Buying An Expensive Handbag Worth It? 
Beauty is in the eye of the beholder — or in this case, the bag holder. But there is something to be said for owning an expensive handbag of your very own. For one thing, it's a great investment. 
"In the realm of fashion, a bag's value, especially those from luxury brands, never decreases and often rises," said Levon Galstyan, a personal finance expert and CPA at Oak View Law Group. "The Hermès Birkin bag is one instance. The most sought-after luxury handbag to date, this expensive purse exudes an impression of exclusivity. Hermès bags, especially the Birkin, are created in small batches, giving them the reputation of being unique and exclusive items, which raises their market price and resale value."
Jen Lawrence, MBA, CDFA, certified business and entrepreneurship coach likens luxury handbags to other investment assets such as gold and real estate.  
"They are worth it because we deem they are worth it," Lawrence said. "Yes, there is underlying value — the craftsmanship is exquisite — but the price of such bags extends far beyond it. The luxury bag market is more like the art market where tastemakers will deem certain pieces as far more valuable than others. Like the contemporary art market, there is a big marketing and PR machine behind luxury bags to convince us of their value. Is it the Emperor's New Clothes? Perhaps, but I'd argue every other asset class except for real estate and commodities is the same. A Chanel bag is "worth it" in the same way that yet-to-turn-a-profit tech stock is "worth it." It's all about perception of future value." 
Luxury Handbag FAQ
What is the most expensive handbag in the world?

The most expensive handbag in the world is the Mouawad 1001 Nights Diamond Purse. It's a handcrafted artisanal wonder that is cited in the Guinness Book of World Records as the most expensive handbag in the world.

Which luxury bag is most expensive?

Though the Mouawad 1000 Nights Diamond Purse is, at $3.8 million, the most expensive handbag in the world, it's certainly not the only exorbitantly pricey luxury bag on the market. Hermès manufacturers the second most expensive luxury bags out there, including the Hermès Kelly Rose Gold bag, which retails for $2 million.

How can you buy a luxury Hermès handbag?

"Since there is no waiting list for Hermès bags, obtaining this bag requires work, persuasion, a positive working relationship with your Hermès salesperson and a great deal of luck," Levon Galstya, a personal finance expert and CPA at Oak View Law Group said.
Information is accurate as of Oct. 12, 2022.
Editorial Note: This content is not provided by any entity covered in this article. Any opinions, analyses, reviews, ratings or recommendations expressed in this article are those of the author alone and have not been reviewed, approved or otherwise endorsed by any entity named in this article.

Our in-house research team and on-site financial experts work together to create content that's accurate, impartial, and up to date. We fact-check every single statistic, quote and fact using trusted primary resources to make sure the information we provide is correct. You can learn more about GOBankingRates' processes and standards in our editorial policy.
Make Your Money Work Better for You