10 Most Expensive Restaurants in the World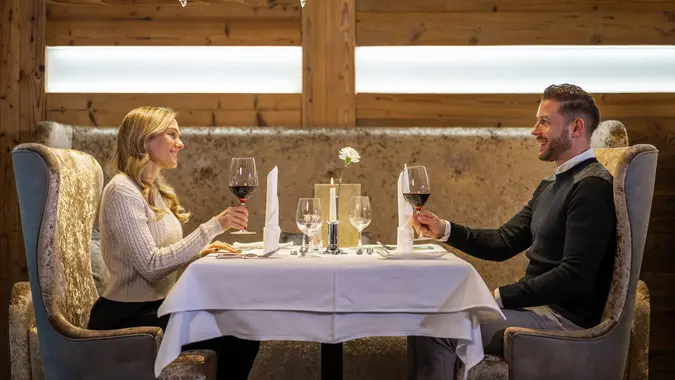 amriphoto / iStock.com
Dining at some of the world's most expensive restaurants offers guests the opportunity to receive a unique, immersive experience like no other. You are doing much more than simply eating a meal and paying the check — these restaurants deliver an experience for all the senses.
World class chefs cook using the finest ingredients. Hosts and servers anticipate your needs and give you several hours to enjoy the food. The restaurant itself is also aesthetically pleasing with sounds and scents designed as part of the overall immersive experience. If you're ready to splurge on an unforgettable outing, these are the 10 most expensive restaurants in the world. 
Ithaa Undersea | Maldives
Price: Starting at $170 for lunch and $279 for dinner
Ithaa Undersea is the world's first undersea restaurant. Guests may dine for set lunch and dinner menus, both of which showcase local flavors blended with Western influences. Enjoy panoramic coral garden views during your meal. Advanced booking is recommended for dinner reservations and the dress code for dinner is island chic.
Restaurant Le Meurice | Paris, France
Price: Starting at €287 ($315 USD)
The dining room at Restaurant Le Meurice is inspired by the Salon de la Paix in the Chateau de Versaille with stunning mirrors, crystal chandeliers and bronze, marble and frescoes. Look out the large windows and you'll see the Jardins des Tuileries.
Make Your Money Work Better for You
Scenic views aside, the menu at Restaurant Le Meurice preserves the flavor of produce until it reaches the plate with each dish expressing the truth of the product. Tables are stripped to bare essentials, allowing the guest's mind to concentrate on what is important.
Take Our Poll: Do You Think AI Will Replace Your Job?
KYOTO KITCHO Arashiyama | Kyoto, Japan
Price: Starting at $40,000 yen ($299 USD) for lunch and 50,000 yen ($373 USD) for dinner
KYOTO KITCHO Arashiyama treats diners to exquisite scenery in the surrounding hills and an exquisite dining experience using carefully selected ingredients designed to engage all five senses. If you share the purpose for your dining out, the chefs will design a meal honoring this special occasion for you.
Guests may also indulge in the Chef's Course where the finest ingredients available that day are used to make its dishes. You must make an advance reservation to dine and a reservation is required for parties of two or more.
Per Se | New York, United States
Price: Tasting menus start at $425 after tax
Per Se is Chef Thomas Keller's New York interpretation of The French Laundry. Tucked in the Deutsche Bank Center at Columbus Circle, Per See offers stunning views of Central Park and Columbus Circle. 
Make Your Money Work Better for You
There are two tasting menus offered daily. These include a nine-course chef's tasting menu and a nine-course vegetable tasting menu. No single ingredient is ever repeated throughout the meal. The wine list features more than 2,000 bottles. Those booking a reservation must pay a $200 deposit per person.
Restaurant De L'Hôtel De Ville | Crissier, Switzerland
Price: Menus start at 240 CHF ($268 USD) to 410 CHF ($458 USD)
From Chef Franck Giovannini, Restaurant De L'Hôtel De Ville crafts innovative cuisine committed to healthy ingredients in every dish. Guests dine in one of five rooms complete with different atmospheres.
Restaurant de l'Hôtel de Ville received three Michelin Stars in 2022 — yes, that's the highest rating — and guests are encouraged to make reservations.
Guy Savoy | Paris, France
Price: Set menu starts at €630 ($696 USD) excluding drinks
Fine dining is elevated to the next level at the elegant Guy Savoy. The restaurant has six dining rooms including Belles Bacchantes and Bouquinistes, which may be privatized per the guest's wishes.
The set menu is known as "Colours, Textures and Flavours" designed to serve the entire table with amuse bouche, smoked sabayon, lobster with coral and more dishes on the menu. A lunch menu consisting of eight courses is also available for €260 or $285 USD. Men are asked to wear a dinner jacket to ensure perfect harmony with the restaurant's atmosphere.
Make Your Money Work Better for You
Alchemist | Copenhagen, Denmark
Price: Menu Alchemist Experience starts at DKK 4900 ($722 USD)
Alchemist is redefining the dining experience. The restaurant has a Holistic Cuisine Manifest that guests may download from the website, with the aim of broadening the understanding of the concept of dining. 
The Alchemist experience, according to the website, includes up to 50 impressions accompanied by a beverage pairing of your choice. Guests who wish to visit Alchemist must buy tickets and sign up for the waitlist when tickets are released. Only parties of two, four and six guests are accepted. Dining at Alchemist lasts for four to six hours and guests are encouraged to bring their curiosity and presence of mind.
Masa | New York, United States
Price: $750 for Omakase, $950 Hinoki counter service
In 2022, TastingTable reported Japanese sushi-ya restaurant Masa was the most expensive restaurant in America. Opened by Chef Masayoshi "Masa" Takayama, Masa uses an Omakase approach where chefs craft meal selections using the best sushi to surprise guests.
Guests are also expected to follow specific etiquette while dining at Masa. Smartphones must be silent and photography is banned.
Ultraviolet | Shanghai, China
Price: Starting at $1,422 and up for a full tasting menu
Make Your Money Work Better for You
The Michelin Guide refers to Ultraviolet's location as "somewhere in Shanghai." Created by Chef Paul Pairet, Ultraviolet takes 10 diners on an interactive culinary journey. This includes a 20-course meal featuring unique lights, sounds and scents.
Sublimotion | Ibiza, Spain
Price: An average of $2,000 per person
Each year, Sublimotion ranks as the most expensive restaurant in the world. Sublimotion only allows 12 diners to partake in gourmet cuisine prepared by a team of 10 Michelin star chefs each night. The concept pairs cuisine with technology and staging to turn the table into a stage and its diner into a star.
More From GOBankingRates
Make Your Money Work Better for You