How Much Would Trump's Coronavirus Treatment Cost Taxpayers?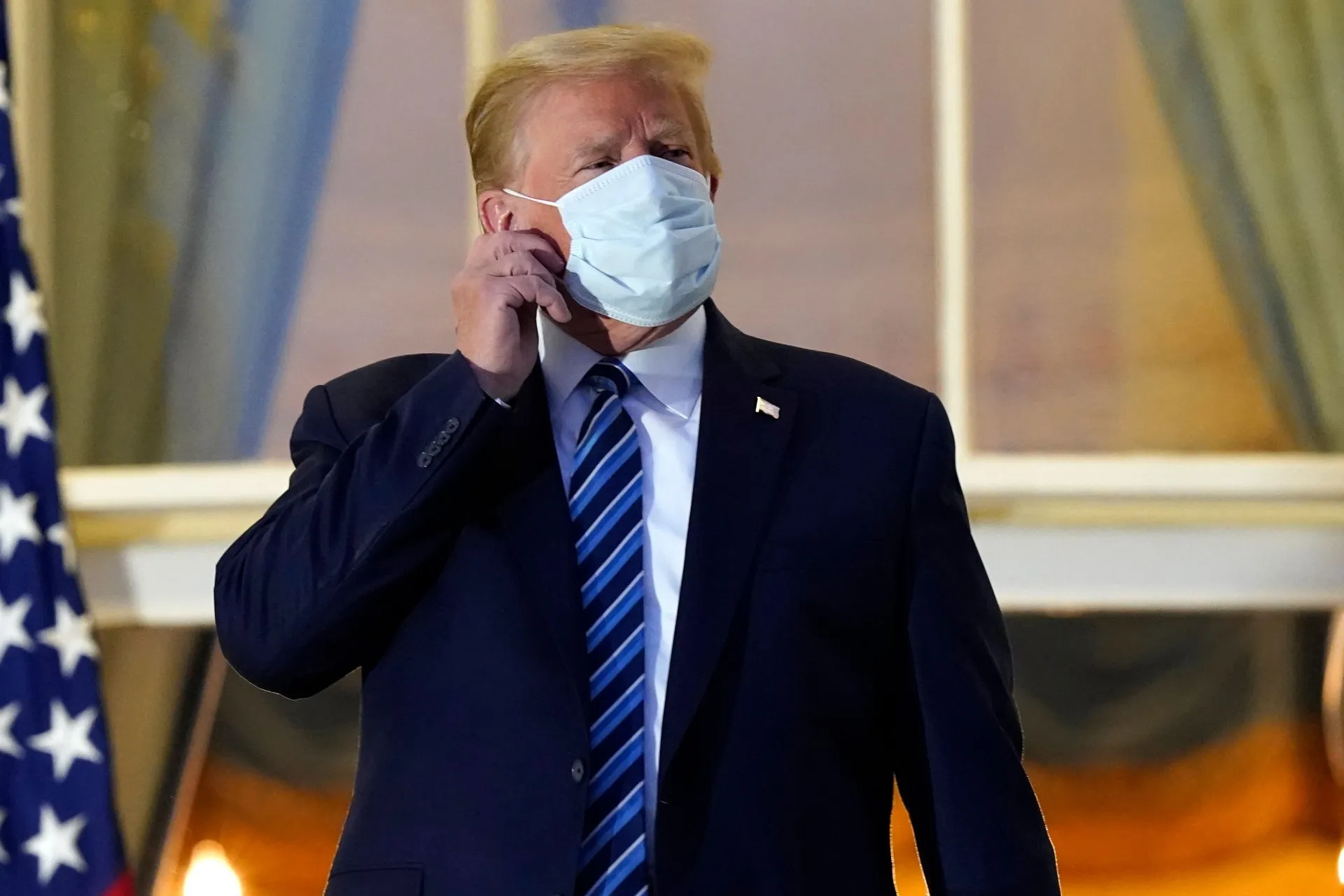 Just weeks before the 2020 presidential election, President Donald Trump announced that he — along with his wife Melania — tested positive for the coronavirus. Now, days later, President Trump has accomplished what many people who test positive do not — what seems a remarkable recovery despite temporarily concerning reports of the president's low oxygen saturation and fever within the first few days of his illness.
Trump's medical team jumped into action once they realized he tested positive. The president received an experimental coronavirus cocktail and supplemental oxygen, had a three-day stay in Walter Reed National Military Medical Center and additional treatment and has now returned to the White House.
While Trump doesn't have to worry about paying for his coronavirus treatment (the federal government does that) average American citizens do — and the cost is over $60,000. Here's a breakdown of the costs involved in Trump's coronavirus treatment.
House Call: $49 to $275
Although Trump has his own on-call doctor at the White House, the average person would have to pay for a doctor to make a house call. Heal offers house calls for a flat-fee of $159 or you can use insurance, but its providers can't test you for COVID-19. Remedy also offers house calls for $49 with insurance and $199 without insurance. DispatchHealth also provides in-home COVID-19 testing and treatment. It claims its patients pay between $5-$50 for a visit with insurance. If you don't have insurance, the visit is $275.
Initial COVID Testing: $50 to $149
Unless you're covered by Medicaid, there's no regulation of the cost of COVID-19 diagnostic tests, according to study from The Peterson Center on Healthcare and the Kaiser Family Foundation. The study found that publicly posted prices for just the COVID-19 diagnostic test (not including any other fees) range anywhere from $20 to $850, with 59% of major hospitals charging between $50-$149 per test.
That doesn't mean that you can get a COVID-19 test for free. Insurance companies are required to pay for in-network testing, so look for an in-network provider of the test if possible.
Make Your Money Work Better for You
Helicopter Transportation: $43,396
Air ambulance transportation is expensive and some insurers may not cover the costs. Plus, most medical helicopter rides are out of network, according to a research article in the journal Health Affairs from earlier this year. After the insurance covers its portion for a non-network ride, you could be left with a hefty median charge of $21,698 to pay off.
Double that median charge for a trip to the hospital and back, such as Trump received, and the average bill would be $43,396.
Cost of a Three-Day Hospital Stay: Up To $12,000
According to HealthCare.gov, the average cost of a three-day hospital stay, without insurance, is $30,000. If you have insurance, you'll end up paying 10%-40% of the total costs after your deductible. So, the average out-of-pocket cost for a three-day hospital stay with insurance would be somewhere between $3,000 and $12,000.
Experimental Antibody Treatment: $3,000 (estimated)
Trump was granted a "compassionate use" exemption to receive an experimental antibody treatment from its manufacturer Regeneron. Right now, the treatment is only available to clinical trial patients or those who are granted the exemption, which typically incurs no charge.
After the drug completes trials and is approved by the FDA, however, it won't likely be cheap. Instead, the price may be a few thousand dollars for a single dose. Monoclonal antibodies are biologic drugs that are difficult and time-consuming to create, which drives up the price. 
Steroid Treatment: Up To $18.53
Dexamethasone belongs to a class of drugs called corticosteroids. It treats inflammation of the lungs and other organs, among other conditions. Depending on the pharmacy and whether you pay with cash or insurance, prices for the drug range from $4.00 to $18.53.
Make Your Money Work Better for You
Antiviral Medication: $2,340
In an open letter, Daniel O'Day, Chairman & CEO of Gilead Sciences, stated that Remdesivir is the first antiviral treatment to result in patient improvement during COVID-19 clinical trials, which makes quite valuable. The drug has been shown to shorten the time to recovery by four days. 
Even so, the company decided to set a price well below the drug's perceived value at $390 per vial, which allows equitable access to governments of developed countries. Patients receive a 5-day treatment regimen that includes 6 vials of the drug, equaling $2,340 for each patient.
Follow-Up COVID-19 Testing: $50 to $149
Antibody Test: $128.30
While it hasn't been reported that Trump has received an antibody test, he may. Among other things, antibody tests can confirm whether your plasma is rich with antibodies. If so, you can donate your plasma to help people who are severely ill with COVID-19 recover.
Like in-network COVID-19 testing, insurers are required to cover in-network antibody testing, so you could possibly get one free if you visit an approved provider. If you do end up having to pay, the cost could be similar to what Quest Diagnostics charges: $119 for the test and a lab fee of $9.30.
More From GOBankingRates

BEFORE YOU GO
See Today's Best
Banking Offers