The Path to Generational Wealth: Start With These 2 Financial Figures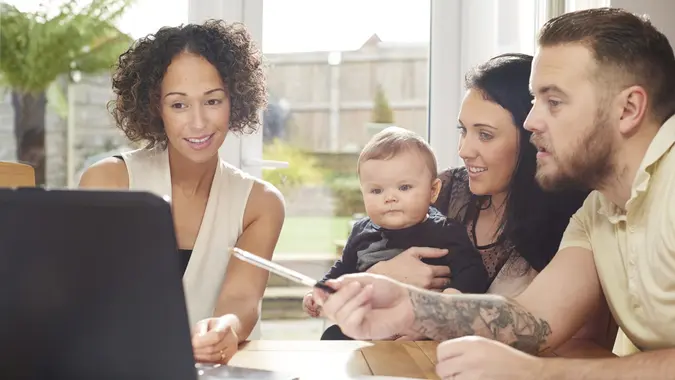 sturti / Getty Images
Having assets to pass down to your children — that they will hopefully pass down to their own kids — is of the utmost importance to many people. If you don't know how to get started though, or if you currently feel far from this goal, you're not alone.
More than half — 58% — of Americans are living paycheck to paycheck, according to a CNBC Your Money Financial Confidence Survey, conducted in partnership with Momentive. This included a third of people with household incomes greater than six figures.
However, it's never too late to make changes to your financial habits that can literally pay off. Here's how you can get going.
It All Starts With Your Income and Expenses
Three in five– 65% — of Americans don't know how much they spent last month, according to a Mint survey. Of those who are aware of their previous month's spending, 31% regret how much they spent.
Does this sound familiar? If so, it's time to find ways to increase your income, while decreasing your expenses.
"The concept of generational wealth can often be overwhelming for people, but as I remind my clients, when it comes down to it, building generational wealth is as simple as keeping a budget, and knowing where your money goes," said Jen Reid, a financial planner and founder of Base Financial Planning.
She emphasized the importance of this. "Lasting wealth comes from being really knowledgeable about your money matters and money health," she said.
Make Your Money Work Better for You
For example, she said the first step to achieving lasting wealth is simply understanding your cash flow. You'll want to figure out where all of your money is going — i.e., where you're spending it, how you're spending it, how much you're saving, how you're saving — so you know exactly what you're working with.
"That's truly the first step, and most important one to building lasting wealth," she said.
She said it's also important to look at how you're spending your money. Specifically, whether you're spending less than you're bringing in, and if not, how you can adjust your lifestyle to start building wealth.
"The most impactful method of increasing your wealth is by finding ways to save and invest that money into other money making vehicles," she said. "This way, your wealth can continue to make money even if you are not around to make it — hence the generational wealth."
For example, she said investments like the stock market, real estate and setting up other businesses can serve as a good vehicle for your money.
"As fancy as people would like to get with budgets, it can be overwhelming," she said. "Start simple and just track where your money is going, and what you are bringing in, because the most important part about building lasting wealth is being open and honest about your financial situation."
Make Your Money Work Better for You
You Can Only Accomplish What You Prioritize
Robert R. Johnson, PhD, CFA, CAIA, a finance professor at Heider College of Business, Creighton University, further emphasized the importance of budgeting. "Specifically, one should not simply budget and track expenses, but one should budget for savings," he said.
If you truly want to make savings a priority, he said it cannot just be any leftover money you have at the end of the month. "It should be a line item on your budget," he said. "You don't successfully build wealth by simply taking what you have left after all your expenses."
He said you'll accomplish what you prioritize, so make saving money a priority and invest your savings.
"Every investor with a long time horizon should hold a diversified portfolio of common stocks," he said. "The surest way to build true long-term wealth for retirement is to invest in the stock market."
Ultimately, income and expenses are the key to generational wealth. If you're not already saving a lot more than you're spending, it's time to make some major changes.
Finding ways to increase your income — i.e., taking on a side gig, asking for a raise, renting out a room in your home — while lowering your expenses will leave you with more money to put aside each month.
Creating a simple budget is the first step toward mastering your finances, so if you don't already have one, it's time to change that. Giving yourself a clear picture of the money you have coming in and out will provide you with a sense of clarity.
Make Your Money Work Better for You
Making these changes might be a challenging adjustment at first, but they'll soon become routine. Not only that — you'll be filled with satisfaction in knowing you're working toward giving your family the kind of lasting financial security you've maybe never had.
More From GOBankingRates