Rich Millennials Are Choosing Electric Cars Over Luxury: Why EVs Are the New Status Symbol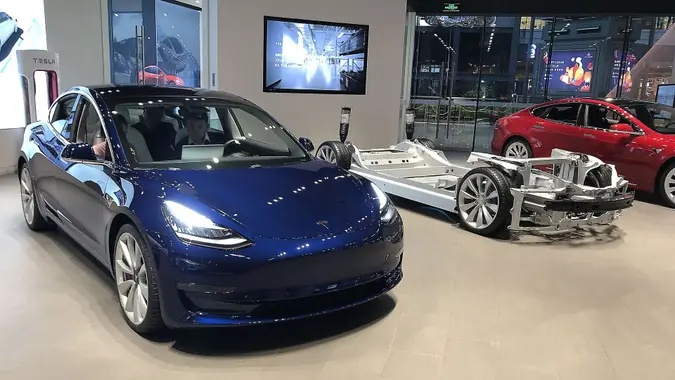 Stephen Shaver/UPI/Shutterstock / Stephen Shaver/UPI/Shutterstock
Go to any affluent neighborhood in Silicon Valley, California, and you may not be surprised to see this: white Teslas on every block. Within the last handful of years, there has been recent upward trend of electric vehicles being seen as the next hot commodity, especially with popular automotive brands like Toyota and Chevrolet rolling out EV models.
According to a June J.D. Power Survey, 37% of Gen Y consumers were "highly likely" to purchase an EV as their next vehicle, while 72% expressed interesting in electric vehicle purchase. This begs the question — why are millennials so into electric vehicles?
Why Are EVs Status Symbols?
The price tag of an EV is on of the most significant draws to millennials who are enamored with power and status. The average price of an EV is $61,000, according to a study by Consumer Reports. The average price of a gas-powered vehicle is $49,000.
Purchasing an EV in order to display wealth is especially prevalent in cities, where there is a vast network of charging stations.
Though less-populated areas are starting to get connected to the EV network, for the most part, EV owners are concentrated in big cities — which are typically high cost-of-living areas.
Make Your Money Work Better for You
Benefits of Buying an EV
Alongside purchasing an EV to showcase wealth, many people are buying electric vehicles simply because their lifestyle accommodates it.
Those who are wealthy enough to afford an EV are likely to own a home. Owning a home means that EV owners have the ability to install an EV charger on their property. This convenience is what drives many car owners to purchase an EV, as those who own an electric vehicle will inevitably save money on gas by charging their cars overnight at home. This differs from those who may rent an apartment, who may not be able to install an EV charging station.
Charging overnight is generally acknowledged as the most cost-efficient and convenient way to charge an EV, as those who go to a charging station have to wait while their EV charges — and must pay additional costs to use the service.
EVs Still Cost More, and Are Perceived As Classy Cars
EVs have most likely developed into a status symbol because of their high base costs. As of now, EVs are the more expensive option versus a gas-powered vehicle (at least in terms of initial costs). These cars are generally acknowledged as a type of vehicle owned by the upper class. Millennials are interested in EVs because they see that it is a cost-efficient way to get around, as well as a way to demonstrate affluence and higher status.
More From GOBankingRates
Make Your Money Work Better for You