'Shark Tank' Star Daymond John: 5 Steps To Becoming a Millionaire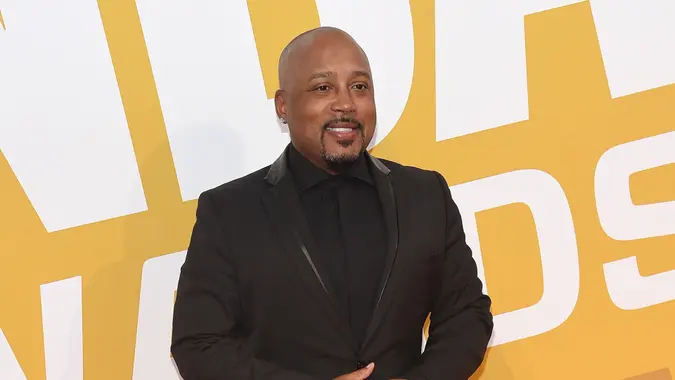 Jamie McCarthy / Getty Images
Daymond John has an estimated net worth of $350 million — but that's not what earned him a place on the GOBankingRates 100 Most Influential Money Experts list.
A self-made man, John turned a $40 budget into FUBU, a fashion juggernaut worth $6 billion. He leveraged his business success as a springboard to fame and now enjoys the spotlight as a "Shark Tank" shark, motivational speaker and New York Times bestselling author.
If anyone has advice worth listening to about how to make it rich, it's Daymond John. Luckily for aspiring millionaires, he's outlined a five-step process for joining the two-comma club.
1. Set Goals but Let Them Evolve
Like so many ambitious teenagers, Daymond John dreamed of being rich, and at 16 he set a goal to become a millionaire by 30.
At 22, he found himself buying and selling cars to scrape by. He still had two numbers in his mind — $1 million and 30 years old — but they were just abstract ideas.
"I didn't know how to properly execute goal-setting," John told CNBC. "It's not just visualizing of a number or a certain age."
Then he came up with the idea for FUBU and amended his goal to replace money with passion. Instead of becoming a millionaire by 30, he now aspired to design a clothing line that represented the hip-hop community that he loved. 
Make Your Money Work Better for You
He said in the interview, "My goal became doing the best I can for the company I love. The goal changed to my dedication: I want to dress people and enrich their lives, and in return, I will hopefully be compensated."
And compensated, he was.
2. Master the Business Fundamentals That Can Make Your Passion Pay
John thought he'd struck gold when he secured $300,000 worth of orders after sneaking into a menswear conference in Las Vegas, which prompted his mother to take out a $100,000 loan against her home equity to support his venture.
The problem was that John's talent outpaced his knowledge of how to run a clothing line, analyze the market, assess competitors or bring products to stores. Mistakes were made and his mother almost lost her house — and today, John won't fund entrepreneurs who haven't done their homework no matter the potential of their ideas.
He told CNBC, "I have to see sales and some proof of concept, and what they learned when they sold 100 units so they can come back and sell 1,000 units. I need to see somebody at some level where their idea isn't just a theory, because if it's only a theory, then you're using my money as tuition."
3. Focus on Doing What You Love as Well as You Can
John credits his success to his undying passion for clothing and hip-hop. He believes that if you pursue a high-paying career instead of putting everything into your passion, you'll run out of steam before you get rich.
"Do what you love, and success will follow," John told CNBC. "Money may follow; I can't promise that it will. But money's more likely to follow when you're doing something you love, because you'll do it for 10 years or 20 years."
Make Your Money Work Better for You
4. Your Business Isn't an ATM Machine — It's Your Brand
Your company might turn into a cash cow, but if you're in it only to get rich, that lack of authenticity will shine through and define not only your business but your personal brand.
John told CNBC, "Be very honest with yourself, especially today with social media. At any given time, your employees can see you. So you have to know what the DNA of the brand is. It only takes your employees two weeks to treat your customers the same way they're being treated."
5. Keep Going and Keep Growing
Brands come and go when they ride fads, but they become institutions when they evolve with the culture without losing sight of their roots. But the real key is having the grit to fight through the hard times that every self-made millionaire has endured.
"I always said fashion brands are hot for five years and then they're gone," John told CNBC. "You have to be relentless, nimble, moving ever forward. No matter what."
More From GOBankingRates