8 Signs You've Jumped From Middle Class to Wealthy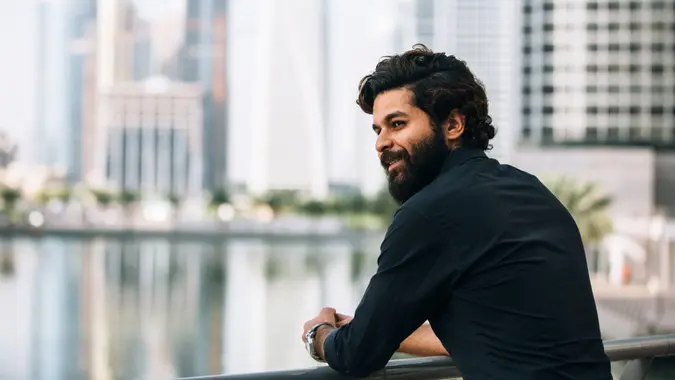 filadendron / Getty Images
The middle class has been steadily shrinking since 1971. According to the Pew Research Center, however, roughly 50% of Americans still fell into this category in 2021.
While defining each class is tricky, there are several clear indicators separating the middle class from the truly wealthy. Perhaps the most obvious sign is the amount of income or net worth an individual has gained. But there are other, lesser-known signs as well.
Here are the main indicators that you've made the jump to the upper class.
1. You Have Multiple Income Streams
If you have more than one income stream, it could be a sign that you're either approaching the upper class or have already gotten there. Your sources of income can include that earned from your regular job, but they should also include other types of income.
"You might have rental income, dividends from investments, or profits from a side business supplementing your regular job earnings," said Jeff Rose, CFP and founder of Good Financial Cents.
If you're looking for ways to become wealthy, diversify your income. "Don't rely solely on your day job," said Rose. "Look into creating multiple streams of income, like starting a side hustle, investing in real estate, or putting money into stocks."
2. You've Invested in Long-term Assets
Many people in the middle class have a home, but they also have a mortgage or other debts. If you no longer have debt, or if you've been investing in and gaining assets — especially ones that consistently add to your income — you may very well have left the middle class.
Make Your Money Work Better for You
"As a middle class [individual], you likely have a stable income that affords a comfortable lifestyle but doesn't leave ample surplus for major investments. Homeownership may be your largest investment, but your home value isn't expensive," said Matthew Stratman, President of United Tax AI. "To transition to true wealth, your net worth needs to grow substantially, perhaps into the millions, largely from assets and investments that generate passive income."
3. Your Net Worth Is Above $2 Million
Defining wealth isn't all about how much money you earn, though that's definitely a vital part of determining your own financial situation.
"Wealth can be described as a number or value for some; for others, it's defined as financial freedom, so that may mean that number can vary based on living needs," said Brian Dudley, CFP, SVP, financial advisor at Wealth Enhancement Group. "National averages for incomes can depend upon your relationship and dependent status."
"For example, a single earner may be defined as middle class with a $100,000 position in some parts of the country," Dudley added. "However, a $100,000 earner in NYC vs. a $100,000 earner in a rural town in another part of the country are most likely living very different lifestyles based on the cost of living."
Dudley noted that certain criteria typically need to be met to be considered wealthy.
"To be wealthy, one needs to have assets that can withstand a long-term level of living without compromising themselves financially," Dudley said. "This can't be defined by a general number, in my opinion. However, there are studies that try to put a number to that question. In Schwab's 2023 Modern Wealth Survey, people believe it takes an average net worth of $2.2M to be considered wealthy."
Make Your Money Work Better for You
4. You've Built Something Lucrative
If you've created something that consistently generates money, such as a business, it could also be a sign that you're no longer middle class.
"To accumulate wealth, you must build on something," said Dudley. "That something could be putting money into savings and investments such as stocks or real estate or investing into your growing business, etc… That growth needs to be consistent, as well."
5. You Have a Team to Help You
People who are truly wealthy often have a team of like-minded people around them. Beyond that, they also often have a team of professionals who can help them maintain and grow their wealth. They also usually invest in their own financial education.
"Continuously educate yourself about finance, investing, and tax minimization strategies, as the wealthy often focus heavily on reducing tax liabilities over time to enable greater wealth accumulation," said Stratman. "Surround yourself with financially-successful individuals you can learn from. Seek professional financial, accounting, and legal advice to optimize your strategies and reduce taxes as much as possible — maximizing investment opportunities and minimizing tax burdens over decades can have an immense impact on wealth building."
6. Your Mindset Has Shifted
Another key sign is that you've experienced a significant lifestyle and mindset change — in a good way. This one's a bit broad, so you'll need to consider your overall views and financial situations to determine how well it applies to you.
Make Your Money Work Better for You
Wealthy people "have a wealthy mindset," said Kelly Ann Winget, private equity powerhouse, alternative investments expert, and founder of Alternative Wealth Partners (AWP). "The shift in priorities around your money will lead to even more opportunity and wealth creation. There is a reason why wealth stays in its own circle, and it is because their priorities are the same… It is more collaborative and lifting instead of competitive and ladder climbing."
If you're trying to become wealthy but haven't succeeded yet, you might need to start with a mindset shift.
"What this means is to adjust one's limiting beliefs around money and expand one's mind to possibilities," said Sebastian Jania, owner of Ontario Property Buyers.
7. You Value Money and Time Differently
Along with having greater financial confidence, you also view both money and time a little differently from before. When you're wealthy, you "plan your time differently, meaning your focus shifts from relentless work to more relaxation and exploration," said Winget. "Time becomes more valuable than dollars per hour or annual income."
You might also have started focusing on maintaining your financial situation as you've already reached a point where you feel comfortable and confident. And you might be giving back to society, such as in the form of charitable donations, added Winget.
8. You're Able To Take More Time Off
People in the middle class tend to have to ask for permission to take off time, or they have a limited number of hours or days they can request, noted Jania.
Make Your Money Work Better for You
"When you're able to take time off without worrying about your finances or getting permission, that's also a sign that you've made the leap," he said.
Similarly, if you're earning money passively, that's another sign. People who are wealthy "are able to make money while they sleep and they could choose not to work another day and would have various income streams pay for their life," added Jania.
More From GOBankingRates