The Most Expensive Versions of 8 Popular Food and Drinks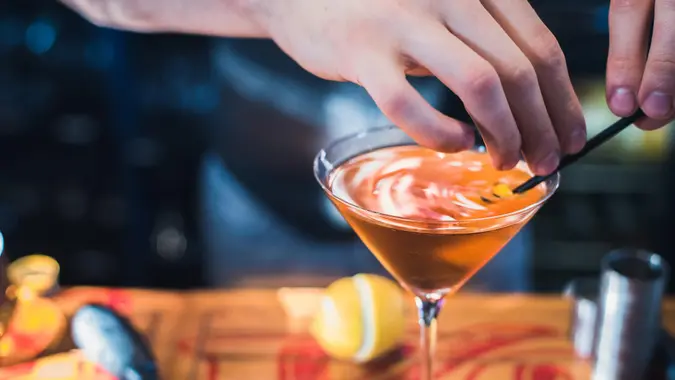 Tristram Godfrey / Shutterstock.com
Maybe you're craving a really great steak. Or a burger. Or a big salad with a martini on the side. But you don't have any steak — or anything in the fridge, for that matter — and the thought of a grocery run is unappetizing. A local restaurant it is for dinner.
Explore: Your Biggest Money Etiquette Questions Answered 
See Why: This Credit Score Mistake Could Be Costing Millions of Americans
Many restaurants and chefs today have cooked up a variety of creative variations of standard food and drinks. In some cases, they've taken the foods we enjoy every day to a new taste — and price — level. How much would you pay for a sandwich? Or a pizza?
You'll never balk at your restaurant check again after you see some of these most expensive prices in the world. Read on to find out the outrageous prices of 10 menu items and cocktails and restaurants around the globe.
Hamburger: The Golden Boy
You can spend $6 on a Big Mac at the Golden Arches or, if you're in the Netherlands, stop in at De Daltons and try The Golden Boy. The restaurant in Voorthuizen takes the burger to a whole new level. It's made with 100% wagyu A5 meat and includes king crab, beluga caviar, an onion ring battered in Dom Pérignon, English cheddar, white truffle and barbecue sauce created from Macallan Scotch whiskey and Kopi Luwak coffee. The hamburger bun has a touch of Dom Pérignon in the dough, too, and it's topped with gold leaf.
Make Your Money Work Better for You
Cost: About $5,000. If you want The Golden Boy, you'll need to order at least two weeks in advance and place a deposit of about $750.
Take Our Poll: How Do You Typically Split the Restaurant Bill?
The Diamonds Are Forever Martini
In Tokyo, take in the view of the city skyline from the 45th floor of The Ritz-Carlton. There, you'll find The Bar, which serves a variety of signature cocktails and offers sake tastings. We're fairly certain it's the only place in the city where you can order a martini and get a one-carat diamond with it. Just ask your server for The Diamonds are Forever Martini, which Travel + Leisure says is made with Absolut Elyx vodka and a touch of fresh lime juice. Your choice of shaken or stirred.
Cost: Travel + Leisure reports it's priced at about $19,000, making it the world's most expensive cocktail.
Ono Champagne Cocktail
Maybe diamonds aren't your bling of choice. In Las Vegas, you can indulge in what Travel + Leisure lists as the second most expensive cocktail in the world: the Ono Champagne Cocktail at the XS Nightclub in the Encore Hotel at Wynn. It's made with Charles Heidsieck Champagne Charlie 1981 and Remy Martin Louis XIII Black Pearl cognac, and it's served with an 18-karat gold necklace with a black pearl and diamond along with gold cufflinks.
Make Your Money Work Better for You
Cost: $10,000, according to Travel + Leisure.
Barclay Prime Cheesesteak
Barclay Prime, a boutique steakhouse in Philadelphia, has put a twist on the traditional Philly cheesesteak. The Barclay Prime Cheesesteak is made from wagyu ribeye and topped with foie gras, onions and truffled cheese whiz and served on a fresh sesame roll. You'll get a half-bottle of champagne, too.
Cost: $140.
Wagyu Steak
At the Bellagio in Las Vegas, four-star celebrity chef Jean-Georges Vongerichten has a variety of steaks on the menu at the Prime Steakhouse. If you're in the mood to splurge, try the 12-ounce wagyu steak. Imported from Japan, the steak is topped with your choice of soy rice wine, peppercorn or bearnaise sauce.
Cost: 12-ounce, $720; 9-ounce, $540; or 6-ounce, $360. If you want a baked potato on the side, that's another $20.
Caterpillar Fungus Soup
So, the Caterpillar Fungus Soup at the Royal China Club in London really doesn't contain caterpillars. The LoveFood website says the soup got its name because it contains a rare herb, cordyceps fungus, also called caterpillar fungus. The broth is created with the herb, simmered for eight hours, and the soup also contains wild duck.
Make Your Money Work Better for You
Cost: About $600, but it serves four. You'll need to order in advance.
McCarthy Salad
The Beverly Hills Hotel, a landmark that has hosted the rich and famous, opened in 1912, and its Polo Lounge followed in the 1930s — named for the polo fields that formerly occupied the land. As the hotel marks its 110th anniversary, the Polo Lounge unveiled its special McCarthy Salad, named for a frequent 1940s visitor, polo player Neil McCarthy. The salad is served in a French porcelain commemorative bowl — yours to keep — and includes fresh lobster and caviar topped with gold leaf. A bottle of Dom Pérignon comes with it, of course.
Cost: $1,912 in honor of the hotel's first year.
Pizza: C6
At the Steveston Pizza Co. in Richmond, British Columbia, you might want to order a basic cheese pizza or one topped with pepperoni, priced at $18 and $21 in Canadian dollars. Or, you can upgrade to the C6, which is topped with tiger prawns, lobster ratatouille, caviar, smoked steelhead and Italian white truffles.
Cost: $850 ($645 USD).
More From GOBankingRates
Make Your Money Work Better for You