10 Most Expensive Steaks in the World and What They Cost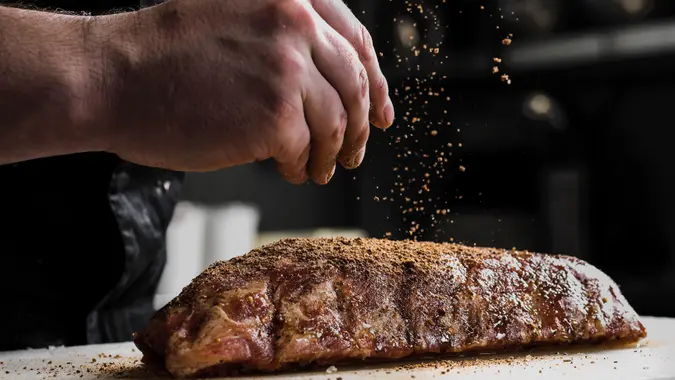 Mikhail Spaskov / Getty Images/iStockphoto
The average price of beef — along with other meats, poultry, fish and eggs — went up 0.4% between August and September, and has increased by 9% since last year, based on data from the September 2022 Consumer Price Index report.
For many consumers, buying a basic sirloin or even chuck steak for stew could be out of their budget. But if money is no object, you may want to consider splurging on the most expensive steak in the world: a $1,000 Japanese A5 Wagyu tomahawk called the Papi Steak, served at the restaurant Aragawa in Tokyo, Japan. But what makes some steaks so expensive?
What Is the Highest Quality Steak in the World?
Not surprisingly, the most expensive meat in the world — the Kobe beef A5 Wagyu Tomahawk — is also the highest quality of beef.
Only a specific type of cattle from a certain region of Japan are selected to make Kobe beef, according to Ventured. Kobe beef comes from the Hyogo prefecture region and, of the cows in that area, only a select number are chosen as A5 Wagyu beef. Roughly 1,000 cows make up all the Kobe beef available in the world in any given year. Kobe beef comes from certified Japanese Black cattle. The beef gets its name from the nearby city of Kobe.
What Is Wagyu A5 Beef?
The Wagyu A5 designation is a quality rating given to Japanese beef — Wagyu literally translates into "Japanese cow." Like USDA Prime cuts of beef represent the highest quality of beef in the U.S., A5 is the highest rating given to Japanese beef.
Make Your Money Work Better for You
The letter "A" stands for the yield while the number 5 refers to the quality, marbling, and other traits of the beef. The beef must have a marbling score of at least 8 out of 12 to earn the A5 designation. By contrast, American USDA Prime beef requires only a marbling score of 4.
Don't Be Confused by American Kobe Beef
If you see Kobe beef for lower prices in U.S. grocery stores, you are likely purchasing beef from a cow that has only a small percentage of Wagyu in its bloodline. That doesn't mean these steaks aren't high quality, but they probably will not compare in taste, tenderness or marbling to genuine A5 Wagyu Kobe beef.
Most Expensive Steaks in the World
You'll notice that most of the steaks on this list of the world's most expensive steaks bear an A5 rating. Here are the 10 most expensive steaks in the world.
10. Hokkaido Wagyu Ribeye or Strip Steak (13 oz. to 15 oz.) — $189
Tokachi Farms makes our list with its beef raised in the Hokkaido region of Japan, near the active volcano Mount Tokachi. The cattle feed on the fertile grass beside the volcano, and this diet gives the meat a rich flavor that compares to the other beef on this list, albeit at a slightly lower price.
9. Omi Beef Filet (8 oz.) or Ribeye (13 oz.) — $199
Omi is renowned in Japan as one of the top three regions for raising cattle, along with Kobe and Matsuzaka. First introduced to Japanese tables 400 years ago, the beef has a buttery texture thanks to generous marbling.
Make Your Money Work Better for You
8. Hida Japanese A5 Wagyu Filet Mignon (8 oz.) — $199
Hida Wagyu is raised in the Gifu prefecture of Japan to an age of at least 14 months. It does not come from pure Black Japanese cattle but, instead, cows crossbred with European cattle in the 1800s. That does not detract from its flavor, but it does make it slightly more affordable than pure Japanese Black wagyu. The pure spring water they drink results in a tender and flavorful cut of beef.
7. Hitachi-Gyu Ribeye (14 oz.), Filet (8 oz.), Strip (14 oz.) — $249+
Holy Grail Steak Co. also sells a Hitachi-Gyu steak from cattle raised in the Ibaraki Prefecture of Japan. Due to the intense marbling, the ribeye also has an intense flavor. A little goes a long way. With so much fat on this beef, you may only eat about 2 oz. in one sitting.
6. Sendai Japanese A5 Wagyu Beef Ribeye (14 oz.) — $249
Kobe isn't the only city in Japan that raises quality cattle. The Miyagi prefecture of Japan raises Black cows whose meat qualifies for the A5 Wagyu rating. These cattle feast on a diet of rice stalks and barley grain, producing a generous marbling that delivers intense flavor and creates its own marinade as it cooks.
5. Matsuzaka Sirloin (16 oz.) — $225
Alongside Kobe, the Matsuzaka region in the Mie prefecture of Japan is known to produce some of the best cattle for beef. The cows are slaughtered before breeding, according to Expert World Travel, and the virgin meat is high in fat with generous marbling that leads to a tender and flavorful cut of steak.
Make Your Money Work Better for You
4. Maezawa Filet (8 oz.) or Ribeye (14 oz.) — $269
Ogata Farms in the northeast prefecture of Iwata, Japan, produces Maezawa beef. Cattle are raised in a stress-free environment on a diet of beer, whiskey and soy. The farm never uses hormones and allows the cows to sleep as much as they wish. These living conditions yields a tender, flavorful beef that earns the A5 Wagyu rating.
The nutritious diet is believed to give the steak a delicately sweet flavor. Holy Grail Steak Co. offers an 8 oz. filet mignon or a 14 oz. ribeye or strip steak for $269.
3. Kobe Strip Steak (15 oz.) — $349
Not everyone likes excessive marbling in their steak. In that case, a strip steak is the better choice. And a Kobe A5 Wagyu Strip is still going to have enough marbling to make it tender and flavorful. A strip, however, has more of a chewy texture than the buttery soft feel of a ribeye. A strip steak is harvested from the rear of the rib cage, while a rib eye comes from the upper ribs.
2. Kobe Ribeye (15 oz.) — $349
If the Wagyu A5 Tomahawk seems too pricey — or simply too much beef for your appetite — you can choose a Kobe ribeye. Best of all, you can even find this steak in the U.S. through online distributors like Holy Grail Steak Co.
The ribeye is a smaller cut of beef than a Tomahawk steak, running between 13 oz. and 15 oz. It may contain part of the rib bone, or it can be separated from the rib and cut to make a slightly thinner cut of beef.
1. Japanese A5 Wagyu Tomahawk (up to 30 oz.) — $1,000
The Japanese A5 Wagyu Tomahawk is served at Aragawa in Tokyo and goes for $1,000 on the menu. You can get a meal there for as little as $440 per person, but it won't include this Kobe Beef Wagyu specialty.
Make Your Money Work Better for You
You can also find other high quality Kobe beef A5 Wagyu's, but they won't be the size of this one. As a Tomahawk steak, the $1,000 steak is typically 2 inches thick and runs between 30 and 45 ounces. It is cut from the rib and usually has intense marbling that gives it a lot of flavor and makes for a tender cut of meat.
Unlike a bone-in ribeye or a "Cowboy cut" ribeye, the Tomahawk steak leaves on a sizeable length of rib-bone, which is cut clean of fat and meat. The distinctive look of a Tomahawk will make you feel like Fred Flintstone when your meal reaches your table. Or perhaps you'll feel more like Elon Musk or Warren Buffett dining on this pricey piece of beef.
Final Take
If you are looking for the tastiest, most tender cuts of meat, you may not have to travel to Japan. Just make sure you are ordering genuine Kobe beef, and not American Kobe beef, if you are seeking a true A5 Wagyu cut.
FAQ
Is there a $1,000 steak?

Yes

–

the Papi Steak at Aragawa restaurant in Tokyo sells for $1,000.

What is the highest quality steak in the world?

Japan is known for producing the highest quality of beef. Steak with an A5 Wagyu rating is hailed as the best in the world, with excellent marbling and intense flavor.

What is the most expensive meat?

Japanese A5 Wagyu beef is the most expensive in the world.

What's the most expensive steak in the US?

Many of the most expensive steaks in the U.S. are actually imported from Japan and feature Wagyu beef. Prime Steakhouse at the Bellagio in Las Vegas offers A5-certified Kobe beef for $360 for 8 oz. or $720 for 12 oz., according to Food Network.
As far as steaks from cattle bred in the U.S., you'll find some of the best, and priciest, Texas beef at Knife in Dallas. The 32 oz. bone-in ribeye, dry aged for 45 days, sells for $165, putting it on the list for most expensive steaks in the U.S., but not in the world.
Make Your Money Work Better for You
Our in-house research team and on-site financial experts work together to create content that's accurate, impartial, and up to date. We fact-check every single statistic, quote and fact using trusted primary resources to make sure the information we provide is correct. You can learn more about GOBankingRates' processes and standards in our editorial policy.