These Are the Cheapest Billionaires in the World Right Now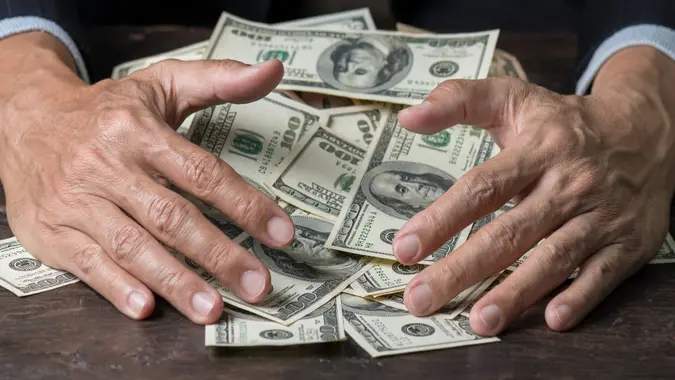 cherrybeans / iStock.com
The ultra-affluent come in a few different varieties. They can be ostentatious, leading decadent lifestyles that evoke envy and sometimes ridicule. But perhaps the most surprising variety of billionaire are those who defy this affluent archetype: the frugal billionaires, whose financial habits are a study in contradiction. They may not live like the rest of us, but they avoid lavish spending on private islands and mega yachts.
Warren Buffett
According to Bloomberg, Warren Buffett is the 6th richest man in the world. His net worth is valued at a staggering $121 billion. But the chairman and CEO of Berkshire Hathaway still lives in Omaha, Nebraska, in the home he bought in the 1950s for $31,000. Buffett's dietary preferences are cheap and easy to find: Coca-Cola and Potato Stix are a favorite breakfast.
Buffett's frugal spending habits extend to major life events, as well. His second marriage to Astrid Menks was a simple affair, which took place at his daughter's house.
Carlos Slim Helú
Next, meet Carlos Slim Helú. Born in Mexico City, Slim was once the richest man in the world. Today he sits comfortably at No. 12, with a net worth is $86.2 billion, according to the Bloomberg Billionaires Index.
This Mexican telecom magnate, like Buffett, has lived in the same house for decades and doesn't bother with yachts and private planes. According to Slim's own website, his father, Don Julián, taught his children how to save and manage their income (weekly allowances) and expenses. Young Carlos learned early that investment and savings were important. In fact, he was only 12 years old when he opened his first checking account and invested in shares of Banco Nacional de México.
Make Your Money Work Better for You
Jim Walton
Step into the world of Jim Walton. Walton is No. 15 on the Bloomberg Billionaire Index — his siblings, Rob and Alice Walton, are numbers 16 and 17. The youngest son of Sam Walton, Jim inherited a fortune from his father. He sat on the board of Walmart until 2016, before giving his seat to his son. He is chairman of the Walton family's bank, Arvest, which holds $20 billion in assets.
Sam Walton was a Depression-era kid, and Jim's spending habits reflect his father's. While his eldest brother, Rob, loves to collect expensive vintage cars, Jim drives an old Dodge Dakota. 
Azim Premji
Bloomberg places the Indian tech magnate Azim Premji's net worth at $24 billion. This ranks him at No. 60 in the world today. Premji was diligently studying at Stanford when his father died. He dropped out and returned home to India to take over his family's cooking oil business. Over time, Premji expanded the business into software and became the chairman of Wipro Limited. His son became chairman in 2019, and Premji Senior is now founder-chairman.
This billionaire is so frugal that he monitors the number of toilet paper rolls used in Wipro offices and reminds employees to turn off the lights when they are leaving a room. According to the Economic Times of India, Premji flies economy, prefers to stay in his company's guest house when traveling, and eats from his company's cafeteria, like any other employee.
Charlie Ergen
Charlie Ergen is the cofounder and chairman of television provider Dish Network and EchoStar, a satellite communications company. Ergen started out in the 1980s selling satellite dishes out of the back of his truck. While his net worth seems small compared to other billionaires — at a mere $2 billion, according to Forbes — there's no doubt the man breathes rarified air. In fact, during the COVID-19 pandemic, when many businesses were going under, AP reported that Ergen's net worth grew by 98%, making him the richest man in his native Colorado.
Make Your Money Work Better for You
Despite his wealth, Ergen is known to pack a brown-bag lunch every day, share hotel rooms with colleagues while on business, and keep tight financial control over business expenses, typically signing company checks himself. While this level of micromanagement might slow some aspects of the business, it gives Ergen a close-up view of the day-to-day workings of his company, and that's time well spent.
Takeaway
Being a frugal billionaire is not the same as being a single mother of two on a budget. But for these billionaires, their wealth does not define them. Their frugality may be linked to a broader philosophy of utility and sustainability — luxury items don't carry the same value as reinvesting in their business or contributing to charitable causes.
For example, Warren Buffett and Bill Gates — No. 4 on the Bloomberg Billionaires Index — co-founded The Giving Pledge, which encourages the world's wealthiest to commit to giving away at least half their fortunes. Azim Premji was awarded the Carnegie Medal of Philanthropy in 2017, an honor given to those who do "real and permanent good," according to Carnegie's Medal of Philanthropy website.
What seems true across the board for these billionaires is the desire to grow their wealth instead of spending it on transient material possessions. After all, when you can buy anything, it might get you thinking about what really matters. For these ultra-wealthy individuals, the answer seems to lie more in the direction of legacy and less in the direction of accumulating expensive toys.
Make Your Money Work Better for You
More From GOBankingRates