8 Things Self-Made Millionaires Always Spend Top Dollar On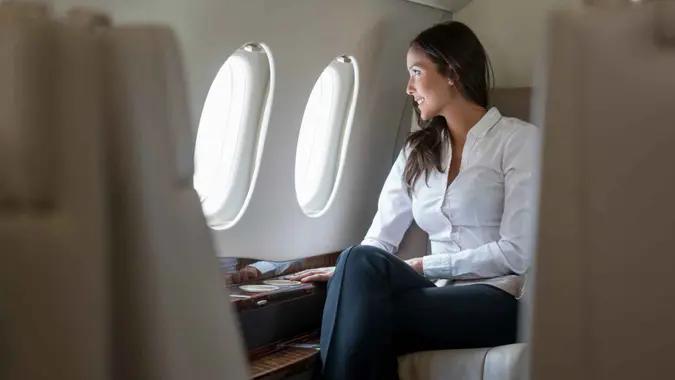 andresr / Getty Images
Building a million-dollar net worth takes patience, perseverance and sacrifice. And putting in the amount of work it takes to become a self-made millionaire means you've learned a thing or two about priorities.
GOBankingRates chatted with a few self-made millionaires about their spending habits — specifically, what they prefer to spend money on without limits. While it's always a good idea to be frugal and intentional with your spending, once you're a millionaire, you can spend more than the average American on things that are important to you.
Here are eight things that self-made millionaires always spend top dollar on:
Mentorship and Coaching
Growing your net worth over a million usually requires some help along the way. Investing in high-quality mentorship and coaching programs can help boost your income and give you the right mindset needed to grow your wealth.
Phuong Nguyen, self-made millionaire and founder of 5 Minute Book Summary, won't ever skimp on high-quality coaching. "Having mentors and coaches who have been through similar journeys has been invaluable," said Nguyen. "I pay for mentorship and coaching services, as they provide me with personalized guidance and insights that accelerate my progress. It's like having a shortcut to success."
Luxury Timepieces
Luxury watches are not only a status symbol of success but can also be a great investment. And while many of these watches can cost upwards of $50,000, rare timepieces can appreciate in value.
Make Your Money Work Better for You
Nguyen enjoys finding a great watch and sees it as an investment rather than a frivolous purchase. "This might seem unconventional, but I've found that investing in high-quality watches can be both a status symbol and a wise financial move," Nguyen said. "Rare and limited-edition timepieces tend to appreciate in value over time, making them a unique asset class. Plus, they make for excellent conversation starters in business circles."
Ziad Abdelnour, president and founder of Blackhawk Partners, Inc, also enjoys luxury watches. "While watches are often seen as fashion accessories, I've also invested in collectible timepieces with historical significance," said Abdelnour. "These watches can appreciate in value over time, making them both functional and profitable investments."
Music
Music is good for the soul, and high-quality audio gear can help you enjoy the experience even more.
Gene Caballero, self-made millionaire and co-founder of GreenPal, doesn't ever skimp on music-related purchases. "Music plays a vital role in elevating my mood and setting the right ambiance, whether I'm working, relaxing or entertaining," said Caballero. "High-quality speakers ensure that I experience the depth, clarity and richness of music, making every note resonate perfectly."
Health
Health is wealth, and millionaires focus a large amount of spending on staying healthy. From organic foods to personal trainers to quality workout equipment, millionaires love to spend money to stay healthy and fit.
Caballero pays for health coaching. "I believe in a holistic approach to health," said Caballero. "While I can research workout routines or diets online, having experts like personal trainers and nutritionists guide me ensures I get personalized advice tailored to my body and health goals."
Make Your Money Work Better for You
Caballero also spends money on quality workout gear. "As someone who cherishes physical health, I've come to appreciate the importance of having the right gear," said Caballero. "I don't hesitate to spend more on high-quality running shoes. They not only enhance performance but also offer the necessary support and protection to minimize the risk of injuries."
Home Goods
Enjoying your home can have a profound impact on your overall quality of life. Here are a few items that millionaires will spend the money on without reservation.
Caballero will always spend top dollar on good bedding. "A good night's sleep is invaluable," said Caballero. "Premium sheets might seem like a luxury, but their comfort can significantly improve sleep quality. Investing in high-thread-count sheets ensures that every night, I get the rest I need to tackle the challenges of the next day."
Harrison Tang, self-made millionaire and co-founder of Spokeo, also doesn't mind spending extravagantly on self-care items for the home. "I find no regret in purchasing any self-care item," said Tang. "For example, I recently got my own personal massage chair for relaxation. I have put in a lot of hard work and hence believe that I should reward myself by purchasing self-care items."
Experiences
While buying stuff can be enjoyable, creating experiences with your wealth can create memories. Millionaires have no problem spending lavishly on enjoying experiences with loved ones.
Abdelnour spends a lot of money on customized experiences. "I've arranged custom, one-of-a-kind experiences, such as private concerts, exclusive behind-the-scenes tours and personalized travel itineraries, which create lasting memories and connections."
Make Your Money Work Better for You
Children's Education
Family is the most important thing, according to many millionaires. And spending on children, whether it's childcare, experiences or education, is one of the biggest priorities.
Tang focuses heavily on investing in his kids' education. "After building this much wealth, I have decided to invest in my children's education," said Tang. "I have allocated funds for their college so that they do not have to struggle financially."
Travel
Exploring the world is a luxury that wealthy individuals don't pass up too often. Travel is a priority to many millionaires, and they will spend money to make it a reality.
Tang wants to use his wealth to experience many different cultures and places around the world. "I believe it is a shame to have money and not see the wonders of the world," said Tang. "Therefore, I like to travel a lot and explore different countries."
More From GOBankingRates