Tips and Tricks to Always Pay Yourself First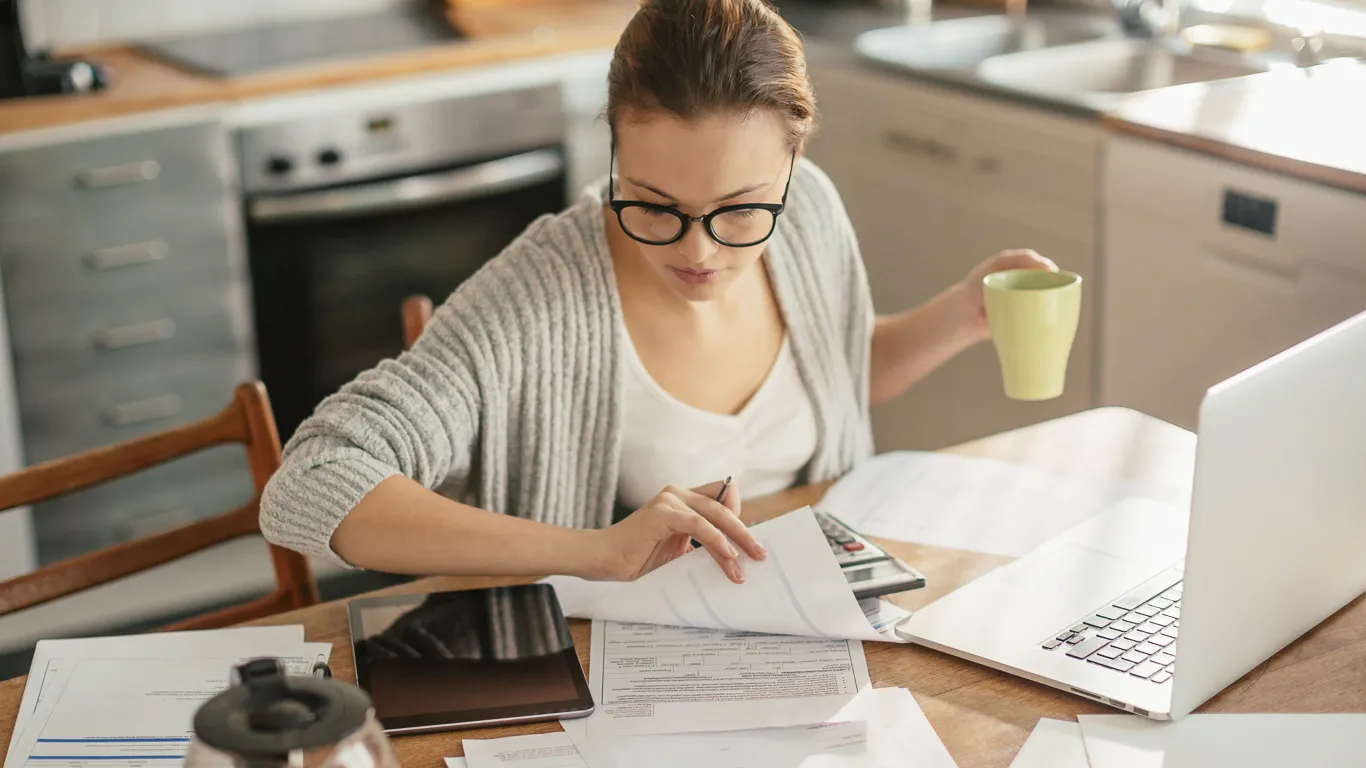 What's the first thing you do with your paycheck?
While experts recommend having six months' worth of expenses in savings for emergencies, a recent GOBankingRates survey found that more than half of Americans have less than $1,000 in savings.
If you want to learn how to pay yourself first, keep reading for some easy tips and strategies you can start applying immediately.
Take Advantage of a 401k
The best way to put money in savings before you have a chance to spend it is to participate in your workplace 401k plan, said Julie Rains, founder of Investing to Thrive. You can choose the amount you want to contribute, and the contributions are automatically deducted from your paycheck.
Contributing to a workplace retirement account is a guaranteed way to pay yourself first. "If I don't have the money in my checking account, I won't spend it," Rains said. So, start saving early and enough to get your full employer match to get the most out of your 401k.
Put Saving Money on Autopilot
"If you have direct deposit, open up a separate savings account and have a portion of your paycheck directly deposited into it," said Chris Peach, a financial coach and founder of Money Peach. "This will feel similar to investing into your employer-sponsored 401k plan because you won't see the money hit your checking account first."
Creating a cash cushion in savings can help you cover emergencies that could bankrupt you. To figure out how much you can set aside, track your spending to see which expenses you can cut, said Michelle Schroeder-Gardner of Making Sense of Cents, a personal finance and lifestyle blog. Whatever expenses you cut, set an equal amount of money in savings at the start of each month.
Make Your Money Work Better for You
Do a 31-Day Savings Challenge
Another way to pay yourself first is to make it fun, Peach said. "Try a 31-day challenge where you save $1 on day one, $2 on day two, $3 on day three, and so on," he said. "When you hit day 31, you'll have $496 set aside."
Name Your Savings Accounts
To motivate yourself to save, you might need a reminder as to why you're saving. Erin Lowry, founder of Broke Millennial and author of the forthcoming "Broke Millennial: Stop Scraping By and Get Your Financial Life Together," said she does this by nicknaming her savings accounts. "It makes it more likely you'll stay motivated or keep yourself from skimming," she said.
For example, she has an account for travel savings, another for a home down payment, and another for her emergency fund.
Keep Savings at Another Bank
Lowry also uses an out-of-sight-out-of-mind strategy to pay herself first. "I keep most of my savings accounts at different banks than checking," she said. "So when I log into checking, I'm not seeing how much I have saved."
This helps her resist the temptation of moving money from savings to checking when she feels like she needs more cash, she said.
Create a Countdown Fund
Deacon Hayes, personal finance blogger of Well Kept Wallet, said he uses what he calls a countdown fund. In essence, you determine what you want to save for, how much it will cost to fund it, and then break down how many months it will take you to save up for it.
"For instance, if we wanted to go to New York in a year and the trip was going to cost $1,000, we would save $100 per month for 10 months in a savings account, counting down until $0 is needed to fund that trip," Hayes said. "This way we have the cash to go on the trip and don't need to worry how we are going to pay for it."
Make Your Money Work Better for You
Let Digit Save for You
If you're not good at figuring out how much extra cash you have in your budget to stash away in savings, there's an app that can help. "I've saved over $8,000 without lifting a finger using the financial app Digit," said J. Money, founder of personal finance blog Rockstar Finance.
Link Digit to your bank account, and it will analyze your spending to figure out how much it can set aside for you. It will transfer small amounts ranging from $5 to $50 from checking to a Digit savings account.
Use the Acorns App
Another way Money pays himself first is by using apps that make investing easier. "I also invest easily and automatically every day with the Acorns app, which rounds up my transactions and drops the change into a portfolio for me," he said. "In almost two years, I've invested a little over $600 now."
You can link the app to your debit and credit cards, and it will round up purchases to the nearest dollar and invest the money in a portfolio of exchange-traded funds. There's a $1 monthly fee. Accounts with $5,000 or more pay just 0.25 percent of the account balance per year.
Set Up a Betterment Account
Rains said that another way she's paying herself first is saving $100 a month in a Betterment account. Betterment is an investment service that offers a portfolio of stock and bond index funds. She pays a fee of just 0.25 percent of her balance.
She said she's using those funds to help reach a savings goal. "This account is designated for my next car, which hopefully will be several years from now," she said.
Let the Bank Help You Save
Donna Freedman, author of "Your Playbook for Tough Times," recommends taking advantage of features your bank offers to help you boost savings. For example, Bank of America's Keep the Change program rounds up debit-card purchases to the next dollar, then transfers the difference into savings. "Paying $25.16 at the gas pump means your emergency fund grows by 84 cents," Freedman said.
If you open a Way2Save savings account at Wells Fargo, you can sign up for the Save As You Go program to have $1 transferred from your checking account to savings every time you make a debit card purchase, use Wells Fargo online bill pay or make automatic payments from your checking account. Over time, those small deposits will help build out your emergency fund.
Make Your Money Work Better for You
Save Spare Change
A more old-school approach to saving spare change is with a change jar. "I started a Facebook group and invited people to take part in the 'Change Challenge,'" said Melissa Thomas, owner of Melissa the Coach Financial Coaching. "We all pay cash for as many things as possible, and save the change. On average, we save $25 a month."
Freedman suggested a similar strategy, called the dollar challenge. "This is the spare change challenge's richer cousin: Take all the ones out of your wallet at night and stuff them in a different jar," she said. "Or go crazy and make it a $5 bill challenge."
Use Visual Reminders for Savings Goals
Valerie Rind, author of "Gold Diggers and Deadbeat Dads," said that creating visual reminders for your savings goals can help motivate you to pay yourself first.
"If you're saving for a car, post a picture of your dream wheels on your refrigerator as a reminder," she said. "Saving for a vacation? Slip a picture of a sunny beach in your wallet. Each time you pull out cash or credit cards, you'll be prompted to cut your spending and save instead."
Think About What Failing to Save Will Cost You
Changing your mindset about saving might help trick you into paying yourself first, said millennial money expert Stefanie O'Connell. Humans are more motivated by fear of losing something than gaining something. "So in addition to thinking about what saving money will afford you, think about what a failure to save will cost you," she said.
Before you spend money, ask yourself whether it's worth it if it means you'll have less to put in savings for something you really want. "Ask yourself if you're really willing to give up that dream vacation or that dream home or whatever a future on your own terms looks like," O'Connell said. "The prospect of 'settling' might be just the motivation you need to kick your savings efforts into high gear."
Make Your Money Work Better for You
Start a Savings Challenge With a Friend
If you have a friend or family member who also wants to save more, have a competition to see who can save the most over a certain period of time, Freedman said. The loser has to do a chore for the winner, such as clean their car. "Anyone with an ounce of competitive spirit will want to play — and no matter who ends up with more cash, you both win," Freedman said.
Hang On to Extra Cash
A good way to pay yourself first is to put any cash you get beyond your regular paycheck into savings. "Save all extra money from overtime, gifts or other abnormal sources," said Josh Elledge, founder of SavingsAngel. "Don't just put it into your regular budget and let it disappear."
Save Your Savings
If you use coupons to cut costs, or get certain discounts, put however much you save into a savings account. Check your receipts after shopping trips and pay yourself the equivalent of what you would have spent without coupons or markdowns, Elledge said.
"Do this through online money transfers with your bank as soon as you get home," he said. "So if you saved $10.53, that's the amount you transfer into a special savings account."
Use Discounted Gift Cards and Save the Discount
"Instead of using cash, credit or debit, pay for regularly purchased items with discounted gift cards," Freedman said. You can find gift cards selling for less than face value on sites such as CardCash, Cardpool and Raise.
Rather than let the savings go to waste, Freedman recommends transferring the amount to a savings account.
Make Your Money Work Better for You
Stash Cash Back
A smart way to save money when shopping online is to use a cash-back website such as Ebates. You get a percentage of your purchase back when you shop at online retailers through Ebates. Brent Shelton, an online shopping expert with Ebates and FatWallet, recommends saving that cash back.
"I personally love sending my cash back earnings to my PayPal account," he said. You can also use the money to pay for other purchases so you'll have more cash in your budget to stash into savings. Or, you could transfer the money to a savings account.
Save Your Credit Card Rewards
If you pay off your credit card balance each month, Freedman recommends you get a cash-back rewards card to help you boost savings. You can use the card to make everyday purchases, pay off your balance to avoid paying interest and put the cash you earn into savings.
Create a Calendar Challenge
Motivate yourself to save more by challenging yourself to save a certain amount every week of the year. "The first week of January, bank $52; the second week, set aside $51," Freedman said. "Keep at it, and at the end of the year you'll have banked $1,378."
Save Your Tax Refund
Don't squander away your tax refund on a big-ticket item. Invest it, or at least pay down debt. You can also adjust your W-4 so the government doesn't withhold so much money each month. You'll lose your refund, but you'll get more money each paycheck that you can stash into savings or an investment account.
Launder Funds
No, you don't need to engage in criminal activity to pay yourself first. This is just a creative strategy Freedman uses to save more money.
"Each time we do a load of wash at our house, $2 goes into a jar," Freedman said. "Although we call it the 'New Washing Machine Fund,' it actually got used when we replaced the 30-year-old stove." You can use the money for an emergency fund to cover unexpected repairs or appliance replacements around your house.

BEFORE YOU GO
See Today's Best
Banking Offers