6 Ways To Make $100K Per Year With Passive Income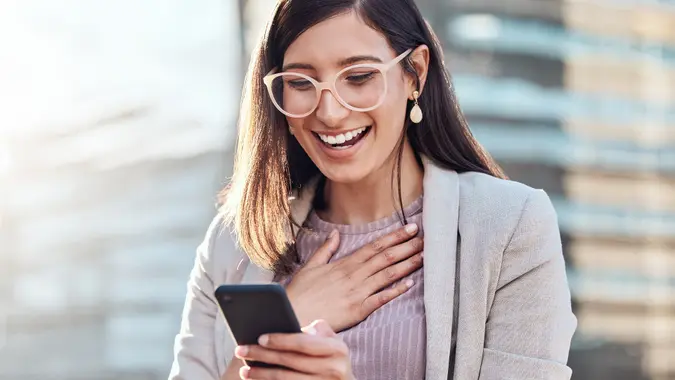 PeopleImages / iStock.com
Passive income has grown in popularity over the last several years. And it's no wonder why: who wouldn't want to earn more money with minimal effort?
See: GOBankingRates' Best Online Banks 2023
Advice: Protect Your Financial Future With Gold and Silver
Student Loan Forgiveness: Will You Qualify for $0 Payments Under Biden's New Plan?
In fact, around 20% of American households are already earning passive income through dividends, interest or rental properties, according to the U.S. Census Bureau.
But, according to experts, these aren't the only ways to passively earn extra cash, especially if you're willing to put in the work at the beginning of your endeavor. Here are some of the top ways to earn $100,000 per year in passive income, according to financial experts, investors and business owners.
Start a Niche Blog
Chelsea Clarke, founder of HerPaperRoute, says starting a niche blog requires a lot of upfront work. But if you do it right, it can become a valuable source of passive income later on.
"Blogging is an excellent way to earn passive income from multiple sources, such as ad revenue, your own digital products or courses and income from affiliate links," she added.
Make Your Money Work Better for You
Keep in mind that starting a blog requires purchasing a website domain, hosting and possibly a website template. You'll also need to spend time writing consistent blog posts, optimizing those posts for search engines, promoting your content on social media and growing your email list.
Some may find this process more difficult than it sounds. After all, only 29% of bloggers made $52,000 or more from their blogs, according to a 2022 Ecommerce CEO survey.
Take Our Poll: How Much of a Tax Refund Do You Expect in 2023?
Create a Course
Many bloggers might choose to supplement their blogging income by creating a course for sale. However, Clarke cautioned, it requires quite a bit of upfront work to create the course and sell it — not to mention building an audience beforehand.
Once you have those elements in place, though, you "can continue to earn profit from [your course] for years to come," she said. "It's also a scalable income stream, meaning there's no limit on what you can earn from your course."
Make Your Money Work Better for You
Plus, you don't need to have an advanced degree or be incredibly well known to launch a course.
"Chances are you're an expert at something — whether that's prepping budget-friendly meals for the family or creating DIY furniture," Clarke said.
Invest in CDs
If the idea of upfront work doesn't sound appealing, you may want to consider more traditional avenues for passive income. Paul Baessler, chief compliance officer of the AI investment app Q.ai, said one of the easiest ways to earn passive income may be through a certificate of deposit (CD).
"With the recent hikes in interest rates, investors can get 4%, 5%, 6% or even 7% rates on CDs from some online banks," he said. "Assuming the bank is a member of the FDIC, your funds are guaranteed by the U.S. government up to $250,000."
Buy Stocks
Another relatively simple way to passively grow your income is through dividend-paying stocks, especially if you rely on a financial advisor.
Make Your Money Work Better for You
"There are many stocks paying double-digit dividends rates," Baessler said. "Dividends aren't guaranteed, and stocks can fall, but there are plenty to choose from."
Consider Bonds
Fixed-income securities bonds are also worth considering, Baessler said.
"Investors can purchase individual bonds issued by corporations that provide a yield of anywhere between 4% and 7% for investment-grade bonds," he said.
Investors looking for an even greater yield — and who are comfortable with taking on greater risk — may find higher rates of return through high-yield bonds.
"For investors who intend to hold those bonds to maturity," Baessler said, "any subsequent fluctuation in price is immaterial."
Purchase Real Estate
Real estate may be one of the most common ways to pursue passive income. After all, around 70% of rental properties are owned by individual investors, according to census estimates.
Hiring a property manager who can handle day-to-day upkeep and tenant communication may help make this investment more passive. But you'll likely still need to do the upfront work of finding profitable properties.
However, growing your income through real estate can be difficult to do quickly. For example, Alex Capozzolo, co-founder of Brotherly Love Real Estate, said it took him 15 years to grow his portfolio to 20 properties, which now generates for him an income of around $100,000 per year.
More From GOBankingRates
Make Your Money Work Better for You