7 Ways the Rich Get Treated Better Because of Their Wealth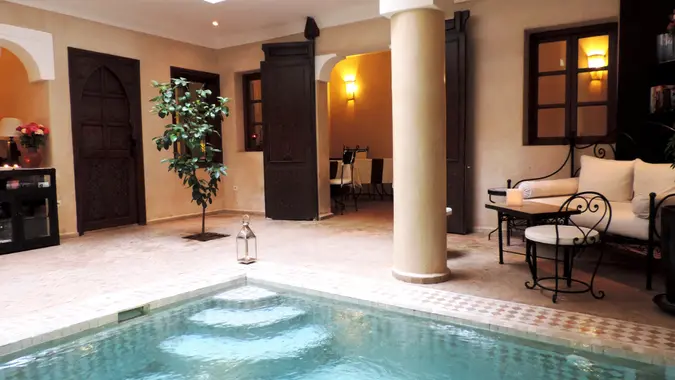 ©Riad Al Badia
The rich get richer and they also happen to get treated better in the process. That's because the top earners and the generational wealthy elite can use their money to buy power, influence and more of everything and anything they want.
Those are the obvious ways that the rich benefit from their bank accounts. There are other ways, too, that are below the surface.
"Rich folks tend to get the star treatment in shops and services, and it's pretty clear-cut why," said Nathan Jacobs, senior researcher at The Money Mongers. "In the swanky boutiques, they're not just customers; they're almost like guests of honor. Staff will know them, maybe even greet them by name, and roll out the red carpet with stuff like private showings or a first look at the latest collection. It's all about giving them a shopping experience that's as luxe as the products they're buying."
Jacobs summed it up nicely by boiling it down to this: In a world where cash is king, those with the most get treated like royalty. And in the high-end lanes of retail and service, the red carpet is always ready for those with deep pockets.
Here are seven ways the rich get treated better because of their wealth.
Exclusive Concierge Services
If you are part of the middle class, you might be able to stay in a fancy hotel or dine at an expensive restaurant after saving up for months just to get the cheapest room available or the least expensive dish on the menu. Plus, you probably should not expect any extra attention like you'd get if your pockets were stuffed with cash.
Make Your Money Work Better for You
"High-net-worth individuals often gain access to exclusive concierge services offered by luxury retailers and brands," said Skyler Fernandes, the founder at Finally Fund Admin. "These services can range from personalized shopping experiences in closed boutiques to after-hours appointments for fittings. Some even provide in-home shopping consultations, where the boutique comes to the client."
Customized Financial Products
"Wealthy individuals have access to customized financial products and services offered by banks and financial institutions," Fernandes said, explaining how this can include tailored credit cards with high spending limits, specialized insurance packages and unique investment opportunities that cater to their specific financial goals.
Complimentary Perks
The rich can certainly purchase whatever they want, though oftentimes they do not have to. Many places will provide goods and services free of charge.
"It's not uncommon for affluent clients to enjoy the added luxuries of free upgrades, samples and services, enhancing their consumer journey," said Michael Ryan, financial expert at Michael Ryan Money.
Reservation Priority
"​​In the world of fine dining and entertainment, affluent individuals often receive preferential treatment when making reservations," Fernandes said.
He pointed out how this covers an array of riches, from securing coveted restaurant tables to gaining front-row seats at events and even accessing sold-out shows. 
"It's not just about securing reservations but also about enjoying the best seats and experiences," Fernandes said. Because even if you get into the establishment, you still want the finest seat in the house.
Attention Is Paid
The rich do not have to be famous to command the attention and the action of those around them. This can range from service workers at a local establishment to friends and family members.
Make Your Money Work Better for You
"Rich people are often able to command more attention from staff members," said Allison Seller, a business coach at Success Business Coaching. "They have the ability to engage with managers or higher-level staff who are eager to cater to their needs and address any concerns.
Legal Leverage
What do the rich do when they find themselves up against the law? They simply pay their way through the filings and the courts, and they usually can go on with their lives as normal.
"In legal matters, the wealthy are often able to secure top-tier legal representation," Ryan said, "which can lead to more favorable outcomes compared to those with limited resources."
Businesses Bend the Rules
"Wealthy often have access to a wider range of high-end products and luxury brands," Seller said. "They can afford to shop at upscale establishments that offer a luxurious shopping experience and exclusive merchandise. Wealthy customers are often offered special promotions or early access to new products or services. They may have the opportunity to be the first to experience, purchase or review new offerings, giving them a sense of exclusivity."
But it goes beyond just the products and services available to VIPs. Businesses and companies will look the other way or make special expectations for those who are in the top tax bracket.
"Rich people may enjoy more lenient return and exchange policies," Sellers said. "Because businesses value their patronage, they may be more willing to accommodate their requests, even if it means bending the rules."
More From GOBankingRates