What Makes a Rare Coin Worth Up To $19 Million?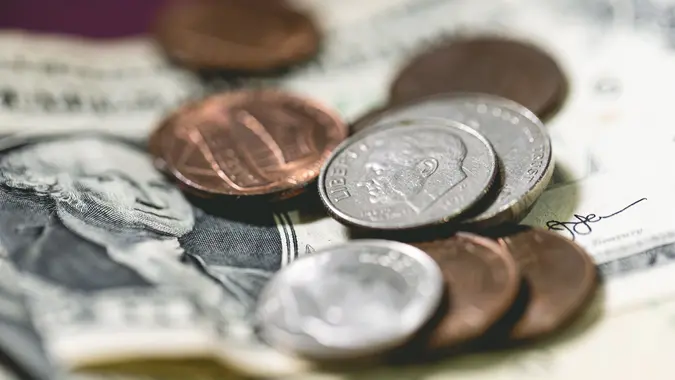 Rmcarvalho / Getty Images/iStockphoto
There's an old saying about not taking any wooden nickels — but what if that coin was enough to make you a millionaire? Not saying that a wooden nickel is worth that much money or even exists, but there are some rare coins out there which are worth more than just their face value.
Lots of times, currency we see on a regular basis, like a quarter, could be worth upward of $2,000. You just have to know what you're looking for.
"The most expensive coin sold at auction has one of the best stories ever!" declares Jeff Garrett, a past president of the Professional Numismatists Guild, citing the 500,000 1933-dated Double Eagles ($20 denomination U.S. gold coins) that were struck, then subsequently melted when gold was recalled by President Franklin D. Roosevelt.
"The coins were never officially released and shortly thereafter, the small number of coins that escaped the Mint were declared illegal to own and most were confiscated," says Garrett. "In the 1990s, another example was confiscated in a sting operation by the Secret Service. After a legal battle, the coin was declared the only legal example that could be owned. It sold at auction in 2022 for [almost] $19 million."
Make Your Money Work Better for You
So as you dig through your pockets, break open your piggy bank, search under couch cushions, and go through the storage closet searching for coinage, keep some things in mind so that you don't miss out on cents that could be worth big bucks.
"The rarity and historical significance of a coin, as well as its metal content and design, can all impact its value," says Kamil Faizi, owner of Challenge Coins 4 U. "Collectors and investors in rare coins often look for these factors when determining the value of a particular coin."
Metal Content
For a rare coin to hold a higher price value than the number we normally assign it, the metal contents have to be either precious or base.
Paul Zaldivar, a civil engineer and the founder of ConstructionRealm.com, breaks it down like this: "Coins made from precious metals like gold, silver and platinum are often more valuable due to the intrinsic value of the metal itself. The American Gold Eagle, a gold bullion coin with a face value of $50, can be worth over $1,800 based on the current gold market price."
Make Your Money Work Better for You
"Coins minted from base metals like copper or nickel can also increase in value if the metal content becomes rare or desirable," says Zaldivar, using the 1943 Copper Lincoln Cent as an example. "[It is] made from copper due to a minting error, [and] is valued at over $100,000 due to its scarcity and copper content."
Take Our Poll: Do You Think Bankruptcy Is an Acceptable Way To Escape Student Loan Debt?
Age
The age of an old coin can play a significant part in its value. Typically, older coins are harder to find in good condition, becoming rarer and rarer with each passing day.
Zaldivar cites the 1794 Flowing Hair Silver Dollar as an example. It was "one of the first silver dollars minted by the United States [and] was sold for $10 million in 2013 due to its age and historical significance."
"Coins minted during specific historical periods or events can carry added value, as they provide insight into the past and may have a limited supply," says Zaldivar. "The 1787 Brasher Doubloon, a privately minted gold coin created by goldsmith Ephraim Brasher, is valued at over $7 million due to its historical context and association with the founding of the United States."
Make Your Money Work Better for You
Limited Design
A limited edition of anything will up the price due to the lack of supply and availability. With coins, however, that takes on a whole new process of evaluation. A big factor in limited designs of coins comes down to if they are deemed commemorative, whereby they were made with special significance.
"The 2009 Ultra High Relief Double Eagle, a limited-issue gold coin featuring a design by Augustus Saint-Gaudens, can be worth over $2,000," explains Zaldivar.  "Commemorative coins issued to celebrate a specific event, person or anniversary often have a limited mintage, increasing their value to collectors."
But other unique design elements can also be a reason certain cones are rare and more valuable.
"Coins with distinct design features or artistic qualities can also command higher values," says Zaldivar. "The 1913 Liberty Head Nickel, with only five known specimens, is valued at millions of dollars due to its unique design and rarity."
Design Flaws
Perfection doesn't always mean a pretty penny is pricier. In fact, oftentimes if a coin has a design flaw that will only increase its value.
Make Your Money Work Better for You
"The 1955 Double Die Lincoln cent, characterized by a noticeable doubling of the image, is worth over $1,000 in high grades," says Zaldivar, describing how minting errors can seem like a costly mistake at first, only to add more value to a coin in the future.
"Coins with unintentional design flaws or errors can become valuable collector's items due to scarcity," Zaldivar mentions, citing that coin die varieties can also lead to design flaws that eventually up the price of a coin by making it a rare find.
"Variations in the coin dies used during minting can create collectible subtypes with different values," says Zalidvar. "The 1804 Draped Bust Silver Dollar, known as the 'King of American Coins,' has three different die varieties (Class I, II and III), with Class I being the most valuable at over $3 million."
More From GOBankingRates
Make Your Money Work Better for You
Make Your Money Work Better for You