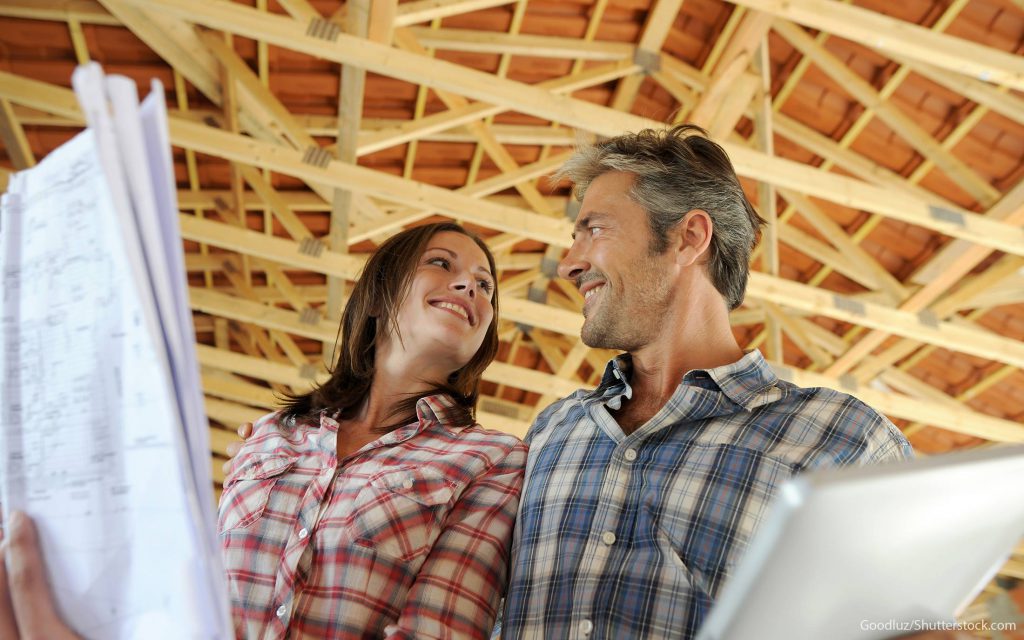 The home-buying process can be an exciting time for first-time homebuyers and experienced homeowners. As you start to look at homes, you might be wondering, "Is it cheaper to build or buy a house?" While there are pros and cons to each, you might be surprised when you compare the two.
According to the National Association of Home Builders, the median price of a new home in the U.S. was $305,000 in November 2015, while the median price of an existing home in the same month was $221,600. With home prices increasing and still-low mortgage rates, the time might be ideal for buyers to secure a deal on a new or pre-existing home. But which is the better investment?
See: 10 Signs You're Not Saving Enough to Buy a House
Building a House
Since new home prices are higher, your first thought might be to buy a pre-existing home. But you might be amazed at what you can afford if you decide to build your own home instead. Since builders want to keep their crews working, they offer many discounts to encourage potential buyers to build.
5 Pros of Building Your Own Home
Building a new home can come with many benefits, such as:
Related: How I Saved $30,000 for a Home Down Payment in 5 Months

5 Cons to Building Your Own Home
Of course, not everything is perfect when you build a new home. Whether you run into issues with permits or other delays, building your own home can come with a lot of unexpected costs.
"I have never seen a home that was built come in on budget," said Sissy Lappin, founder of ListingDoor, a service that helps people sell their homes. "I cannot tell you how many times I have had a client buy a lot to build, gave the architect a budget of how much they wanted to 'be all in the house for' then bid the plans out only to find out the cost to build the house is 30 to 40 percent more than their budget."
Consider these disadvantages to building a home:
Buying a House
Buying a house is an attractive option for many people because — in most cases — you can move into the home soon after closing. Oftentimes, homebuyers might fret over the purchase of a home that has some less-than-stellar features. But the home you buy doesn't have to be perfect down to the wall paint. You can update the unattractive features of a home over time, and you might even profit from a few upgrades.
Lappin explained that she once remodeled a home that had Venetian columns in the dining room, baby blue carpet and mirrored walls. "It was on the market for 18 months," she said, saying the home had some tacky design choices. But after remodeling the home, she explained, "Someone rang our doorbell and offered us a ridiculous amount of money. Yes, we sold. My husband would have thrown in the kids, he was so happy."
Learn: How I Went From Renting to Buying a House Before I Turned 25

5 Pros of Buying a House
Here are common benefits to purchasing an existing home:
5 Cons of Buying a Home
Disadvantages of buying a pre-existing home include:
Average Costs for Home Remodeling Projects
Remodeling's "Cost vs. Value 2016" report determined national averages for typical home remodeling projects. Whether you're building a home or upgrading a pre-existing property, you'll want to weigh these costs against your plans.
Home Remodeling 2016: National Average Costs
Upgrade
Cost
Attic insulation (fiberglass)
$1,268
Basement remodel
$68,490
Bathroom remodel
$17,908
Deck addition (wood)
$10,471
Entry door replacement (fiberglass)
$3,126
Family room addition
$86,615
Garage door replacement
$1,652
Kitchen remodel (major)
$59,999
Kitchen remodel (minor)
$20,122
Master suite addition
$115,810
Roofing replacement
$20,142
Second story addition
$171,056
Source: Remodeling "Cost vs. Value" 2016
Is It Cheaper to Build or Buy a House?
When it comes to deciding between buying a pre-existing home and building a new one, "There isn't an exact formula," said Gloria Shulman, founder of Centek Capital, a mortgage brokerage in Southern California. But, she explained, "In my opinion, it is better to buy a habitable house and do a major overhaul."
Lappin emphasized that building a home can be more expensive than you might initially plan. "I had one client that told the architect 'this will be our forever house.' When he got the building bid he said, 'It was going to be our forever house and it would have to be our kid's kids' forever house.' It was so over budget, it would not break even for 50 or more years if they had to sell."
She added that homebuyers might "forget the cost of window coverings, extensive landscaping, pool, light fixtures and upgrade finishes. A builders allowance is usually for the minimal finish, and then you have change order fees. "It adds up to thousands," she explained.
When it comes to building versus buying a home, Lappin advised, "If someone has lots of time or can hire a designer to pick out the finishes, then they should build. If someone is spending a lot of money, then they should build."
To help you understand if it is cheaper to build or buy a house, make a list of the features that are most important to you, then compare costs. Know what you are willing to give up and what you must have in your next home. Then, look for homes in your price range that meet your criteria. Your home is your biggest investment so it's perfectly acceptable to be picky and take your time to find the perfect home.
Michael Galvis contributed to this article.