7 Secrets From Warren Buffett's Employees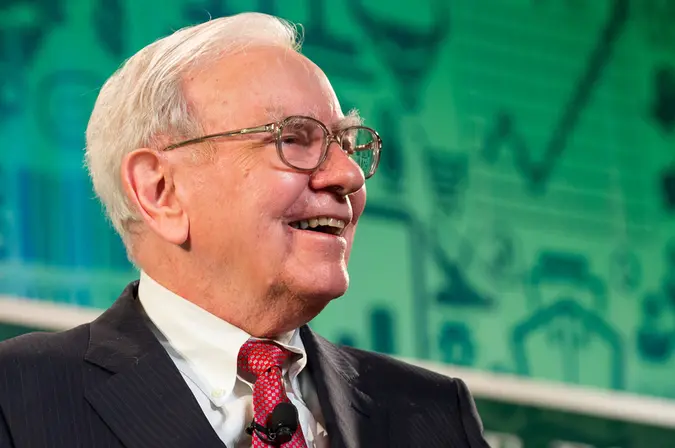 Landing a job working at Berkshire Hathaway isn't easy. After all, leader of the company and famous investor Warren Buffett, who is the third-richest person in the world with a net worth of $66.7 billion, only employs a handful of staff to oversee operations at the Omaha home office. Still, many executives at more than 50 subsidiaries owned by Berkshire Hathaway also call Buffett boss.
While most of Buffett's advice can better be classified as common sense than closely guarded secrets, Randy Watson, CEO of Justin Brands Inc., told CNN Money in a video interview, "One thing I have heard him say is that common sense is not that common."
Warren Buffett isn't just an exceptional investor, he's a great leader as well. Here are seven Warren Buffett quotes that you can apply to your professional and personal lives.
Related: 6 Things Warren Buffett Says You Should Do With Your Money in 2015
1. Keep It Real
By all accounts, Buffett is the same person in private as he is in public. He is known for investing in companies with products he uses and enjoys. So, yes, he really does drink Coca-Cola and actually eat McDonald's fries — with plenty of Heinz ketchup, of course.
"One of the reasons Warren is so cheerful is that he doesn't have to remember his lines," his close friend and Berkshire Hathaway Vice Chairman Charles Munger said in a Forbes article. That's because Buffett isn't working from anyone else's script, only his own. He's definitely not your typical billionaire.
Make Your Money Work Better for You
2. Don't Micromanage
Buffett is known for acquiring companies with already-successful management teams and keeping those executives in place. While each company files monthly financials, Buffett rarely intercedes in the day-to-day dealings of his subsidiaries.
"I would describe it as very strange and almost bizarre the way he manages, because he doesn't manage," Matthew Rose, executive chairman of Burlington Northern Santa Fe Railway said in a D Magazine article. "He takes companies that he likes, he spends a lot of time in terms of developing the goals of how management will be compensated and how the scorecard will look, and then he allows management to run the company."
And that strategy seems to be working. With a price tag of $34 billion, rail giant BNSF Railway was Berkshire Hathaway's biggest purchase ever at the time. Since that 2010 deal, BNSF's total revenue has grown from $14 billion to $23 billion, an increase of roughly 64 percent.
3. Be Selective
One reason Buffett can rely heavily on his managers to make their own decisions is that he's highly selective in the subsidiaries he chooses to acquire. It's a practice that could make us all better investors, said Charles Munger.
According to Munger, when Buffett has spoken to business schools he usually tells them, "I could improve your ultimate financial welfare by giving you a ticket with only 20 slots in it … representing all the investments that you got to make in a lifetime. And once you'd punched through the card, you couldn't make any more investments at all. Under those rules, you'd really think carefully about what you did, and you'd be forced to load up on what you'd really thought about. So you'd do so much better."
Make Your Money Work Better for You
" … [T]his is a concept that seems perfectly obvious to me," Munger said, "And to Warren it seems perfectly obvious … To me, it's obvious that the winner has to bet very selectively. I don't know why it's not obvious to very many other people."
4. Look at the Big Picture of the Economy
Rather than fixating on the ups and downs of the market, Buffett encourages his managers to take a long-term view of the economy as a whole. During the housing boom a decade ago Acme Brick Co., a wholly owned subsidiary of Berkshire Hathaway since 2000 was selling its products at record rates and spent six months developing plans for a new plant. When Dennis Knautz, Acme's president and CEO, sent his boss the detailed proposal, Buffett eschewed the expansion idea.
"He said, 'You know what? I understand what you're doing and can see all the work that you've put into this project,'" Knautz said to D Magazine. "'But I just don't think housing is going to continue at this level for a long, long period. So I just don't think it's the right thing for us to do. We can probably spend our money better elsewhere.'"
And sure enough, a few years later, the housing bubble popped. Housing starts fell 75 percent, hitting a 65-year low in 2009 and taking building materials sales down with them.
5. Protect and Build Your Brand
As an intelligent investor, Buffett understands that the ups and downs of the economy can adversely impact even the best-managed businesses. Because of this, he encourages his executives to stay the course even during downturns. Taking the long view allows managers to focus on building the brand rather than boosting short-term results at the expense of the company's reputation and ongoing financial future.
Make Your Money Work Better for You
"We're truly looking at building this brand and this business over the long term, over a 10-year period," Jim Weber, CEO of Brooks Running Co. said in a video interview with CNN Money. "What more could you ask for in an owner? It's not about delivering the results quarter by quarter and, at Brooks, we try hard to do that. But they're encouraging us to build the brand, so it's a fantastic competitive advantage for us."
6. Don't Always Pinch Pennies
Buffett admires managers who monitor even the smallest of expenses, and he practices what he preaches. Not only does he reside in the modest Midwestern city of Omaha, Neb., but he still lives in the home he bought in 1958 for $31,500 — and the billionaire famously still favors a flip phone. So Buffett's advice to former NetJets Inc. CEO Jordan Hansell  to spend whatever it takes to keep their planes the safest and most secure and to "then spend whatever it takes to stay that way," according to an interview with Yahoo Finance, would seem to belie Buffett's penny-pinching persona.
But, considering Buffett uses the jets operated by this Berkshire Hathaway subsidiary himself, it makes sense. And, at the same time he's securing his own safety and the safety of others, he's also protecting the image of all his brands. As any of his employees will tell you, losing money can be a short-term storm brought on by conditions beyond their control. Losing face, on the other hand, is forever.
"He states clearly that we can afford to lose money, and we can afford to lose a lot of money," said Watson, the chief executive at Justin Brands. "But you can't afford to lose an ounce of integrity."
Learn: Warren Buffett's Money Tips to Master Before Your 40s
Make Your Money Work Better for You
7. Be Appreciative
While Berkshire Hathaway subsidiaries employ hordes of people across several industries, its home office in Omaha had a staff of just 24 in 2014. In the company's 2013 letter to shareholders, Buffett recognized that small staff for the work they did keeping up with regulatory requirements, organizing the world's largest annual meeting and much more.
"They handle all of these business tasks cheerfully and with unbelievable efficiency, making my life easy and pleasant," Buffett wrote in an annual letter to shareholders Feb. 24, 2014. "Their efforts go beyond activities strictly related to Berkshire. They also handle all kinds of requests that I receive, arrange my travel, and even get me hamburgers and french fries (smothered in ketchup, of course) for lunch. No CEO has it better; I truly do feel like tap dancing to work every day … They are truly miracle-workers."
Keep Reading: 20 Things Warren Buffett Does With His Money