How Much Is Bill Gates Worth?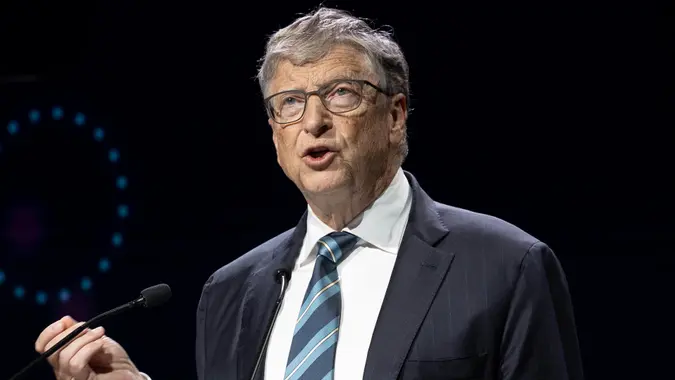 JEROME FAVRE / EPA-EFE / Shutterstock.com
Bill Gates, the co-founder of Microsoft Corporation, is one of the world's most prominent business magnates, philanthropists, and technology visionaries. His immense wealth and impact on the tech industry have made him a household name.
Bill Gates' Journey to Wealth
Bill Gates, born on Oct. 28, 1955, in Seattle, Washington, demonstrated an early affinity for computers and programming. Together with his childhood friend Paul Allen, Gates co-founded Microsoft In 1975 — a company that would revolutionize the software industry.
Microsoft's most iconic product, the Windows operating system, became a global sensation. This and other successful ventures catapulted Bill Gates to the pinnacle of the technology industry. His worth ethic and habits, visionary leadership and contributions to personal computing significantly enriched his net worth.
Today, Bill Gates is a co-chair of The Bill and Melinda Gates Foundation, along with his ex-wife Melinda French Gates. The organization's purpose is to fight poverty, disease and inequity around the world. The organization is one of the largest in the world in terms of funding.
Bill Gates' Current Net Worth
As of Oct. 11, 2023, Forbes estimates Bill Gates' net worth at an astonishing $109.7 billion. He currently holds only about 1.3% of Microsoft shares. This extraordinary wealth positions him as one of the world's richest individuals. Much of his net worth is attributed to his substantial ownership of Microsoft shares, which he accumulated during the company's early years.
Make Your Money Work Better for You
Gates' financial standing is influenced by various investments and business ventures. Celebrity Net Worth noted that these include his stake in Cascade Investment LLC, a private investment company that Gates uses to invest in hundreds of other companies. His diversified portfolio spans a wide range of industries, including technology, healthcare and energy.
Factors Contributing to Bill Gates' Financial Success
Bill Gates' extraordinary financial success can be attributed to several key factors:
Innovation and entrepreneurship: Gates' innovative thinking and entrepreneurship are central to his wealth. His role in co-founding Microsoft and pioneering groundbreaking software solutions transformed the technology landscape.
Strategic investments: Gates' investments in a diverse range of companies and sectors have played a pivotal role in expanding his wealth. Cascade Investment LLC, in particular, has allowed him to explore investment opportunities beyond the tech industry.
Philanthropic efforts: Gates is renowned for his philanthropic activities. Through the Bill and Melinda Gates Foundation, he has committed substantial resources to address global issues such as public health, education, and poverty. His philanthropic work is not only a testament to his commitment to social causes but also a strategic approach to wealth management.
Long-term vision: Gates' wealth is a result of long-term vision and strategic planning. He recognized the potential of personal computing early on and made investments that would pay off over time. Additionally, his philanthropic initiatives reflect a commitment to sustainable change and long-term impact.
More From GOBankingRates