How Rich Are the CEOs of Walmart, Target and Other Major Retailers — and How They Made Their Fortune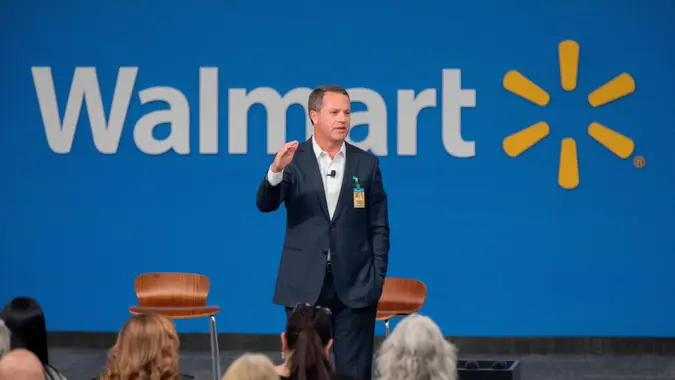 Gareth Patterson/AP/Shutterstock / Gareth Patterson/AP/Shutterstock
Some of the stores you love to frequent, particularly those where you can meet multiple shopping needs at once, are run by people who have to shoulder massive responsibilities. These CEOs are tasked with keeping their companies' liquid, dealing with economic stressors, and seeing that both their employees and customers are happy.
Though their million dollar paychecks may seem excessive, most of us wouldn't want to do the amount of work they have to do. Here we look at just how rich the CEOs of some of the most well known retailers actually are — and how they got there.
Jeffrey Gennette, Macy's — $8.4 Million
Jeffrey Gennette, Macy's current CEO, is following in a long line of chief executives — because the retailer is 164 years old! Genette's net worth is at least $8.40 million, according to InsiderTrades.com, a combination of his more than $4.7 million salary and Macy's stock and other assets.
Gennette, like many of the CEOs on this list, started out at Macy's long before he became CEO. He was hired in 1983 as an executive trainee at Macy's West in San Francisco. He continued to move steadily up the job chain, through merchandising, children's collections and vice president and director of a Macy's in Atlanta, Georgia. He's been CEO of Macy's West since 2009.
Make Your Money Work Better for You
Corie Barry, Best Buy — $25 Million 
Corie Barry is CEO of Best Buy Co. Inc. She has a net worth of about $25 million, and earns a salary of over $6 million in her executive role, according to InsiderTrades.
Before landing her CEO gig, Barry held other executive roles within Best Buy, including working for Best Buy Health and was a crucial part of developing their "Building the New Blue" growth strategy.
Marvin Ellison, Lowe's — $30 Million
Lowe's CEO Marvin Ellison earned his stripes at such chains as Home Depot and JCPenney. Ellison has been CEO of Lowe's since 2018 and has overseen a share increase of 80% during his tenure. He has a base salary of about $1.45 million, though he earns as much as $11 to $15 million in bonuses, stock dividends and other perks. His net worth is around $30 million, according to Celebrity Net Worth.
Prior to serving as Lowe's CEO, Ellison was the CEO of JCPenney and an executive at Home Depot. Before that, he also worked for the Target Corporation, and as as a director of FedEx and H&R Block. In 2016, the Fortune 500 named him one of five African American CEOs on the greatest leaders list.
Edward 'Ted' Decker, Home Depot — $30.65 Million
Edward "Ted" Decker, CEO of The Home Depot home improvement stores, earns a bit more than $3.5 million in salary each year, and has a net worth of $30.65 million, according to InsiderTrades.
Decker began as Director of Business Valuation at Home Depot in 2000, and has held numerous other positions inside the company as well. Prior to his 22 years with the company, he's held positions in business development, strategic planning and finance at Kimberly-Clark Corp and Scott Paper Co.
Make Your Money Work Better for You
Barbara Rentler, Ross Stores — $69.9 Million
Ross Stores CEO Barbara Rentler has been with the company since 1986. She probably didn't know when she began in merchandising positions that she would eventually move up to make millions.
After 16 years, she was appointed to Senior Vice President and General Merchandise Manager and also held the role of Chief Merchandising Officer. According to MoneyInc.com, her net worth is at least $69.9 million.
Brian Cornell, Target — $80 Million
Target CEO Brian Cornell earns between $18 and $20 million per year in salary for his role, according to CelebrityNetWorth.
The New York-born businessman has held executive roles at other big companies prior, including CEO and Executive Vice President of Safeway Inc, CEO of PepsiCo Americas Foods, and has served on the board of directors of such well known companies as OfficeMax, The Home Depot, Centerplate, Polaris Industries, Yum! Brands, Catalyst, and the Retail Industry Leaders Association.
Doug McMillon, Walmart — $100 Million 
Walmart's CEO Doug McMillon is the youngest CEO to run the company since Sam Walton, at age 56. He earns a whopping salary of $22 million per year, according to CelebrityNetWorth, and is valued at $100 million.
His loyalty to Walmart has paid off. The president and chief executive officer of Walmart Inc. started working there in high school as a summer associate unloading trucks, and became the company's fifth CEO in 2014. Along the way he's worked for the distribution center, as a fishing tackle buyer and a general merchandising manager.
More From GOBankingRates
Make Your Money Work Better for You