How Rich Is Anderson Cooper? His Fortune at Age 54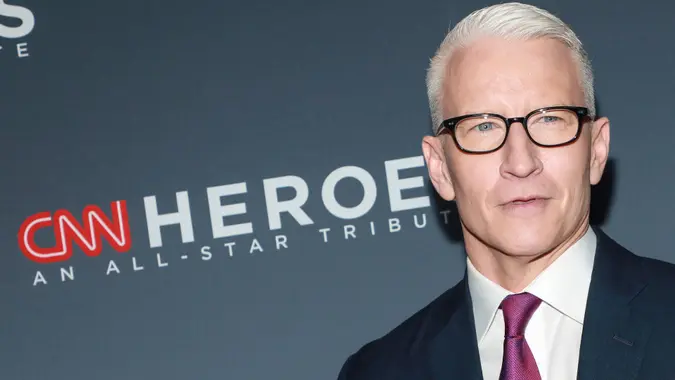 Jason Mendez/Invision/AP/Shutterstock / Jason Mendez/Invision/AP/Shutterstock
News anchor Anderson Cooper has a net worth of $200 million, according to Celebrity Net Worth. That wealth is largely derived from his career in journalism, which dates back to 1992. Although he's also a member of an old, wealthy New York family and has benefited from his connections, he hasn't received much in terms of an inheritance.
Here's a look at Cooper's net worth today at age 54.
Find Out: Just How Rich Are Oprah, Bill Gates and Other Big Names?
Net Worth
Anderson Cooper commands a salary of $12 million a year from CNN, according to multiple reports, making him one of the highest-paid newsmen in the country. Cooper currently hosts the CNN news program "Anderson Cooper 360°" and is known for his coverage of natural disasters, including the 2004 tsunamis in the Indian Ocean and Hurricane Katrina the following year. He's also a regular correspondent for "60 Minutes" on CBS. Cooper served as the executive producer of the HBO documentary "Nothing Left Unsaid: Gloria Vanderbilt & Anderson Cooper" in 2016, which was a collection of candid conversations with Vanderbilt, his mother.
Make Your Money Work Better for You
In addition to that eight-figure salary, Cooper is also a successful author. He penned the best-selling "Dispatches From the Edge: A Memoir of War, Disasters, and Survival," which tells the story of his life and career, and co-wrote a memoir with his mother entitled "The Rainbow Comes and Goes: A Mother and Son on Life, Love, and Loss."
See What These Stars Earn: 33 Popular TV Shows With the Highest-Paid Casts
Life and Career
Cooper was born in New York City on June 3, 1967, the son of writer Wyatt Emory Cooper and heiress, socialite and designer Gloria Vanderbilt. His early life was marked by tragedy as his father died during open-heart surgery when Anderson was just 10 years old in January 1978, and his older brother Carter died by suicide 10 years later by jumping to his death from the window of their mother's 14th-floor apartment. Anderson Cooper would cite losing these loved ones as being part of what motivated him to pursue journalism.
After graduating in 1985 from the Dalton School, a prestigious private school on Manhattan's Upper East Side, in 1985, Cooper attended Yale and graduated with a bachelor's degree in 1989. From there, he began his career as a fact-checker for Channel One, but he soon grew bored with the job and opted to spend a year living in Southeast Asia. He filmed footage during this year that helped him land the position of chief international correspondent for Channel One.
By 1995, Cooper was hired as a correspondent by ABC News en route to becoming the co-anchor of "World News Now." He left in 2000 to host "The Mole" on ABC, but returned to news in January 2002, prompted by the Sept. 11, 2001, terrorist attacks.
Make Your Money Work Better for You
By 2003, Cooper was hosting his own show — "Anderson Cooper 360°" — and has remained a fixture of the network for over a decade, co-moderating a presidential debate in 2016 and even hosting CNN's New Year's Eve broadcasts. His work has earned him 18 Emmy Awards in addition to a Peabody Award and an Edward R. Murrow Award.
Anderson Cooper and the Vanderbilt Fortune
Anderson Cooper is also notable for being a descendant of industrialist and railroad magnate Cornelius Vanderbilt. His mother, Gloria Vanderbilt, inherited a multimillion-dollar trust fund from her father, Reginald Vanderbilt, the great-grandson of Cornelius Vanderbilt.
Although the wealth on his mother's side of the family afforded him certain opportunities, Cooper received a comparatively small $1.5 million inheritance following his mother's death in June 2019 at age 95. By the end of her life, her once-considerable fortune had withered, but Cooper said in 2014 he never expected, nor wanted, a windfall of family money.
"My mom's made clear to me that there's no trust fund. There's none of that," he told interviewer Howard Stern. "[And] I don't believe in inheriting money."
Make Your Money Work Better for You
He continued: "Who's inherited a lot of money that has gone on to do things in their own life? From the time I was growing up, if I felt that there was some pot of gold waiting for me, I don't know that I would've been so motivated."
It's too early to tell what his financial philosophy as a parent will be. Cooper became a first-time father on April 27, 2020, when Wyatt Morgan Cooper was born via surrogate.
More from GoBankingRates
Joel Anderson contributed to the reporting for this article. 
Last updated: July 6, 2021
Make Your Money Work Better for You