Here's Ashton Kutcher's Net Worth and Rise to Multimillionaire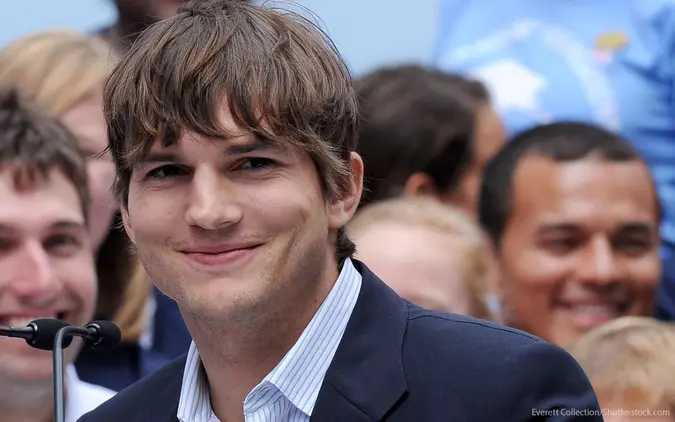 From repeat sitcom successes on "That '70s Show" and "Two and a Half Men" to cult comedy movie hits like "Dude, Where's My Car?", Ashton Kutcher has had a lucrative acting career. Now the actor, investor and former husband of Demi Moore is turning 38 on Feb. 7. Here's how the actor grew his wealth, how much he's worth and what's on the horizon.
See: 10 Popular TV Shows With the Highest-Paid Casts
Ashton Kutcher Net Worth: $160 Million
Born in Cedar Rapids, Iowa, Ashton Kutcher had a varied career before hitting it big on "That '70s Show." The actor was a biochemical engineer major at the University of Iowa before dropping out and moving to New York to be a Calvin Klein model. Soon after, he left the modeling business, moving to Los Angeles and landing the role of Michael Kelso on "That '70s Show," a role that would establish him on the small screen.
More recently, Kutcher has had the distinction of replacing Charlie Sheen on "Two and a Half Men," a role that reportedly earns him around $800,000, making him one of the highest-paid actors on TV, according to Celebrity Net Worth.
Although Kutcher will be taking on a role in the Netflix comedy series "The Ranch," it's unclear how much he is expected to make. On the show, he will be accompanied by Elisha Cuthbert, Debra Winger, Sam Elliott and Danny Masterson.
But acting isn't the sole way Kutcher has made millions. The actor has made numerous investments over the years — among them are real winners and losers.
Ashton Kutcher's Investments
If Kutcher retired from acting today, his future would be more than secure thanks to his savvy investment portfolio. His interests in tech, social media, venture capital and business place him at the forefront of Hollywood investors, where he's been called an angel investor for financially backing startups like Foursquare, Airbnb and Uber. He was also an early adopter of Facebook and Twitter.

Make Your Money Work Better for You
A-Grade is one of Kutcher's most well-known and lucrative ventures. The actor co-founded the venture capital firm six years ago, which was recently valued at $150 million, in no small part for its financial stake in Airbnb. According to Investopedia, some of Kutcher's other investments include YPlan, Spotify, Shazam and Soundcloud.
Not all of Kutcher's investments have panned out, however. Attempts at backing failed names like Ooma and Fashism reportedly lost Kutcher money, but the difference is miminal; last year, his credibility as an investor landed the actor an appearance on "Shark Tank" on behalf of friend Mark Cuban.
Ashton Kutcher Movies
Though Kutcher hasn't walked onstage to receive any coveted Oscar awards, he has been the recipient of several Teen Choice awards, notably for his work on "That '70s Show," his short-lived prank program "Punk'd," and films like "What Happens in Vegas" and "Valentine's Day."
Movies like "Valentine's Day" and "Cheaper by the Dozen" have been some of the top-grossing films Kutcher has appeared in over the years, earning $110.4 million and $138.6 million at the box office respectively. Kutcher's forte seems to be in the rom-com genre; standout earners include "No Strings Attached" with a $70.6 million box office and "Killers" at $47 million.
Ashton Kutcher Personal Life
Few celebrities are able to weather, withstand or live down a high-profile divorce. For a while, it seemed like Kutcher's tumultuous relationship and six-year marriage and split from actress Demi Moore might have tarnished the young actor's career — and potentially, his fortune.
Though Moore and Kutcher's split took some time, the two settled their assets and are now on good terms. Kutcher has since gone on to marry former "That '70s Show" co-star, Mila Kunis. The couple's daughter, Wyatt Isabelle, was born Oct. 1, 2014. See what Kutcher had to say about being a dad:
Make Your Money Work Better for You
Keep Reading: Mila Kunis' Net Worth as She Stars in 'The Spy Who Dumped Me'