How Much Is Ashton Kutcher Worth?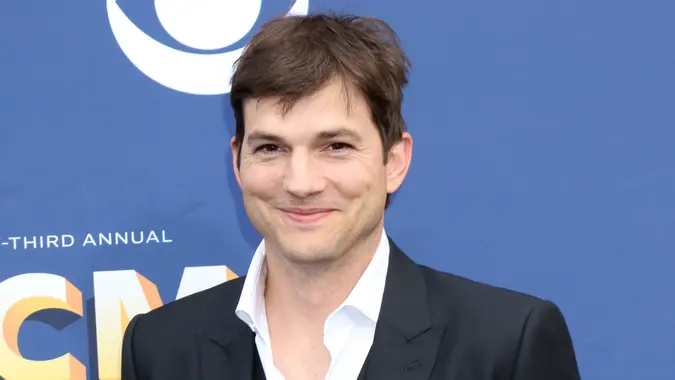 Kathy Hutchins / Shutterstock.com
Ashton Kutcher is a TV and movie star famous for roles ranging from Kelso on "That '70s Show" to Walden Schmidt on "Two and a Half Men." He also created, produced and hosted MTV's "Punk'd," a practical joke reality show that spanned 11 seasons.
Find Out: Here's How Much Jennifer Aniston and Other Actors Get Paid for Their Reruns
In 2012, Forbes ranked Ashton Kutcher as the highest-paid TV actor for his role on "Two and a Half Men." At the time, he was making $20 million per season, Celebrity Net Worth reports. But, in addition to acting and modeling, Kutcher derives a portion of his net worth from savvy investments and entrepreneurship.
Kutcher's Television Earnings
Ashton Kutcher dropped out of college, where he was pursuing a biochemical engineering degree, to become a model in New York City. He modeled for Calvin Klein before leaving New York for Los Angeles and landing a role on "That '70s Show," Celebrity Net Worth reports.
How They Spend: 65 Splurges of the Filthy Rich
Make Your Money Work Better for You
He starred in several movies at the turn of the millennium, including "Dude, Where's My Car." In 2003, Kutcher launched the original MTV series "Punk'd," which also netted the entertainer an undisclosed amount of cash.
From Actor to Venture Capitalist
While his television and movie career made Kutcher a rich man, he also has a savvy mind when it comes to investing. He founded venture capital firm A-Grade Investments with Guy Ossary, turning $30 million into $250 million for the firm, according to Forbes. A portion of Kutcher's wealth comes from early investments in startups such as Uber, Skype, Airbnb, Spotify, Pinterest, Shazam and Warby Parker, Forbes reports.
See: The Richest Celebrity From Every State
Divorce From Demi Moore Takes a Portion of His Earnings
When actress Demi Moore filed for divorce from Kutcher in 2011, Moore apparently sought spousal support and a hefty settlement, claiming Kutcher cheated on her. At the time, Moore possessed a net worth of $150 million while Kutcher's net worth was $140 million.
Read More: Oprah and 24 More Celebrities With Secret Business Empires
Since it seems the two did not have a prenuptial agreement and California is a no-fault, community property state, the two split the earnings they acquired while married. That means, according to Celebrity Net Worth, that the couple split $290 million dollars. However, TMZ sources said Kutcher was "a little more generous than he had to be."
Make Your Money Work Better for You
Real Estate
Real estate, especially in California, tends to be a more solid and stable investment than IPOs and other stocks. Therefore, it's not surprising that Kutcher also holds some property in the state. He owns a beachfront estate in Carpinteria, California, which he purchased with wife Mila Kunis, according to Celebrity Net Worth. His other real estate holdings are "private," according to the site.
More From GOBankingRates
Net worth information is sourced from Celebrity Net Worth and accurate as of Feb. 25, 2021.
Make Your Money Work Better for You