Slow-Motion Showdown: Which 'Baywatch' Cast Member Is Worth the Most?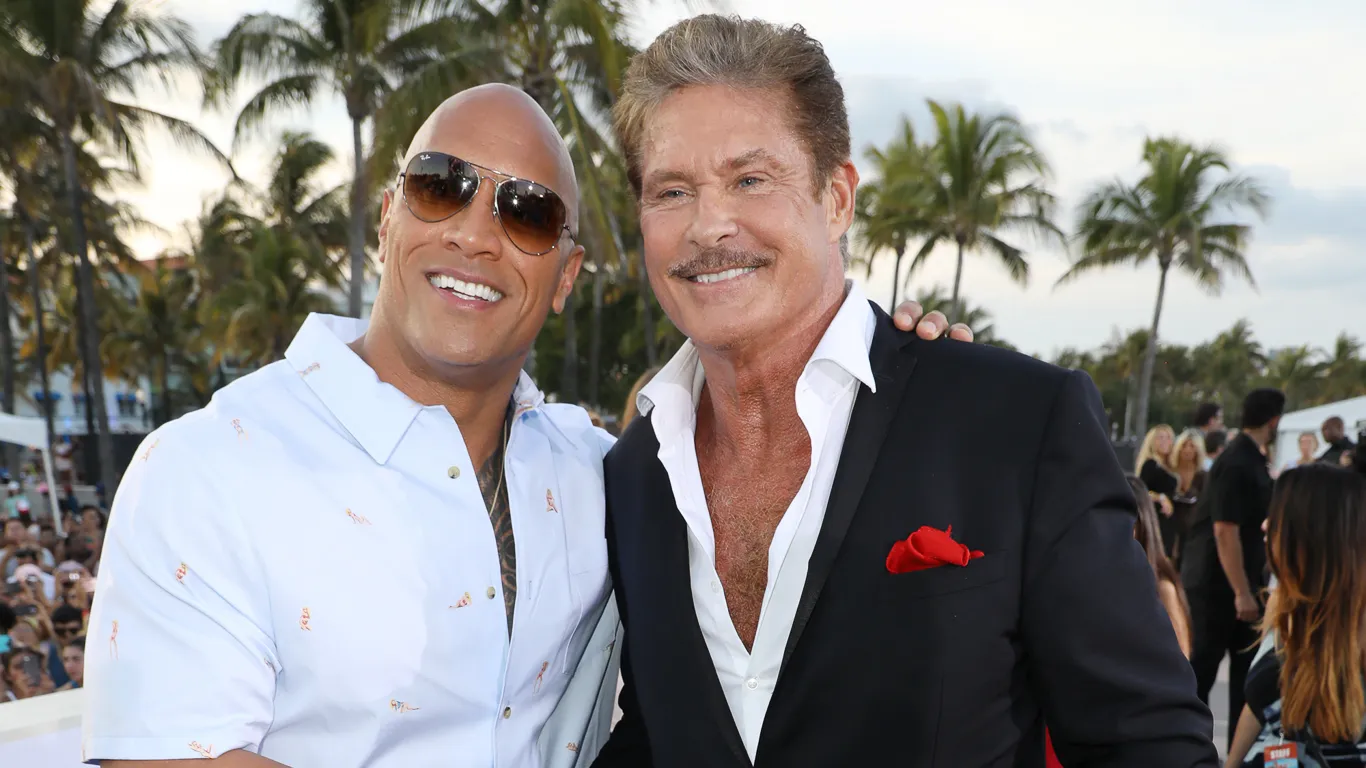 Slow-motion running from 1989 through 2001, "Baywatch" is more than a '90s television show with an excess of red Lycra and sunscreen: It is a cultural phenomenon.
Like the small-screen characters of "21 Jump Street," "Teenage Mutant Ninja Turtles" and "Power Rangers" before them, the impeccably bronzed lifeguards of Los Angeles County are digging their heels even deeper into the pop culture pantheon with their own silver screen adaptation.
On May 25, the new "Baywatch" movie hits theaters, this time with a little less David Hasselhoff and a lot more Dwayne Johnson. Directed by Seth Gordon, the movie is expected to pull in $40 million over its opening weekend.
While it's up to you to decide whether the movie spinoff rivals the TV series, we can tell you which actor stuffed his swim trunks the most — with money, that is.
Make Your Money Work Better for You
Jeremy Jackson Net Worth: $300,000
Hobie Buchannon in "Baywatch" (1991-99), "Baywatch: White Thunder at Glacier Bay" (1998) and "Baywatch: Hawaiian Wedding" (2003)
You can't talk about the youth of "Baywatch" without talking about Hobie. Playing the role of Mitch's son for eight years' worth of TV and two movies might seem like a day on the beach, but it took its toll on actor Jeremy Jackson.
Starting his tenure at a ripe 10 years old, Jeremy told tales of the "classic Hollywood teen-idol story" in a 2012 interview with Esquire. Drugs, alcohol, prostitutes, stealing money from his own juvenile bank account and spending thousands of dollars at once were all regular scandals for the teen celebrity.
Nicole Eggert Net Worth: $500,000
Summer Quinn in "Baywatch" (1992-94)
Summer Quinn brought some teenage pluck to "Baywatch," courtesy of actress Nicole Eggert during her 1992 to 1994 tenure. Eggert also appeared in other popular '90s television shows, including "Married with Children" and "Boy Meets World."
The year 2014 brought money troubles for Eggert; she filed for Chapter 13 bankruptcy after being denied twice previously that year. In the filing, she claimed close to $1 million in assets and about $800,000 in debt, according to CelebrityNetWorth.com.
Yasmine Bleeth Net Worth: $2 Million
Caroline Holden in "Baywatch" (1993-97), "Baywatch Nights" (1996) and "Baywatch: Hawaiian Wedding" (2003)
Yasmine Bleeth's is a story of both beauty and addiction. Bleeth went from being named one of People Magazine's 50 Most Beautiful People in 1995 to pleading guilty to cocaine possession in 2002.
Though Bleeth dealt with public drug problems on set, the actress is peacefully retired today. Bleeth reportedly invested well during her days rocking the red one-piece. Those smart moves, coupled with stints on "Nash Bridges" and the short-lived "Titans," left her with a healthy $2 million net worth.
Make Your Money Work Better for You
Kelly Rohrbach Net Worth: $2 Million
CJ Parker in "Baywatch" (2017)
Kelly Rohrbach is credited as CJ Parker in the new "Baywatch" movie. The role is famously associated with Pamela Anderson, who is also credited for the role in the film. We'll have to wait to find out how two actresses will play the same role, but we can tell you now that Rohrbach is doing pretty well, even before she officially debuts her take on the crystal-loving lifeguard.
Like her predecessor, Rohrbach got her start in modeling before moving on to TV shows like "The PET Squad Files." And though "Baywatch" will be her first feature film, Rohrbach told "Entertainment Tonight" that she hopes it's just the beachy sunrise of a long run. "I hope we can continue on with this family," she said.
Brooke Burns Net Worth: $3 Million
Jessie Owens in "Baywatch" (1998-2001)
Brooke Burns' character Jessie Owens might have gone on to pursue a career as a stuntwoman in the "Baywatch" universe, but the actress herself went on to accrue a net worth of $3 million. Pretty much the same thing, right?
Lots of that is probably owed to her post-"Baywatch" runs on "North Shore" and "Melrose Place." Nowadays, she's a TV movie queen with the same starring role in the three-flick run of "Gourmet Detective" on the Hallmark Channel.
Where Are They Now?: TV Stars Who Have Big Screen Paychecks
Alexandra Daddario Net Worth: $4 Million
Summer Quinn in "Baywatch" (2017)
Before slipping into the iconic red swimsuit to play the role of Summer Quinn in the upcoming "Baywatch" film, Alexandra Daddario starred alongside Dwayne Johnson in "San Andreas."
But that was hardly the only big name on her resume. Daddario already has credits from "American Horror Story" to "True Detective," and she'll being hopping right from the beach back into the fault line with "San Andreas 2." Apparently, Daddario really, really likes saving Californians from the elements.
Make Your Money Work Better for You
Jason Momoa Net Worth: $4 Million
Jason Ioane in "Baywatch" (1999-2001) and "Baywatch Hawaiian Wedding" (2003)
Notable "Baywatch" alum Jason Momoa told Entertainment Weekly in 2015 that he struggled to find work after his time on the beach. "They don't take you seriously," Momoa said of acting agencies in 2015. "It's hard — no one really makes it off that show."
Whether anyone took Momoa's uber-Hawaiian Jason Ioane seriously is up for debate, but it's certain that he proved the exception to his own rule. Since leaving the beach, Momoa appeared as Khal Drogo in HBO's ultra-popular series "Game of Thrones" and starred in the television series "The Red Road" and "Frontier." Currently, Momoa is back in the water to film the upcoming movie "Aquaman," in which he plays the title role.
Alexandra Paul Net Worth: $4 Million
Stephanie Holden in "Baywatch" (1992-97), "Baywatch Nights" (1997) and "Baywatch: Hawaiian Wedding" (2003)
In the early days, "Baywatch" had a reputation as a star-making vehicle — which is an excuse for why its cast didn't get paid a whole lot, sometimes as little as between $2,500 and $5,000 an episode. "A contemporary of mine was on 'Melrose Place.' She was getting paid ten times more than I was on her first year," said Alexandra Paul, the original administrative commander Lieutenant Stephanie Holden, in an Esquire interview.
But in addition to getting put on the map for better-paying projects, "Baywatch" cast members reported raking it in from all the endorsements and even the lavish gifts sent right to their dressing rooms — not to mention perks like one-hour autograph signings that sometimes cost upward of $300,000.
Perhaps that's why Paul is still worth $4 million, even after appearing in "Sharknado 4: The 4th Awakens." She cheekily played a character named Holden in that made-for-TV film, but will officially pass on the role to Ilfenesh Hadera for the new "Baywatch" film.
Make Your Money Work Better for You
Pamela Anderson Net Worth: $8 Million
CJ Parker in "Baywatch" (1992-97), "Baywatch: Hawaiian Wedding" (2003) and "Baywatch" (2017)
When Pamela Anderson was cast as CJ Parker on "Baywatch" — the role that would define her career and public persona for a lifetime — she was pulling in about $10,000 an episode for her minor role on "Home Improvement." To most of us, that doesn't sound too bad. But a net worth of $8 million sounds a lot better.
By the time the show peaked, the former Playmate, current PETA activist and "Dancing with the Stars" alum was earning about $300,000 per episode. All that money doesn't really seem to jell with CJ's Bohemian vibe, but it was a well-deserved reward for Anderson, who had a reputation as one of the hardest-working "Baywatch" cast members. Expect that figure to keep growing with her unyielding work ethic, as Pam hits the beach once again in the "Baywatch" movie this May.
Related: 12 Celebrities Who Use Their Wealth to Pay It Forward
Gregory Alan Williams Net Worth: $8 Million
Sergeant Garner Ellerbee in "Baywatch" (1989-98) and "Baywatch Nights" (1995-97)
Wearing a badge rather than a swimsuit, Gregory Alan Williams played the stalwart Sergeant Garner Ellerbee for 92 episodes of "Baywatch" and 23 episodes of the short-lived "Baywatch Nights."
Very few "Baywatch" alum have stayed busier than Williams since the '90s. With 145 acting credits to his name, this prolific character actor has shown up in everything from "The Sopranos" to "The West Wing." According to IMDB, he will appear in a dozen movies that are currently in pre- or post-production. He has also found the time to write acclaimed books about the black experience in America.
Long story short, the new Ellerbee — Yahya Abdul-Mateen II — has some big shoes to fill when he puts on that badge this summer.
Make Your Money Work Better for You
Priyanka Chopra Net Worth: $8 Million
Victoria Leeds in "Baywatch" (2017)
Though we can certainly expect lots of winks, nods and character reboots in the new "Baywatch" film, Indian actress Priyanka Chopra will inject the franchise with some fresh blood as she introduces the all-new villain Victoria Leeds. Aside from having an evil-sounding name, Leeds is also a criminal mastermind and drug trafficker.
Before "Baywatch," Chopra built up her net worth with dozens of Bollywood hits. Beginning in 2015, she graced the U.S. small screen as Alex Parrish in the ABC drama "Quantico."
David Charvet Net Worth: $10 Million
Matt Brody in "Baywatch" (1992-96) and "Baywatch: Forbidden Paradise" (1995)
The beau of both Summer and CJ, Matt Brody owes his beachy, nice-guy persona to actor David Charvet, who was Pamela Anderson's real-life boyfriend during filming — on breaks from her tumultuous marriage with Motley Crüe drummer Tommy Lee, that is.
Like a handful of ex-"Baywatch" crew, Charvet eventually moved from the beach to "Melrose Place," but nowadays he focuses on his singing career.
David Hasselhoff Net Worth: $10 Million
Mitch Buchannon in "Baywatch" (1989-2000), "Baywatch Nights" (1995-97), "Baywatch: Hawaiian Wedding" (2003) and "Baywatch" (2017)
His stardom might have begun as Michael Knight in the '80s hit "Knight Rider," but David Hasselhoff will always be the face — and the pecs — of "Baywatch." The Hoff played the lead role of Mitch Buchannon in "Baywatch" and "Baywatch Nights," as well as the made-for-TV movie "Baywatch: Hawaiian Wedding." For the 2017 film, Hasselhoff will play the role of The Mentor.
There's more to Hasselhoff than chest hair, though. "David Hasselhoff is a genius businessman," Billy Warlock, who played Eddie Kramer in "Baywatch Nights" and "Baywatch: Hawaiian Wedding," told Esquire. "Do not judge the images of David Hasselhoff of late — the eating the burger on the floor and the crazy stints."
Warlock is, of course, referencing Hasselhoff's decade worth of producing duties across various "Baywatch" projects, as well as his Euro business savvy that saved the show from certain doom stateside. When you're worth $10 million, it probably means you know a thing or two about business.
Look: David Hasselhoff and Other Celebrities Who Dabbled in Music
Make Your Money Work Better for You
Carmen Electra Net Worth: $16 Million
Candy in "Baywatch Nights" (1996) and Lani McKenzie in "Baywatch" (1997-98) and "Baywatch: Hawaiian Wedding" (2003)
With a net worth of $16 million, Carmen Electra is on the higher end of the wealth spectrum compared to the rest of the original "Baywatch" cast.
After her 22-episode tenure ended, Electra — who studied music under Prince and was briefly married to Dennis Rodman — went on to host MTV's "Singled Out," and then appeared in the films "Scary Movie" and "Starsky & Hutch." Last year, she made a guest appearance on the Fox show "Jane the Virgin."
Zac Efron Net Worth: $24 Million
Matt Brody in "Baywatch" (2017)
The one-time beau of both Summer Quinn and CJ Parker, the Matt Brody character was known for his cute smile and impressive abs. It makes sense, then, that Zac Efron would reprise the role in the new "Baywatch" movie.
Efron greatly out-flexes his predecessor David Charvet's $10 million net worth thanks in part to starring roles in "High School Musical" and the "Neighbors" movies. In the future, expect to see Efron portray serial killer Ted Bundy in the upcoming film "Extremely Wicked, Shockingly Evil and Vile."
Dwayne Johnson Net Worth: $190 Million
Mitch Buchannon in "Baywatch" (2017)
Dwayne Johnson might be new to the role of Mitch Buchannon, but he's no stranger to fame, fortune and really, really deep tans. From his WWE days as "The Rock" to a starring role in the incredibly lucrative "Fast and the Furious" franchise, Johnson's pecs are primed and ready for their "Baywatch" debut.
The actor, athlete, author and producer is currently valued at a staggering $190 million. That's as many as 19 Hasselhoffs — which is, coincidentally, the number of Hasselhoffs Johnson can bench.
All told, "Baywatch" is responsible for lining the swim trunks of dozens of beach-bodied celebs with tens of millions of dollars. Not bad for a show that once had to buy its own rights back from a European distributor for $10. Here's to you, sexy elite lifeguards.
Up Next: 6 Movies and TV Shows Making Money Off 90s Nostalgia
About the Author