How Much Is Beyoncé Worth?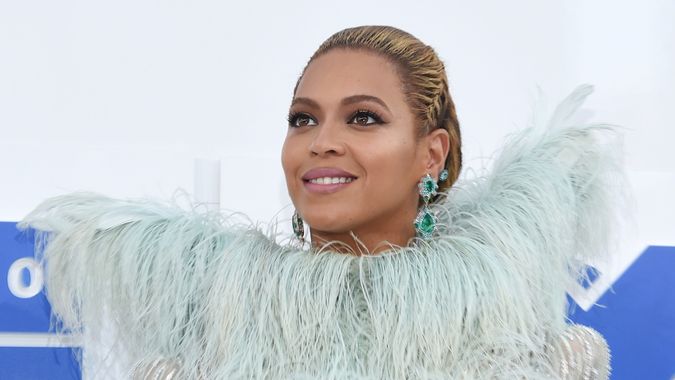 Larry Busacca / Getty Images for MTV
Superstar Beyoncé Knowles has a net worth of $420 million, according to Forbes. She earned $81 million in 2019 and ranked as one of the world's highest-paid celebrities.
Not only that, she's part of a celebrity power couple as the wife of Jay-Z — a billionaire — who holds multiple investments in the music industry, as well as art and liquor.
Want to know more about Beyoncé's fortune and how she spends?
Net worth:$420 million
Date of Birth: Sept. 4, 1981
Primary sources of wealth: Musician, singer-songwriter, actress, business investor
Career highlights: A founding member of Destiny's Child, 79 Grammy nominations and 24 wins
Read more: How the World's Highest-Paid Celebs Made Their Millions in 2020
From Destiny's Child to Massive Tours: Beyoncé's Music Career Nets Millions
Beyoncé's musical career began in Houston, where she often performed as a child. In 1990, at just 9 years old, Beyoncé formed Destiny's Child with her friend LaTavia Roberson, whom she met at an audition. Kelendria "Kelly" Rowland joined the group in 1992. Destiny's Child performed a rap song on Star Search that year, and later became a quartet with the addition of LeToya Luckett in 1993.
See the List: Taylor Swift and 24 More of the Richest Musicians
In 1997, the group's debut recording, "Killing Time," was included on the "Men in Black" movie soundtrack. In 1998, they launched a self-titled debut album.
Since these blockbuster beginnings, Beyoncé has earned millions from her music, landing her on the Forbes list of Power Women 2020 (No. 72) and America's Self-Made Women 2020 (No. 55). In 2016, she was listed by Forbes as one of America's Richest Entrepreneurs Under 40 (No. 38).
Beyoncé's "On The Run II" stadium tour with Jay-Z grossed more than $250 million, approximately $5 million per night. Similarly, her 2016 "Formation World Tour" also grossed $250 million.
Rich Together: Celebrity Couples Worth Hundreds of Millions
Behind Beyoncé's Other Entertainment Earnings
Though best known as a talented musical performer, Beyoncé voiced the role of Nala in Disney's live-action "Lion King" feature film, to the tune of a $25 million paycheck.
In April 2020, she launched a Netflix special outlining her 2018 performance at the Coachella Valley Music and Arts Festival, where she was the first black woman to headline the massive event.
Smart Money Moves: Do You Invest Like These Millionaire Stars?
Athleisure and Other Business Endeavors Up Beyoncé's Earnings
A self-made entrepreneur without a college degree, Beyoncé doesn't stop working hard in every aspect of her life. In 2016, she co-founded Ivy Park, an athleisure clothing line named after her daughter (Blue Ivy) and Parkwood Park in Houston, where Beyoncé used to work out.
In 2020, Beyoncé relaunched the clothing line under a partnership with Adidas. Beginning in January of last year, she began gleefully gifting Hollywood friends like Reese Witherspoon, Cardi B and Hailey Bieber, among others, with goodies from the line.
See More: Oprah and 24 More Celebrities With Secret Business Empires
She also has a fragrance line that's made sales totaling $400 million, Business Insider reports.
She's also made significant money from endorsements, including deals with L'Oreal, American Express and Pepsi.
How Beyoncé Spends Her Millions
Beyoncé seems to be anything but frugal when it comes to enjoying her earnings. She and Jay-Z have a $26 million luxury vacation home in Long Island's famed Hamptons region, along with an $88 million Bel Air, California, estate.
Jay-Z and Beyoncé seem to love traveling the world, and the couple's private jet, which she purchased as a gift for her husband, has helped them get to destinations like Paris, Ibiza and Brazil.
Find Out: These Stars Get Paid Obscene Amounts of Money To Post One Picture
Beyoncé Believes In Giving Back
Beyoncé's generosity extends beyond her friends and family, though. While she's not afraid to splurge extravagantly on clothing, jewelry, dinners and vacations, she makes a point to give to those in need. She has donated scholarships to historically black colleges and universities, helped out with financial donations following Hurricanes Katrina and Harvey, and, most recently, donated $6 million to mental health efforts during the pandemic, in partnership with Twitter CEO Jack Dorsey.
Beyoncé's foundation, BeyGOOD, is yet another way she helps those in need in a variety of ways, donating money for scholarships and disaster relief and supporting UNICEF, the United Nations Children's Fund.
More From GOBankingRates
Last updated: Jan. 20, 2021