How Rich Is Drake?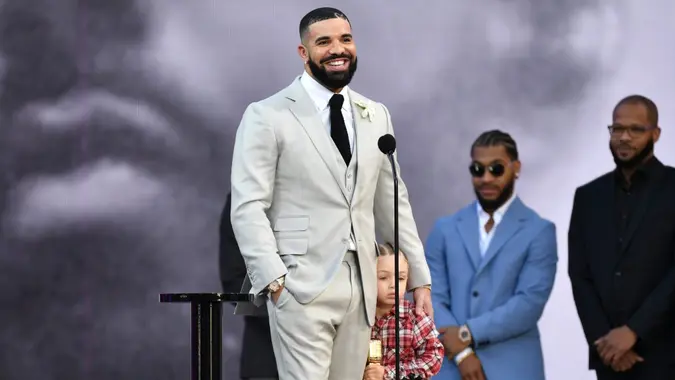 Rob Latour/Shutterstock / Rob Latour/Shutterstock
Actor, producer, and rapper Drake has a net worth of $250 million and turns 36 today, Oct. 24th. As one of the highest-paid performers, Drake earns roughly $1 million each time he appears in concert. Keep reading to learn just how he built his wealth.
Related: How Much Is Prince Harry Worth?
See Our List: 100 Most Influential Money Experts
Drake Net Worth: $250 Million
Celebrity Net Worth estimates that Drake has earned more than $430 million throughout his career, which supports his lavish lifestyle that includes multiple properties and a private jet. 
The Canadian performer has come a long way from his youth in Toronto, where Drake and his mom shared the bottom half of a two-story home and money was tight. Even when he landed a role on "Degrassi: The Next Generation," Drake and his mother still struggled. His mother became ill and Drake's $50,000 annual salary on the Canadian teen drama was their family's only income, Celebrity Net Worth reports. 
Drake's Musical Milestones
In the early 2000s, Drake began pursuing a musical career, inspired by Jay-Z and other independent rap artists. He released a mixtape and sold 6,000 copies in 2006. His second mixtape became his ticket to fame. 
Make Your Money Work Better for You
The single "Replacement Girl" caught the attention of Lil Wayne and other rap stars and Drake joined Wayne's Tha Carter III tour. Drake's third mixtape, "So Far Gone," reached No. 2 on the Billboard Hot 100 and was certified Gold by the RIAA. In June 2009, Drake finally signed with Lil Wayne's label, Young Money Entertainment, and there was no looking back for the young Canadian superstar. 
Drake's first studio release, "Thank Me Later," hit No. 1 on multiple Billboard charts in the U.S. and Canada and was certified platinum by the RIAA, according to Celebrity Net Worth. In total, Drake has won 180 major music awards, including four Grammys, the site reports. 
Take Our Poll: Do You Have an Emergency Fund Established?
Drake's Real Estate Investments
Drake owns multiple properties across the world, including his YOLO Estate in Hidden Hills, California, which he purchased for $7.7 million in 2012. The house had been listed on the market for $27 million in 2009. The property includes a 12,000-square-foot mansion, a 2,000-square-foot party house, a 25-seat private home theater, full sized basketball court and a "lagoon-like" swimming pool worthy of any luxury resort, Celebrity Net Worth reports.
Make Your Money Work Better for You
Drake also purchased two adjacent properties to create a 6.7-acre private cul-de-sac that's worth tens of millions in today's market, which cost $15 million over six years to acquire. 
In addition, the entertainment mogul owns a condo in Toronto and a large plot of land in a neighboring suburb. 
Drake's Business Ventures
Celebrity Net Worth reports that Drake earns millions from business endorsements and other ventures. The artist signed a $19 million exclusivity deal with Apple Music, giving the service exclusive first rights to all his future solo releases. Drake's record label, OVO Sound, reps a number of profitable artists. He has also earned money from endorsements for brands such as Nike, Burger King, Sprite and Whataburger. 
With so many business pursuits, it's no wonder Drake felt he needed a private jet to support his lifestyle. In 2019, he invested in a Boeing 767 named "Air Drake," which Celebrity Net Worth estimates to be worth $75 million to $100 million. 
In May 2022, Universal Music Group, confirmed in their Q1 earnings call that Drake had been re-signed to a "long-term worldwide partnership." This deal was all encompassing and included "recorded music to music publishing, film, television and brands" totaling an estimated value of $400 million.
Make Your Money Work Better for You
More From GOBankingRates
Jake Arky contributed to the reporting for this article.
Make Your Money Work Better for You