Jennifer Aniston Marries Justin Theroux: What Is Their Combined Net Worth?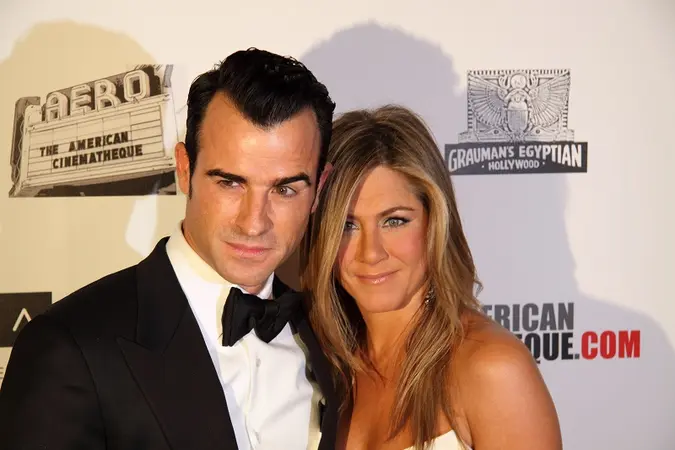 After a nearly three-year engagement, Jennifer Aniston and Justin Theroux are finally married. On Wednesday evening, America's sweetheart and her prince charming tied the knot in a secret wedding at their Bel Air estate.
While Aniston was previously married to Brad Pitt from 2000 to 2005, this is Theroux's first marriage. The actor was previously in a 14-year relationship with hair stylist Heidi Bivens. With Aniston and Theroux officially husband and wife, the two are estimated to have a combined net worth of $160.5 million, according to Celebrity Net Worth.
Read: Jennifer Aniston and Justin Theroux Risk Their Bank Account Funds by Marrying Without a Prenup
Jennifer Aniston Marries Justin Theroux in Private Wedding
The newlyweds exchanged vows in front of 70 guests, who were told the gathering was a party to celebrate Theroux's 44th birthday. The star-studded affair was attended by a number of celebrities, including Lisa Kudrow, Chelsea Handler, Howard Stern, Sia, Jennifer Meyer, Emily Blunt, John Krasinski, Ellen DeGeneres, Lake Bell, Scott Campbell and Terry Richardson.
TMZ reports a giant shed was built in the couple's backyard to keep party supplies under wraps. Staffers who helped set up for the event were not told a wedding had been planned. They were also restricted from bringing cell phones onsite or parking near the premises.
In August 2012, Theroux proposed to Aniston on his 41st birthday over dinner at New York City's Blue Hill Restaurant. Us Weekly reported that he presented his bride-to-be with an engagement ring that was likely eight carats, which has an estimated price tag of $500,000.
The couple met on the 2007 set of "Tropic Thunder," which Theroux co-wrote with Aniston's friend Ben Stiller. The two went on to co-star in 2010's "Wanderlust," although Theroux was still dating Bivens at the time. The pair adamantly deny claims that their relationship began on set, insisting instead that they didn't start dating until they were both single in summer 2011.
Make Your Money Work Better for You
Jennifer Aniston Net Worth: $150 Million
Jennifer Aniston has a net worth of $150 million, according to Celebrity Net Worth. The actress rose to fame when she starred as Rachel Green on the wildly successful sitcom "Friends," a role she held from 1994 to 2004. During the 2003 and 2004 seasons of "Friends," Aniston and her female co-stars became the highest-paid television actresses of all time by earning $1 million per episode.
Since then, Aniston has successfully transitioned to the big screen, where she reportedly earns up to $5 million per film. Some of her biggest hits to date are "We're the Millers," "Marley & Me" and "Just Go With It." Aniston is slated to star in the upcoming films "Mother's Day" and "Mean Moms."
Justin Theroux Net Worth: $20 Million
Justin Theroux has a net worth of $20 million, according to Celebrity Net Worth. Aniston's multi-talented husband is an established actor, director, screenwriter and producer. He is currently starring on HBO's "The Leftovers," where he earns a reported $75,000 per episode.
Theroux has appeared in a number of films, such as "Romy and Michele's High School Reunion," "American Psycho," "Mullholland Drive" and "Zoolander."" He was also a screenwriter for the big screen rendition of Broadway's "Rock of Ages."