Johnny Depp Net Worth: His Fortune Sinks After Lawsuits, Divorce
The "Pirates of the Caribbean" star could face money troubles.
June 9 marks the 55th birthday of one of Hollywood's most celebrated actors, Johnny Depp. However, it arrives as the star continues to deal with ongoing legal troubles in the aftermath of a lawsuit with his former management company and a divorce from wife Amber Heard. Now, Depp has been hit with a lawsuit by two former bodyguards as well as recent reports that he attacked a crew member on the set of his latest film.
Click here to read about the weird ways people go broke.
Johnny Depp Net Worth: $200M
In May 2016, Depp's net worth was estimated at $400 million, according to Celebrity Net Worth. Two years later, the site reports that his fortune has been slashed in half to $200 million. And even that is likely out of date, as a series of stories about legal troubles, lawsuits and wranglings with former managers and attorneys has most believing that his fortune has diminished to a tiny portion of what it once was. This means the actor has managed to squander most of the $650 million he has earned acting.
A lack of income seemingly isn't to blame for Depp's money woes, as Forbes estimated his 2016 earnings at $48 million.
Stop the Habits: 6 Reasons You're Always Broke
Johnny Depp Lawsuit
In January 2017, the "Pirates of the Caribbean" star filed a lawsuit against The Management Group (TMG), accusing the firm of mishandling his money.
The company managed his fortune from 1999 to early 2016. His more than $25 million lawsuit accused TMG of taking $28 million in unauthorized contingent fees, repeatedly failing to file or pay his taxes on time, not keeping proper financial records and loaning nearly $10 million of his money to third parties without his permission.
TMG quickly shot back with a countersuit, claiming Depp knowingly caused his own financial woes. The company is seeking $560,000 in unpaid fees from the actor and repayment for a $5 million loan it claims to have granted him.
The countersuit listed several of the lavish expenses advisors claim they warned Depp to curtail. Some of these include $75 million used to purchase and decorate 14 residences, $18 million for the purchase and renovation of a 150-foot yacht, $3 million for the funeral of author and idol Hunter S. Thompson, $300,000 per month on his 40 full-time staff members and $30,000 per month on wine. In total, TMG estimated Depp's expenditures at a stunning $2 million a month.
Related: The Daily Costs of Living Like a Billionaire
Meanwhile, Depp's legal woes continue to mount. On May 1, 2018, it was reported that Depp was getting sued by his former bodyguards over unpaid wages and hostile working conditions that included exposure to loaded weapons and illegal substances. Then, just six days later, reports broke that Depp had assaulted the location manager on the set of "LAByrinth," a film about the deaths of Tupac Shakur and Notorious BIG. Although director Brad Furman defended the actor, another source claimed he had been consuming alcohol all day on set.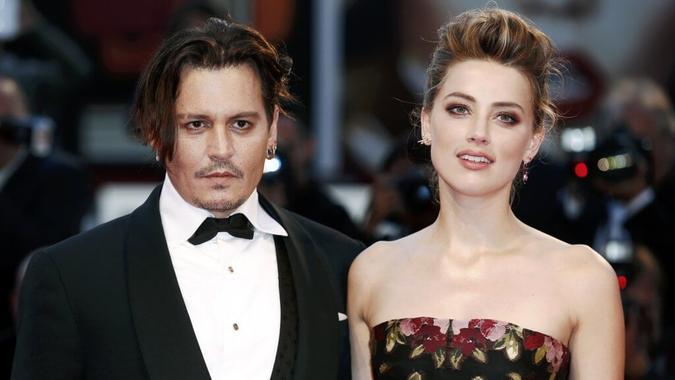 Johnny Depp Divorce
In 2016, Johnny Depp made headlines over his divorce from his wife of 15 months, actress Amber Heard. Finalized in January 2017, the divorce came as a surprise to many, but the shock of that was nothing compared to the shock of Heard's allegations of physical and verbal abuse by Depp, which she later dropped as a part of their settlement.
Heard filed for divorce in May 2016, just days before the release of "Alice Through the Looking Glass." On May 27, 2016 — the day the film was released — she was granted a restraining order from the actor after claiming he had thrown a cell phone at her during a fight days earlier.
The couple didn't have a prenuptial agreement but settled their divorce for $7 million. Heard pledged to donate the funds to charity, and in 2017 donated between $1 million and $5 million to the Children's Hospital of Los Angeles.
Learn More: 12 of the Most Expensive Celebrity Divorces to Rock Hollywood
'Pirates of the Caribbean' Movie Earnings
The "Pirates of the Caribbean" franchise has proven a major cash cow for both Depp and Disney, hauling in almost $1.5 billion in domestic ticket sales and more than $4.5 billion internationally.
"Pirates of the Caribbean: Dead Man's Chest" is the most successful blockbuster film in the franchise. It brought in nearly $1.1 billion worldwide on a $225 million production budget. Next up is "Pirates of the Caribbean: On Stranger Tides," with more than $1 billion in earnings worldwide on a $250 million production budget.
"Pirates of the Caribbean: At World's End" garnered $963.4 million at theaters worldwide with a production budget of $300 million. The first film in the franchise, "Pirates of the Caribbean: The Curse of the Black Pearl," earned nearly $654.3 million worldwide with a production budget of $140 million.
However, if Depp is counting on a continued parade of "Pirates of the Caribbean" sequels to pay for his lavish lifestyle and ongoing lawsuits, the performance of "Pirates of the Carribean: Dead Men Tell No Tales" might give him pause. Although the worldwide take of $794.9 million is certainly nothing to scoff at, it's over $200 million — about 25 percent — less than its immediate predecessor, "Pirates of the Caribbean: On Stranger Tides." Meanwhile, as international grosses have held relatively steady, the domestic box office for the most recent installment was almost $70 million less than the next lowest — "On Stranger Tides" — and less than half of the $423.3 million hauled in by "Dead Man's Chest."
Johnny Depp Box Office Flops
Depp has starred in his fair share of box office hits throughout his tenure in Hollywood, but his career appears to have hit a bit of a rough patch.
The 2016 film "Alice Through the Looking Glass" grossed just more than $77 million domestically on a production budget of $170 million — that's despite the film's A-list cast. This followed "Mortdecai," a major flop that garnered less than $7.7 million domestically with a production budget of $60 million. Other recent Johnny Depp movie flops include "Transcendence," "The Lone Ranger," "Dark Shadows" and "The Rum Diary." Depp met ex-wife Amber Heard on the set of "Rum Diary," but the film brought in less than $24 million worldwide on a production budget of $45 million.
In 2016, Forbes crowned Depp as the most overpaid actor in Hollywood for the second consecutive year. The magazine reported his box office returns at $2.80 for every $1 paid.
Beyond the "Pirates of the Caribbean" franchise, his most recent blockbuster hit where he had a starring role was "Alice in Wonderland" in 2010. The film brought in more than $1 billion worldwide with a production budget of $200 million. Depp had a small role in "Into the Woods," which grossed more than $213 million worldwide on a production budget of $50 million. He also played a prominent (albeit supporting) role in "Murder on the Orient Express," a film that pulled down $351.7 million worldwide on a budget of just $55 million.
Click through to see 50 splurges of the filthy rich.
Laura Woods contributed to the reporting for this article.