How Much Is Justin Bieber Worth?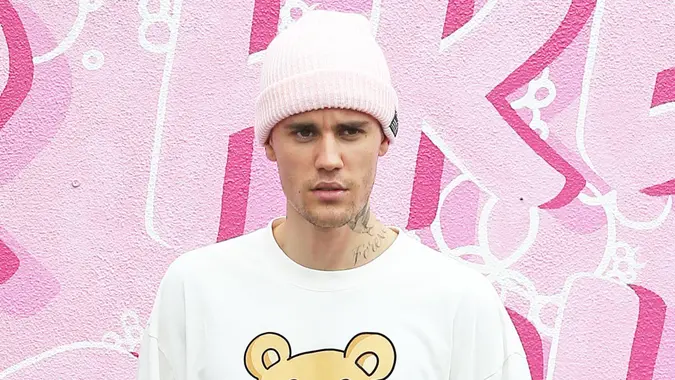 Broadimage / Shutterstock.com
At the young age of 27, pop singer Justin Bieber is one of the world's wealthiest performers, with a net worth of $285 million. Celebrity Net Worth estimates his annual salary to be in the neighborhood of $80 million, with most of his money coming from music and related merchandise sales.
Learn: Justin Bieber, Billie Eilish and Other Musicians Set To Lose Millions to COVID-19
Net worth: $285 million
Date of birth: March 1, 1994
Primary sources of wealth: Singing and songwriting
Career highlights: 86 Billboard music hits, including 22 that reached the top 10 and six that claimed the No. 1 spot
A YouTube Star Is Born
Bieber's success story is a dream come true for many teens today. He was discovered on YouTube by Scooter Braun while Braun was reportedly looking up another performer. The Canadian crooner caught the manager's eye, and Scooter flew him from Ontario, Canada, to Atlanta to record a single.
There, Bieber met up with R&B singer Usher, which ultimately helped him land a recording contract. Bieber released his first single, "One Time," in 2009. But it wasn't until his Billboard hit "Baby" that the star's net worth became worth watching.
Make Your Money Work Better for You
See: Taylor Swift and 24 More of the Richest Musicians
Bieber's Earnings Increase Incrementally Over the Past Decade
In 2011, he earned about $5 million from his music, but his income jumped to $40 million in 2012. There was no looking back from there as he achieved nine-figure earnings of $100 million in 2013 and over $200 million every year after that.
See the List: Taylor Swift and 9 More of the Richest Stars 30 and Younger
Money Nation reported that most of his earnings come from his concert tours, although 86 Billboard music hits, including 22 that reached the top 10 and six that claimed the No. 1 spot, certainly don't hurt.
He's also had a number of endorsement deals, including Calvin Klein ads, Nicole by OPI, Beats by Dre and Best Buy.
Bieber also invested in Spotify's IPO back in 2018, according to Yahoo! Finance.
Making Big Money: Oprah and 24 More Celebrities With Secret Business Empires
Jet-setting, Diamond Rings and Taking Care of Family
Bieber isn't afraid to spend money on fast cars, big houses, vacations and parties. He spent $5 million on a 9,000-square-foot estate in his hometown of Ontario. The property has its own horse track, a temperature-controlled wine room and a private lake, sources say.
Make Your Money Work Better for You
But the pop star also spoils those closest to him. He splurged on a $500,000 six-carat diamond engagement ring for now-wife Hailey Bieber, purchased a house for his dad and gives both parents and his siblings money when they need it.
He also looks outside his family to help those in need, auctioning off a Ferrari for more than $400,000 and donating the money to various charities.
More From GOBankingRates
Last updated: Sept. 3, 2021
Make Your Money Work Better for You