How Much is Kanye West Worth After Losing Most of His Fortune?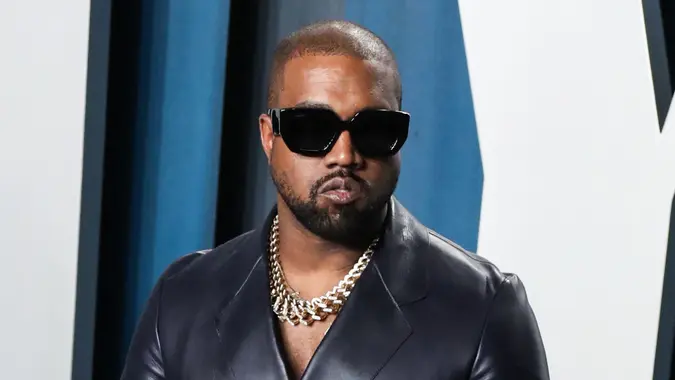 Image Press Agency/NurPhoto/Shutterstock / Image Press Agency/NurPhoto/Shutterstock
Kanye West is no longer a billionaire. After being flagged on Instagram and Twitter for antisemitic comments, companies who partnered with the rapper are dropping him en masse.
Read More: 10 Richest People in the World
Learn: Best Cities To Retire on a Budget of $1,500 a Month
He is now worth $4 million, according to Forbes. The financial site noted that without his $1.5 billion from Addidas, he lost most of his $2 billion fortune.
On top of that loss, Yeezy products have been pulled from the shelves at the Gap and Footlocker. Donda Sports has taken a hit as well as the NFL's Aaron Donald and NBA star Jaylen Brown ended their partnerships with the mogul. In addition, fashion house Balenciaga and Vogue magazine have cut ties with him.
His entertainment-based income is in jeopardy as well as talent agency CAA and film and TV production company MRC. It's rumored that he's been dropped by Def Jam Records as well, according to ET.
West's current net worth is based on his cash and real estate assets, approximately how much his music catalog is worth and his 5% stake in shapewear brand Skims, which is owned by his ex-wife Kim Kardashian, according to Forbes.
So how did Kanye West make the fortune he so quickly lost?
Early Life and Rise to Music Stardom
Born Kanye Omari West on June 8, 1977, in Atlanta. West lived with his parents, Ray and Donda West, for three years until their divorce. He and his mother then relocated to Chicago and even lived in China for a year when Kanye was 10, a period he has said had a huge impact on his life. Donda played a tremendous role as both his mother and manager, publishing the book "Raising Kanye: Life Lessons from the Mother of a Hip-Hop Superstar" just six months before her passing in November 2007 due to surgery complications.
Make Your Money Work Better for You
The American rapper, producer, fashion designer and entrepreneur began his music career in 2000 as a producer for Jay-Z's Roc-A-Fella Records, working with artists like Alicia Keys, John Legend and Janet Jackson. In 2002, West was in a severe car crash that left his jaw wired shut and inspired the track "Through the Wire," which featured on "The College Dropout." The album was titled appropriately, as West had dropped out of Chicago's American Academy of Art to pursue music.
The album received 10 Grammy nominations and was certified triple platinum in the U.S, making West a star. With his newfound fame, he continued to release albums: "Late Registration"  in 2005, "Graduation" in 2007, "808s & Heartbreak" in 2008, "My Beautiful Dark Twisted Fantasy" in 2010, a collaboration album with Jay-Z titled "Watch the Throne" in 2011, "Yeezus" in 2013, "The Life of Pablo" in 2016, "Ye" in 2018 and "Jesus is King" in 2019. He added "Donda," named for his late mother, to the collection in 2021, marking his 10th solo album.
West is no stranger to accolades, either. He boasts 21 Grammys and 70 Grammy nominations, as well as his albums "Yeezus" and "The Life of Pablo" both reaching the No.1 position on the Hot 200 Billboard chart.
West has produced music for the likes of 6ix9ine, XXXTentacion, Lil Pump, Chance the Rapper, Kid Cudi and Teyana Taylor. Even so, his musical endeavors account for just part of his wealth. Forbes lists him as No. 5 on its 2022 list of highest-earning celebrities at $235 million, based largely on the success of his Yeezys line of sneakers for Adidas.
Make Your Money Work Better for You
Fashioning a Career
West's career in the fashion industry started from a sneaker collaboration project between Nike and himself — Air Yeezys — which launched in 2007. The cult following for West's designs quickly grew and eventually lead to a 10-year contract with Nike's rival company Adidas in 2013. Two years later, the Yeezy Boost 350 sneaker was born, which created an insane resale value. The coveted shoes skyrocketed in price online, which sneaker-heads lapped up like milk from a spoon.
The iconic sneakers placed Kanye in a world of his own, and consumers haven't tired of them. According to Footwear News, the Adidas Yeezy Boost 350 V2 "Beluga 3.0" will release this fall.
In June 2020, West's Yeezy fashion brand signed a 10-year partnership with Gap to develop clothing for adults and children. Forbes reported that the first Yeezys for the Gap, a jacket and a hoodie, sold out quickly in 2021 and left Gap wanting more offerings. Gap sales of Yeezy products hit $1 billion in the first year of the deal, Forbes said. The Yeezy Gap Engineered by Balenciaga collection debuted this spring. It's a collection of separates, sweats and outerwear, all largely in grays and blacks.
Make Your Money Work Better for You
Kim Kardashian Split
West and Kim Kardashian West announced their split in February 2021 after several public meltdowns and Twitter rants from the artist, in which he compared his life to the Jordan Peele horror movie "Get Out." The pair had long fought over where they should live and raise their family of four, with West choosing the sanctuary of his 4,524-acre Wyoming ranch and Kim preferring the sprawling hills of Los Angeles, near her large immediate family.
A California judge declared them legally divorced in March 2022, but some financial issues and custody of their four children — North, Saint, Chicago and Psalm — had yet to be settled. Despite Kim selling out her stake in Yeezy earlier this year, Kanye still has holdings in Kim's lounge and shapewear brand, Skims.
Although the settlement has not been finalized, Kardashian reportedly will keep their estate in Hidden Hills, California, near her family, and West will keep the property in Wyoming. While West has a home in Malibu, California, he bought a $4.5 million house across the street from Kim to be near his children, he told Hollywood Unlocked in January. "My solace comes from seeing my kids and getting a solid schedule. That's why I even got the house," he said.
Other Business Ventures
Kanye has always lived by the motto "Dream Big," like when he tried to run for president in 2020. However, this has occasionally ended with some of his business ventures failing through the years, including his travel company, Kanye Travel Ventures, a fast-food chain venture with Fatburger and, most recently, his ties to the nonprofit Donda House.
West has long been philanthropic; in 2011 he and fellow rapper Che "Rhymefest" Smith co-created the nonprofit charity Donda House in his hometown of Chicago to honor his late mother. The charity became the center of a controversy in 2018 when Rhymefest tweeted at rapper Drake for support, stating Kanye abandoned the project.
Kim Kardashian took to Twitter to blast Rhymefest, saying he would no longer be featured on Kanye's album at the time, "Ye." This backlash came after the nonprofit released a statement in May 2018 that the charity was unable to secure funding for construction and was distancing itself from Kanye West due to his public support of former President Donald Trump. The nonprofit quickly rebranded after the incident to Art of Culture, Inc. and separated its ties from Kanye altogether.
Learn: How Rich Is Kim Kardashian?
He launched Donda Sports in May 2022, which will represent athletes in their endeavors on and off the field, including with endorsements for apparel, shoes and more. Jaylen Brown of the Boston Celtics and Aaron Donald of the Los Angeles Rams were among the first athletes to sign.
In October 2022, he agreed to purchase the conservative social media platform, Parler for an undisclosed amount. He recently had posts removed from Twitter and Instagram for breaking content policies, according to Bloomberg.
More From GOBankingRates
Jami Farkas contributed to the reporting for this article.
Make Your Money Work Better for You