Khloe Kardashian, Lamar Odom Divorce: It's Official — Who Gets What in the Kardashian Odom Net Worth Split?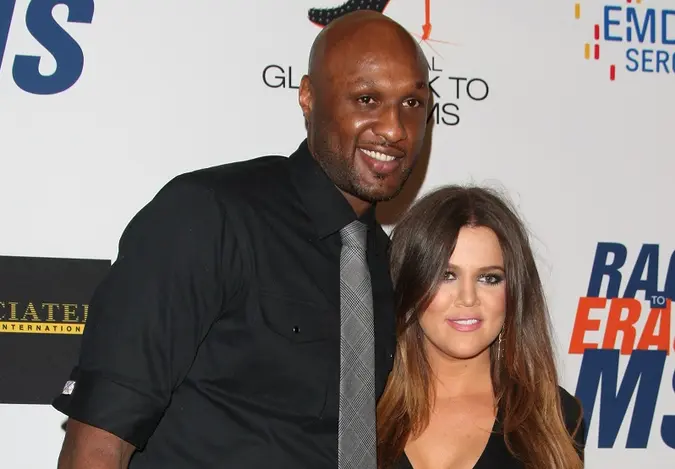 After more than a year and a half in the making, Khloe Kardashian and Lamar Odom have finally signed divorce papers, which were filed on July 17. The duo is currently waiting for the judge to sign off on the documents to officially end their marriage, reports TMZ.
Kardashian originally filed for divorce in December 2013, but Odom refused to sign. In April, a judge threatened to dismiss Kardashian's divorce case if she didn't seek a default judgement and refile or get Odom to sign the papers, reports People.
The couple was married in 2009 after dating for just one month. Their happily ever after lasted a few years but eventually crumbled because of Odom's alleged struggles with substance abuse and rampant rumors of his infidelity.
Khloe Kardashian, Lamar Odom Divorce — Who Gets What in the Split?
The couple had an ironclad prenuptial agreement, reports TMZ, so dividing their assets should be relatively simple.
When Kardashian filed for divorce back in 2013, she did not request spousal support, and she asked to terminate the court's ability to grant spousal support to Odom. She also requested that they each pay their own attorney fees, reports People.
In January 2014, the estranged couple sold their Tarzana, Calif., home to actress Kaley Cuoco and her husband Ryan Sweeting for $5.49 million, reports Trulia. TMZ reports Kardashian and Odom have also reached a property settlement.
Khloe Kardashian Net Worth: $25 Million
Khloe Kardashian's net worth is estimated at $25 million, according to CelebrityNetWorth. The site reports her salary at $40,000 per episode for her family's hit show "Keeping Up with the Kardashians" on E! and possibly its spinoffs.
Make Your Money Work Better for You
However, TV Guide magazine's annual "Who Makes What" report revealed in late 2014 that the Kardashian family makes $10 million per season but didn't break down exactly how much each cast member makes. It was reported earlier this year the Kardashian clan would be getting $80 million from E! for four more seasons, reports TMZ.
Kardashian is also said to earn up to $75,000 per event for public appearances and can command $13,000 for each promoted tweet she sends on Twitter, reported OK! magazine in 2013. Also according to the magazine, in 2003 her late father — Robert Kardashian — left his family a $100 million trust when he passed away from esophageal cancer.
The youngest Kardashian sister earned a $1 million paycheck for co-hosting Season 2 of the "X-Factor," reports TheRichest. She also co-wrote the New York Times bestsellers "Kardashian Konfidential" and "Dollhouse" with sisters Kourtney and Kim, and created the fragrances Unbreakable Bond and Unbreakable Love with Odom.
Kardashian co-owns DASH boutique with her sisters, and their Kardashian Kollection line earned the trio an estimated $30 million, according to TMZ. Kardashian has also lent her name to many endorsement deals, including the soon-to-be-launched app Regroupd.
Lamar Odom Net Worth: $50 Million
Lamar Odom's net worth is $50 million, reports CelebrityNetWorth. His last known NBA salary was $8.2 million, according to Basketball-Reference.com.
The former Los Angeles Lakers created the clothing line Rich Soil with designer Jonathan Garcia. He also developed the fragrances noted above with Kardashian.
Additionally, Odom has a $2.975 million home in Pinecrest, Fla., that he bought while he was with the Miami Heat. Earlier this month, he put the house up for lease at $20,000 a month, reports the Los Angeles Times.
Make Your Money Work Better for You
Related: Kourtney Kardashian and Scott Disick Split: The Cost of Fame
Up Next for Khloe Kardashian: 'Kocktails With Khloe' and Dating James Harden
Kardashian's always seemingly packed schedule is about to get even busier, as she's slated to host and produce the talk series "Kocktails With Khloe" on the FYI channel. The show is scheduled to debut in late 2015 and will feature Kardashian entertaining friends and celebrity guests in the kitchen and at the dinner table with cooking, party games and more.
The reality star is also moving on in her love life. After a failed relationship with rapper French Montana, she is reportedly dating Houston Rockets guard James Harden.
Kardashian has been very vocal about her desire to have children and is reportedly ready to become a mother — even if she has to raise her kids on her own. RadarOnline reports Kardashian has decided to start her own family.
Photo credit: Joe Seer / Shutterstock.com