Buffett, Zuckerberg, Conan, Keanu, Haddish, Kunis and 23 More Rich People Who Live Like Average Joes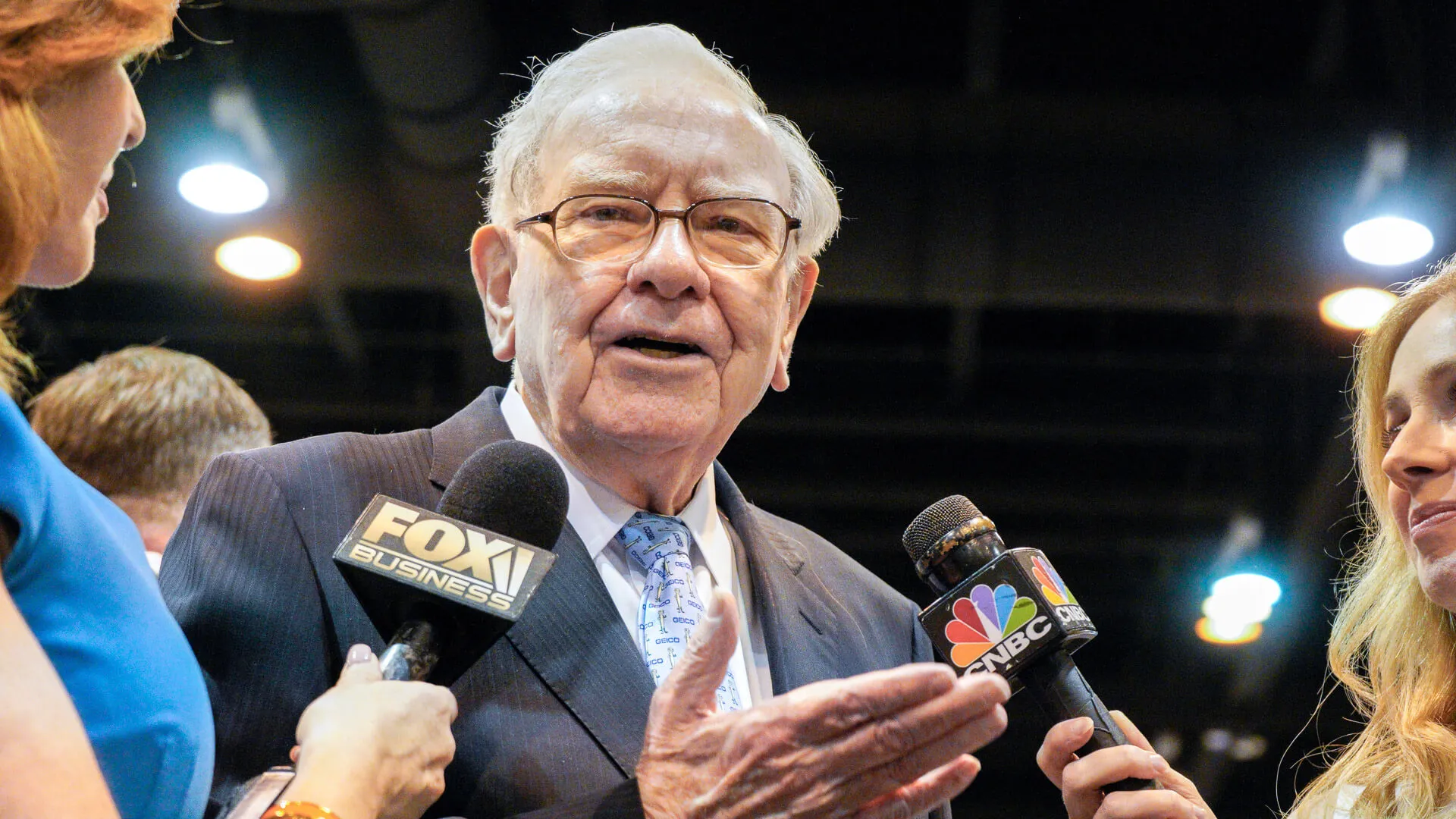 Warren Buffett
Despite now being in his 90s, the Oracle of Omaha remains the chairman and CEO of Berkshire Hathaway, and in terms of net worth, Warren Buffett is near the tippy top of the pyramid. A member of the elite 12-figure club, Forbes estimates his personal fortune to be $110 billion.
Yet, he lives a very plain lifestyle.
Buffett is a walking lesson in how to live frugally, which he has demonstrated by living in the same house he bought in 1958. He once told Berkshire Hathaway investors, "For the $31,500 I paid for our house, my family and I gained 52 years of terrific memories, with more to come."
See: How Rich is Tucker Carlson As He Leaves Fox News?More: Here's How Much Jennifer Aniston and Other Actors Get Paid for Their Reruns
Mark Zuckerberg
You might not think of this as what rich people do, but Facebook founder Mark Zuckerberg has been seen driving an Acura valued at around $30,000. Zuckerberg also wears jeans and a T-shirt nearly every day despite a net worth of more than $36 billion, according to Forbes.
Make Your Money Work Better for You
Sarah Jessica Parker
"Sex and the City" star Sarah Jessica Parker's journey to fame and fortune is one of the great celebrity rags-to-riches stories. She grew up as one of eight children in a family that spent time on welfare, according to The New York Times.
But Parker has kept her frugal ways despite her fame and $200 million fortune — and she's passing her habits on to her own children. For example, she dressed her son in clothes that have been handed down from her nephews.
Dave Grohl
His stints as the drummer for Nirvana and frontman for the Foo Fighters have helped Dave Grohl amass a net worth estimated at $330 million. But he watches his spending and told The Red Bulletin that he drives "a family car." Grohl told The Guardian he learned "money will kill you" after his mother had a stroke while paying the family's taxes.
Sarah Michelle Gellar
"Buffy the Vampire Slayer" star Sarah Michelle Gellar has been known to grocery shop at Whole Foods Market, but she has said that when she's there, she only buys what's on sale. She also has said that she brings her own bags because she gets a discount for doing so — despite the fact that she's worth $30 million.
Ashton Kutcher and Mila Kunis
One of Hollywood's richest "it" couples, Ashton Kutcher and Mila Kunis are becoming known as frugal celebrities. They are trying to keep their children grounded by passing on their frugal habits. That includes not going overboard on Christmas presents for their children. Kunis — who grew up in the communist U.S.S.R. — told Entertainment Tonight that they have asked their parents to limit themselves to one gift.
Together, their fortune is worth $275 million, but Kutcher does most of the heavy lifting, bringing $200 million of that sum to the marriage.
Kristen Bell
Eschewing the three-day destination wedding many celebrity couples choose, actress Kristen Bell and fellow actor Dax Shepard got married at the local courthouse. The total cost for their nuptials: $142. Bell is also a regular coupon clipper, which helps keep every bit of her $40 million fortune intact.
Make Your Money Work Better for You
Kate Middleton
The Duchess of Cambridge is well known for wearing the same outfit for multiple occasions — something most of us find pretty reasonable but which is not common among all celebrities. Maybe she picked up some of her frugal habits from the queen. Kate Middleton's net worth alone — not including all the little extras that come with being royalty — is estimated at $10 million.
Michelle Obama
Former first lady Michelle Obama paid for her own clothes while in the White House. Many of the elegant gowns she wore were donated by their designers. When she shopped for herself, Obama often went to retail stores known for reasonable prices.
On one appearance on NBC's "Today" show, she sported a $35 dress from fast-fashion retailer H&M. Now that she's settled back into private life, she has a net worth of $70 million.
Rob Gronkowski
Despite a net worth of $45 million and a status as one of the most endorsable athletes on Earth, Rob Gronkowski is very careful about not spending money recklessly. He wrote in his 2015 book, "It's Good to be Gronk," that he has yet to spend a dime of his NFL paychecks or even his signing bonus. He's lived off the money he receives from endorsements, avoiding pricey cars and wearing his favorite pair of blue jeans from high school.
Tiffany Haddish
Even though Tiffany Haddish is now worth $6 million, the "Girls Trip" star formerly experienced homelessness so she still lives frugally. She told People in 2017 that she drives a Honda, uses Groupons and still has a knock-off Michael Kors handbag.
"I'm probably going to be cheap with my money for a long time," she told the magazine. "You know I've been homeless, so it's like, 'Yeah it's here now but will it be here in five years?' I don't know."
Tyra Banks
Tyra Banks — who has worked as a model, actress, author and host of "America's Next Top Model" and "Dancing With the Stars" — is one of many celebrities who live modestly. She saves money by collecting the shampoo, conditioner and soap from her hotel rooms and using leftovers from meals the next day. Her net worth is estimated at $90 million.
Jennifer Lawrence
Star of the hugely successful "Hunger Games" movies, Jennifer Lawrence continued living in her parents' condominium even after making eight figures. "I think it would be very bizarre to live in a big mansion by myself," she told Elle.
Lawrence eventually moved into her own digs, however. Variety reports that she bought a loft-style condo in New York City in early 2017 for a little more than $9 million — and then proceeded to place it on the rental market while she was filming "Red Sparrow" in London.
Today, she's worth an estimated $160 million.
Make Your Money Work Better for You
Teri Hatcher
"Desperate Housewives" star Teri Hatcher is on the record as keeping her cars until they have at least 100,000 miles on them. She has also baked for her daughter's school celebrations rather than buying treats to bring in, despite her $50 million net worth.
Katie Couric
Groundbreaking news anchor Katie Couric credits her mother with teaching her to search for bargains. According to Parade, she brings leftovers to work for lunch and borrows clothes from her friends. Recently, Couric shed the likable persona she spent so many years cultivating with a bombshell memoir that aired the industry's dirty laundry. The book's proceeds will add to her $110 million net worth.
Carrie Underwood
One of America's wealthiest country music stars, Carrie Underwood admitted she clips coupons when she goes grocery shopping — no matter the fact that her net worth is estimated at $140 million. Further illustrating that there's not that much difference between some rich and poor people, she also said she often forgets to bring the coupons with her to the store. And if you're wondering what rich people eat, Underwood said she buys stir-fry kits and meatless burgers.
Mitt Romney
Despite coming from a background of wealth and privilege and parlaying that advantage into even greater wealth and clout, former presidential candidate, business leader and Utah Sen. Mitt Romney knows the value of a dollar. He has performed home renovations himself and has been known to play golf with clubs from Kmart. Sen. Romney is worth $300 million.
Hilary Swank
Oscar-winning actress Hilary Swank, who has a net worth of $70 million, has been open about living in a mobile home when she was younger. That experience instilled frugal habits that she retains to this day, like clipping coupons.
Carlos Slim
Mexican business mogul Carlos Slim regularly appears on lists of the world's wealthiest people, but you won't find his home on any list of celebrity houses. His family has a fortune of $85 billion, according to Forbes, but he has lived in the same home for over 40 years.
Make Your Money Work Better for You
Conan O'Brien
Late night superstar Conan O'Brien has a net worth estimated at $200 million. Even so, he has kept his 1992 Ford Taurus — even featuring it in a bit on his show.
Keanu Reeves
With the success of the "Matrix" and "John Wick" franchises under his belt, Keanu Reeves has amassed a $380 million fortune. But the actor eschews having a private chauffeur — or even taking an Uber — and instead chooses to ride the New York subway.
Vincent Kartheiser
"Mad Men" alum Vincent Kartheiser was relying on public transportation and living in a single-room apartment in 2010, even after he scored a choice role in the successful drama, according to the New York Times. He's also talked about how taking public transit allowed him to have interactions with others and to people-watch. He has a net worth of $6 million.
Lady Gaga
Lady Gaga is one of the highest-paid celebrities in the world with a net worth of $320 million, but she's a self-proclaimed bargain shopper. The singer once tweeted that she uses coupons at the grocery store and bargains when she buys retail.
Keira Knightley
Despite being an international movie star with an $80 million net worth, Keira Knightley chooses to live simply. She confirmed to Glamour in 2014 that she lives on around $50,000 a year.
"Some of my best, most hilarious times have been in the least luxurious places," she told the magazine.
Peter Dinklage
Peter Dinklage has forgone a celebrity lifestyle for a more simple one, choosing to live in upstate New York over New York City. The "Game of Thrones" star, who has a net worth of $25 million, also drives a Volvo and does his own landscaping, according to a 2012 Rolling Stone profile.
Ingvar Kamprad
The founder of the furniture empire Ikea practiced what he preached when it came to the affordable, assemble-it-yourself products his company sells. When traveling, he flew in coach class and drove a 20-year-old Volvo, according to CNBC. He died with a net worth of $42.5 billion.
Make Your Money Work Better for You
Tiffani-Amber Thiessen
Tiffani-Amber Thiessen rose to fame in the late '80s as everyone's crush Kelly Kapowski on "Saved by the Bell," but she still lives cheaply despite spending decades in the spotlight. The actress told The Krazy Koupon Lady that she shops on discount sites like Gilt and buys clothes at Old Navy, despite a net worth of $10 million.
Shailene Woodley
Shailene Woodley's successful acting career has netted her a $12 million net worth, but she doesn't live in a mansion. In fact, she doesn't own a home at all. Woodley told Architectural Digest in 2019 that she lives out of a suitcase.
More From GOBankingRates