How Rich is Ryan Seacrest as He Prepares to Leave His 'Live' Co-Host Spot?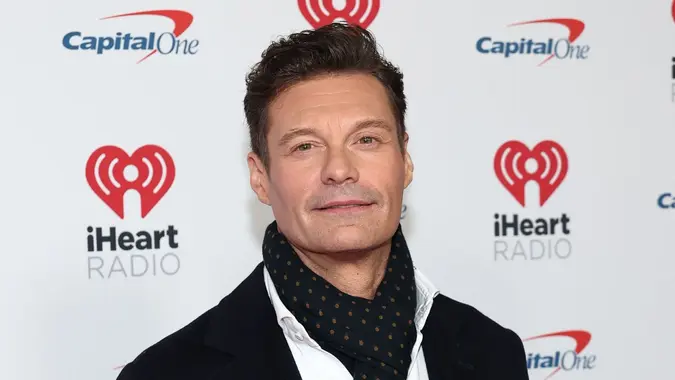 John Salangsang/Shutterstock / John Salangsang/Shutterstock
After six years on ABC's "Live With Kelly and Ryan," Ryan Seacrest will be stepping aside as Kelly Ripa's co-host. He will remain monumentally busy as he will continue to host "American Idol" for its 21st season, "Dick Clark's New Year's Rockin' Eve," his radio show on KISS-FM, while also expanding his charitable work and continuing to work as executive producer of many TV reality shows, one of which is "Keeping Up With the Kardashians."  
Discover: Celebrities Who Are Even Richer Than You Think
Learn: 3 Things You Must Do When Your Savings Reach $50,000
Ryan Seacrest is Worth $450 Million
Dick Clark's New Year's Rockin' Eve – $1 million
Ryan Seacrest Distinction Suits – $50 million in 2018
Amerian Idol – $30 million (as of 2016/pre-hiatus)
On-Air with Ryan Seacrest & American Top 40 – $25 million (2015's multi-year contract)
Live with Kelly & Ryan – $10 million (as of 2020)
Seacrest has a yearly salary of around $75 million per year from his various hosting gigs, entrepreneurial endeavors and producing roles. He also has a men's fashion line, Ryan Seacrest Distinction, and previously had the skincare line Polished for Men — it was discontinued in 2022.
Make Your Money Work Better for You
A breakdown of Seacrest's earnings from the "Kardashians" and its spinoffs hasn't been publicly revealed.
He has a net worth of $450 million, according to Celebrity Net Worth, and he's earned every cent of it. 
The Rise of Ryan Seacrest
Focused on success since high school, he perfected his hustle as a teenager when he served as both the voice behind Dunwoody High School's morning announcements and the weekend overnight host at WSTR (FM) in Atlanta.
After graduating, Seacrest enrolled at the University of Georgia to study journalism but dropped out at age 19 to move to Hollywood. He quickly landed a job hosting the ESPN sports game show "Radical Outdoor Challenge" and scored his eponymous weekday radio show "On Air With Ryan Seacrest" two years later.
From the mid-1990s to the early 2000s, Seacrest scored a variety of television hosting gigs, ranging from "Gladiators 2000" to the Grammy Awards. His big break came in 2002 when "American Idol" made its debut, which turned him into a megawatt celebrity.
Ryan Seacrest's Greatest Accomplishments
Created in 1995, his radio show, "On Air With Ryan Seacrest" has been nationally syndicated since 2008. Also the host of "American Top 40," Seacrest took the reins in 2004 when Casey Kasem retired.
Seacrest has hosted "American Idol" for the reality show's entire 20-season run. He also currently serves as a producer on that show. Although he began with a co-host, after going solo in 2003, his paycheck went up to $5 million. When his contract was renegotiated in 2009, he received a three-year, $45 million deal. The next pay bump came in 2012 with a two-year $30 million deal.
Make Your Money Work Better for You
In 2005, Seacrest began co-hosting "Dick Clark's New Year's Rockin' Eve" alongside the iconic host. When Clark passed away in 2012, Seacrest stepped up as the main host.
Also a success behind the camera, he founded Ryan Seacrest Productions in 2006 and is credited with launching "Keeping Up With the Kardashians." An executive producer of the show since its 2007 launch, his 40-person production company is also responsible for several of the family's spin-offs, including "Rob & Chyna," "Revenge Body With Khloe Kardashian," "Khloe & Lamar" and "Kourtney & Kim Take New York."
Ryan Seacrest's Real Estate
For years, Seacrest was fully bi-coastal. He lived in New York City during the week, paying $75,000 a month for an 11,000-square-foot 19th-century mansion on the Upper East Side of Manhattan. He commuted back to his Beverly Hills, California estate on weekends.
Find Out: How Rich Is Kim Kardashian?
See: From Private Chefs to Live-In Nannies, How Much It Costs To Live a Pampered Life
Make Your Money Work Better for You
Despite what seems to be a golden touch, Seacrest has not had luck selling real estate. In 2022, he put his California mansions on the market, one, which he bought from Ellen DeGeneres for $85 million, only sold for $51 million. He also listed a five-bedroom, midcentury-modern home near Franklin Canyon, for $6.99 million. According to the listing, it is now down to $3.6 million.
Jennifer Taylor contributed to the writing of this article.
More From GOBankingRates
Make Your Money Work Better for You