'Straight Outta Compton' Movie: Dr. Dre Net Worth, Ice Cube Net Worth and N.W.A.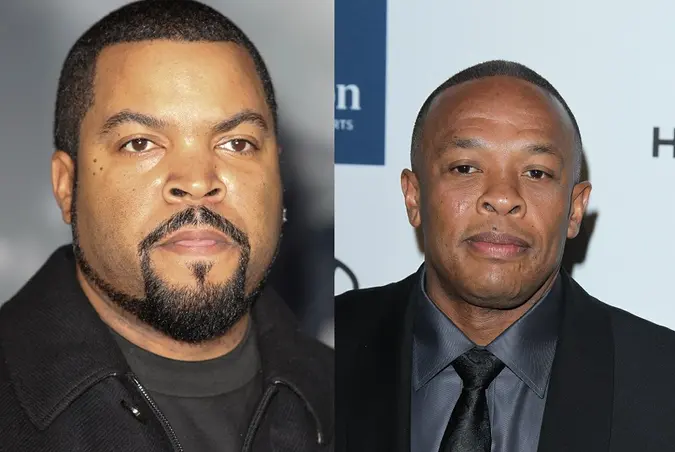 Dr. Dre and Ice Cube are such legends in the hip-hop world that it's easy to forget both rappers once sang together in the same group. Along with the late Eazy-E, they were formerly part of hip-hop group N.W.A., perhaps the most genre-defining influence of the West Coast gangsta rap movement of the 1990s.
Like other famous, pioneering artists, N.W.A. is getting the biopic treatment in the forthcoming "Straight Outta Compton" movie. The film is named after N.W.A.'s seminal 1988 album of the same name. Due in theaters next weekend, the $25 million-budget film recreates N.W.A.'s early years and successes in the late 1980s and early 1990s.
Since the group disbanded, Dr. Dre and Ice Cube have had lucrative solo careers. Each have branched out into business, endorsements, music production and film making.
Related: Rapper 50 Cent Files for Federal Bankruptcy
Dr. Dre Net Worth: $700 Million
After N.W.A.'s breakup, Andre "Dr. Dre" Young went on to record his first solo album, "The Chronic," and spent the remainder of the 90s as one of rap's most iconic artists and producers. It was the founding of audio electronics company Beats Electronics, however, that netted Dr. Dre much of his fortune.
Dr. Dre sold Beats to Apple last year in a $3 billion deal, though a nine-figure tax bill prevented him from reaching billionaire status. Still, the entrepreneur has nearly tripled his earnings in the last four years.
Make Your Money Work Better for You
Ice Cube Net Worth: $140 Million
Like Dr. Dre, Ice Cube — born O'Shea Jackson — became a successful solo artist after leaving N.W.A. The rapper has sold more than 10 million albums over the last quarter century.
Ice Cube also segued into Hollywood, acting in such films like "Barbershop," "21 Jump Street" and "XXX: State of the Union." He has also been a producer for television series like "Barbershop" and "Are We There Yet?" Ice Cube even expanded into the fashion world with his own clothing line, Solo by Cube.
Paul Giamatti Net Worth: $25 Million
Paul Giamatti will be playing N.W.A. manager Jerry Heller in the "Straight Outta Compton" movie. As a respected character actor in the industry for more than 20 years, Giamatti is probably best known for starring in the 2004 film adaptation of the book "Sideways."
The actor is a fitting choice to co-star in the N.W.A. movie. Previously, Giamatti was a cast member in other biographical films like "Private Parts" and "Man on the Moon." The actor also portrayed John Adams in a 2008 television miniseries of the same name.
"Straight Outta Compton" Movie and Suge Knight's Murder Charges
Production of the N.W.A. movie hasn't been without its share of controversy. Hip-hop mogul Suge Knight was charged with murder in February following a hit-and-run in Compton, Calif., on the set of "Straight Outta Compton." One man, Terry Carter, was killed in the hit-and-run, while another, Cle Sloan, escaped with non-life-threatening injuries.
Suge Knight — whose net worth is down to a meager $200,000 — was believed to have been visiting the movie set to confront Dr. Dre. It is unclear, however, precisely why Knight visited the film set. You can watch the "Straight Outta Compton" movie trailer below:
Make Your Money Work Better for You
Photo credit: Photo Works /  Helga Esteb / Shutterstock.com