Taylor Swift and 24 More of the Richest Musicians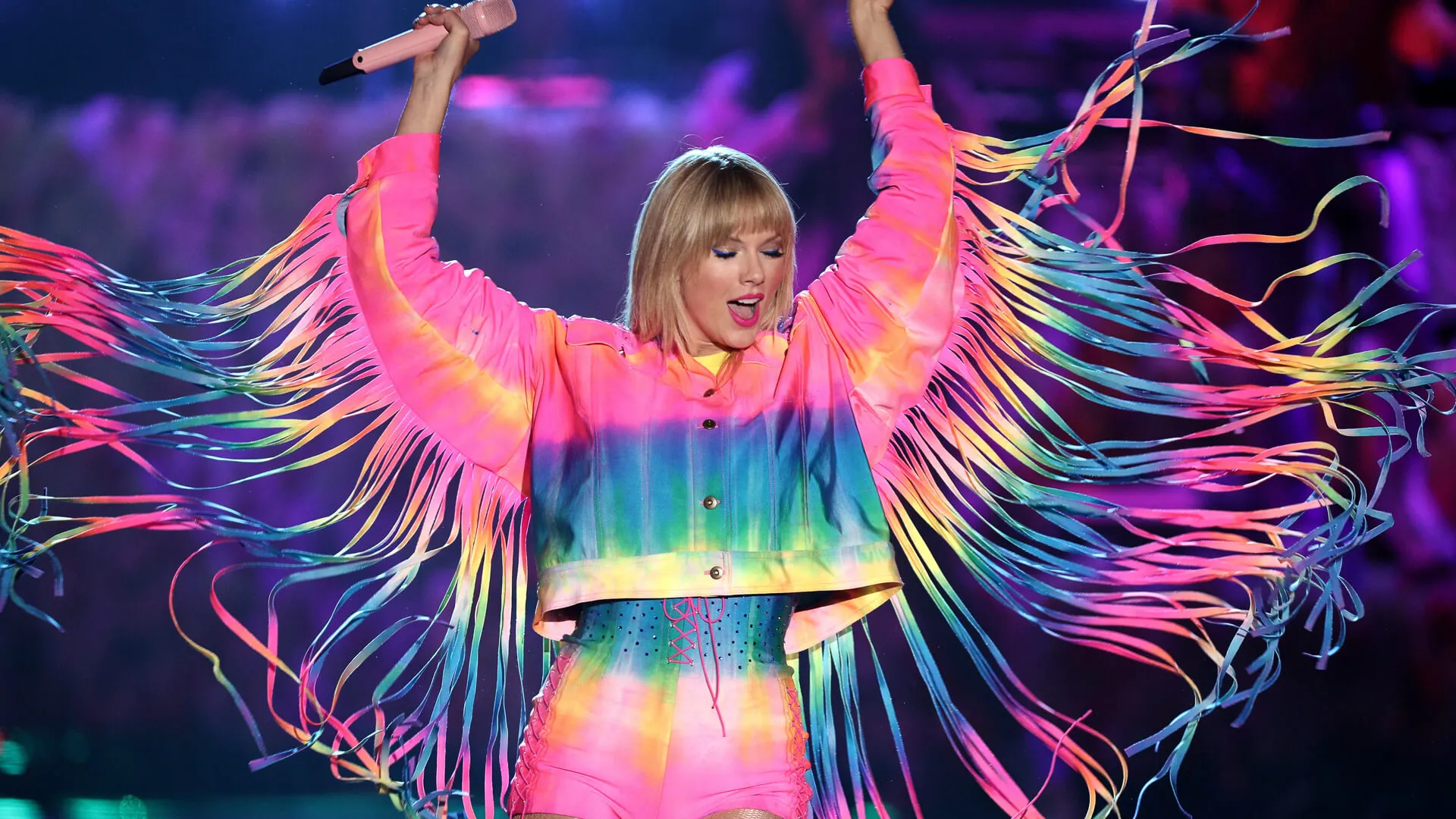 MTV debuted Aug. 1, 1981, and as it turns 40, it can be credited with launching or boosting the careers of countless music stars. Music videos from Madonna, Bruce Springsteen and the Miami Sound Machine were among the staples of the network in its early years.
Find Out: The Richest Celebrity From Every State
Better Together: 24 Celebrity Couples Worth Hundreds of Millions
It's no surprise then, that some of those performers  appear on GOBanking Rates' list of 25 of the richest musicians. But beyond the glitzy lifestyles, world tours, and pomp and circumstance that come with being a music star, how much are these celeb performers actually worth? In some cases, they're worth much less than you might have thought — and in other cases, so much more.
Learn More: 15 Highest-Grossing Actors of All Time
Ouch: Critically Acclaimed Movies That Bombed at the Box Office 
While you probably expect some of the musicians on this list to be wealthy, you might be surprised to find out that they're all worth at least multiple hundreds of millions. Some have even crossed over into the elite ranks of billionaires.
Click through to find out which of your favorite musicians are making the big bucks. 
Last updated: Aug. 2, 2021
Make Your Money Work Better for You
Ozzy Osbourne
Known as the Godfather of Heavy Metal, Ozzy Osbourne was a co-founder of Black Sabbath in 1970. With his wife, Sharon, he co-founded Ozzfest, a metal festival tour. He has sold more than 100 million albums and is in the Rock & Roll Hall of Fame as a member of Black Sabbath, and in the UK Music Hall of Fame as a group and solo artist.
They Took Their Time: Samuel L. Jackson and 34 Other Celebrities Who Got Rich and Famous Later in Life
Justin Bieber
At just age 27, Justin Bieber already has sold more than 150 million records globally. His debut album, "My World," has been certified five times platinum by the Recording Industry Association of America. In March 2021, his most recent album, "Justice," opened at No. 1 on the Billboard 200 chart.
Life at the Top: The 28 Richest Actresses of All Time
Mariah Carey
Business Insider ranks Mariah Carey as No. 14 on the list of the bestselling musical artists in history. Her debut album was No. 1 on the charts and was followed by several more successful albums. With her 2008 album "E=MC2," Carey became the artist with the second-most No. 1 singles in pop music history, after The Beatles — and more than any other solo artist ever.
Time To Shop: Businesses You Didn't Know Your Favorite Celebrity Owns
Lady Gaga
Lady Gaga released her debut album, "The Fame," in 2008 and it quickly rose to No. 2 on the Billboard 200 chart in the United States. Since then, she also has been a record producer, a fashion designer and an actress. In 2019, she won an Oscar for best original song for "Shallow" from "A Star is Born," in which she also had a starring role.
Just Like Us: 45 Stars Who Shop at Costco, Target and Walmart
Make Your Money Work Better for You
Jennifer Lopez
"Jenny from the block," as Jennifer Lopez has been dubbed, has done alright for herself. Her $400 million net worth comes from her singing career as well as her work as an actress, record and television producer, songwriter and entrepreneur. She was a judge on television's "American Idol" for several years, where she reportedly earned $12 million a year.
Barbra Streisand
Singer, songwriter, film director and producer, actor, screenwriter, author — there's not much that Barbra Streisand hasn't done, and there are almost no showbiz awards she hasn't won. She is the only person ever to receive all of the following types of awards: Oscar, Tony, Emmy, Grammy, Golden Globe, Cable Ace, National Endowment for the Arts and Peabody, as well as the American Film Institute's Lifetime Achievement honor and the Film Society of Lincoln Center Chaplin Award.
Taylor Swift
Taylor Swift has received nearly every award the music industry has to offer. She has made headlines for her blockbuster stadium tours and her endorsement deals, but she also brings in big bucks from smart negotiations with her record label and streaming services. In 2018, she left her first label, Big Machine Records, to sign with Republic Records in a deal that included ownership of all her master recordings under the label. This year, she began the re-release of her first six albums, starting with "Fearless (Taylor's Version)," to put her music back under her control.
Victoria Beckham
Net worth: $450 million (combined with David Beckham)
While she started her career as a Spice Girl, it's safe to say that most of Victoria Beckham's fortune did not come from touring and recording as Posh Spice. She is a fashion designer, model and businessperson. British Glamour magazine named her woman of the year and entrepreneur of the year, and she has graced the cover of Vogue more than once. Oh, and her husband is retired soccer star David Beckham.
Make Your Money Work Better for You
Celine Dion
Net worth: $450 million, according to Forbes
Celine Dion has become one of the most successful artists in pop history. She recently ended a Las Vegas residency at Caesars Palace that paid her a reported $500,000 per performance, with 70 shows per year. Her Vegas days may be over, but the Canadian diva hasn't quit performing, and her Courage World Tour is set to resume in 2021.
Beyoncé
Beyoncé started her music career as the lead singer of Destiny's Child, who had several chart-topping records. She then went on to a successful solo music career and added actor, producer and entrepreneur to her resume. Her personal net worth of $500 million is independent of that of her husband, rapper Jay-Z, whose own net worth is double that.
Emilio Estefan
Emilio Estefan is a musician, actor, record producer and entrepreneur. He was a member of the Miami Sound Machine with his wife, Gloria Estefan, and branched out into record, film and television production. He was named producer of the year at the Latin Grammy Awards in 2000. In 2015, the Estefans received the Presidential Medal of Freedom from President Barack Obama.
Elton John
Elton John ranks third on the list on Billboard's top 125 musical artists of all time. In the 1990s, he was infamous for his epic spending sprees but has since reeled it in and made savvy investments in art and real estate. He's now worth a tidy half-billion dollars.
Bruce Springsteen
Bruce Springsteen — aka The Boss — has released 19 studio albums and has sold more than 120 million albums globally. He has 20 Grammys, four American Music Awards, two Golden Globes and an Academy Award. He was inducted into the Rock and Roll Hall of Fame in 1999. Springsteen is still churning out new tunes, but he's also been reissuing some of his best material on vinyl.
Make Your Money Work Better for You
Madonna
Net worth: $570 million, according to Forbes
Madonna is the most successful female artist of all time, according to the Guinness World Records. She has released 15 studio albums in a career spanning nearly 40 years. Her concerts have grossed over $1.5 billion worldwide. She has a significant art collection that includes works by Picasso and Diego Rivera.
Jimmy Buffett
Known for his feel-good, island lifestyle-inspired music, Jimmy Buffett has amassed a cult-like following of fans who call themselves "Parrot Heads." In addition to his notable hits "Margaritaville" and "Cheeseburger in Paradise," Buffett owns the Margaritaville Café restaurant chain.
Buffett developed the Cheeseburger in Paradise restaurant with a partner and sold the chain to Luby's in 2012. There once were 18 locations in the United States, but the restaurants all have closed.
Julio Iglesias
A singer and songwriter, Julio Iglesias has released nearly 80 albums that have sold more than 300 million copies worldwide. In addition to his earnings from record sales and concert tours, he has a real estate portfolio that is valued at $200 million to $300 million. He and the late fashion designer Oscar de la Renta co-owned the airport in Punta Cana, Dominican Republic.
Rihanna
Net worth: $600 million, according to Forbes
Rihanna is a singer, actor, songwriter and fashion designer. In addition to her music career, she partners with luxury group LVMH on a makeup line, Fenty Beauty, which generated $558 million in revenue in 2018. She also is the co-owner with Techstyle Fashion Company of the Savage x Fenty lingerie line. In October 2020, Forbes named Rihanna to its list of America's richest self-made women.
Bono
Bono, with his band U2, has been nominated for 46 Grammy Awards and won 22. Bono is a social activist and has performed at Live Aid, Band Aid and Live 8 concerts. He is also a savvy investor, with a large portfolio of real estate and was previously a managing director of Elevation Partners, a private equity firm.
Make Your Money Work Better for You
Dr. Dre
Celebrity rapper, actor, producer and entrepreneur Dr. Dre started out as a DJ in the South-Central section of Los Angeles, and was a member of N.W.A. in 1988 when they released "Straight Outta Compton." Though he's considered a musical legend, most of his net worth comes from the sale of his Beats by Dre premium headphone company to Apple for $3 billion. His 25% stake in the company netted him $750 million before taxes.
Past Careers: What These 25 Netflix Stars Did Before They Were Famous
Herb Alpert
Best known for his jazz band Herb Alpert & the Tijuana Brass, which rose to fame in the 1960s, Herb Alpert also co-founded A&M Records with trumpeter Jerry Moss. In 1989, Alpert and Moss sold A&M to Polygram Records for $500 million. Now 86, Alpert still performs in concert.
Sean Combs
Sean Combs, who has gone by Diddy, P. Diddy, Puff Daddy and more, is a rapper, actor, record producer, fashion designer and entrepreneur. In addition to his own music career, Diddy has made money in a variety of diverse businesses, including music, film, television, media, marketing and fragrances.
Jay-Z
Jay-Z, born Shawn Carter, is a rapper, songwriter and entrepreneur as well as a record, film and television producer. He co-founded Rocawear clothing with Damon Dash, who later left the business. The company rights were sold to Iconix Brand Group for $204 million in 2007. He sold a significant majority share of Tidal, his music streaming service, to financial services provider Square for nearly $300 million in 2021. He also has multiple lucrative endorsement contracts. He is often quoted as saying that he's not a "businessman, (he's) a business, man."
Make Your Money Work Better for You
Paul McCartney
It's probably no surprise that Paul McCartney is high up on this list, but the size of his net worth is staggering. He still earns royalties on The Beatles' song catalog, which includes some of the best-known songs he wrote, such as "Let It Be," "Hey Jude," "Eleanor Rigby" and "Yesterday."
Andrew Lloyd Webber
Andrew Lloyd Webber might be the richest musician some of you have never heard of — but you've heard much of his work. Lloyd Webber, along with lyricist Tim Rice, collaborated on many Broadway musicals, including "Joseph and the Amazing Technicolor Dreamcoat" and "Jesus Christ Superstar." Lloyd Webber also composed the music for "Cats" and "The Phantom of the Opera." He has won seven Tony and three Grammy awards to go along with an Academy Award and the Kennedy Center Honors award.
Kanye West
When Forbes featured rapper Kanye West on its cover in 2019, the magazine cited him as a multimillionaire, rather than as a billionaire — a detail that apparently peeved West enough to let Forbes know in a disgruntled text in which he called out the business magazine for being  "disrespectful." Disrespect him no more. As of March 2021, multiple outlets reported West's fortune had risen to $6.6 billion on the strength of his music, his sneaker deal with Adidas, a clothing partnership with the Gap and other investments.
More From GOBankingRates
Jami Farkas contributed to the reporting for this article.
Net worths are sourced from Celebrity Net Worth unless otherwise noted and are accurate as of Aug. July 30, 2021.
About the Author