Nicki Minaj Net Worth Vs. Taylor Swift Net Worth: Who's the Bigger Diva?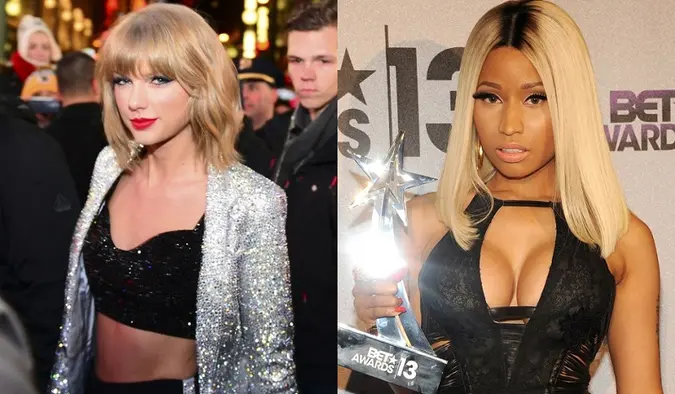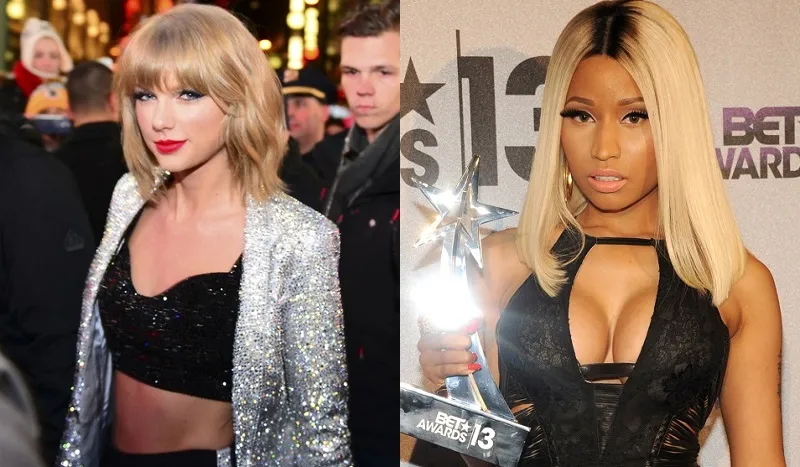 Pop star Taylor Swift and rapper Nicki Minaj scuffled on Twitter over the 2015 MTV Video Music Awards nominees list and its "Anaconda" snub.
Taylor Swift and Nicki Minaj's Twitter Feud
On Tuesday, Nicki Minaj tweeted her dissatisfaction with the "Anaconda" snub — her music video was passed over for a nomination for video of the year, though it was nominated for best female video and best hip hop video. She wrote:
If your video celebrates women with very slim bodies, you will be nominated for video of the year.

— NICKI MINAJ (@NICKIMINAJ) July, 21, 2015
Minaj also tweeted, "Black women influence pop culture so much but are rarely rewarded for it."
When the "other" girls drop a video that breaks records and impacts culture they get that nomination.

— NICKI MINAJ (@NICKIMINAJ) July 21, 2015
Taylor Swift apparently thought Minaj's remarks were personal, as she responded to the rapper with a defensive tweet:
@NICKIMINAJ I've done nothing but love & support you. It's unlike you to pit women against each other. Maybe one of the men took your slot..

— Taylor Swift (@taylorswift13) July 21, 2015
The pair exchanged a few remarks. "Huh? U must not be reading my tweets," Minaj tweeted. "Didn't say a word about u. I love u just as much."
Swift responded by tweeting to Minaj, "If I win, please come up with me!! You're invited to any stage I'm ever on."
Kim Kardashian, Bruno Mars and Meek Mill Jump in on Twitter
Other celebrities were thought to be riffing off the feud.
Make Your Money Work Better for You
Kim Kardashian posted a photo of herself with the caption, "Imma let you finish but…" — an allusion to Kanye West's interruption of Taylor Swift's acceptance of the best female video award in 2009. Kardashian followed up by saying her caption was a coincidence and she was unaware of the feud between Swift and Minaj.
The artists with VMA nominations for video of the year did chime in, however. Bruno Mars, who was nominated for his work on "Uptown Funk" with Mark Ronson, joked that he felt left out of the VMAs buzz. "Yo I want in on this twitter Beef!! VMAs is the new WWF!! @edsheeran F— You!" Mars tweeted.
Ed Sheeran joked back, "@BrunoMars any way we do dis you gon' come up short," a dig at Mars' small stature.
Read: Miley Cyrus to Host 2015 MTV Video Music Awards — See Her Net Worth
Nicki Minaj Vs. Taylor Swift: Who Is Worth More?
But which musician wins in terms of nominations, earnings and net worth — Nicki Minaj or Taylor Swift? Here's a rundown.
Taylor Swift Nabs 9 VMA Nominations to Nicki Minaj's 3
As far as the 2015 VMA nominations go, Swift is the clear winner; she grabbed nominations in nine categories for "Bad Blood" and "Blank Space." Minaj's VMA nominations were limited to three, including a nod for her collaboration with Ariana Grande and Jessie J on "Bang Bang."
Taylor Swift's Clothing Line Vs. Nick Minaj's Clothing Line
When it comes to clothing lines, however, Swift is off to a rough start. She recently announced a new clothing line that's set to launch in August on e-commerce company JD.com Inc., reports Bloomberg News. Her clothing line will feature many items, including dresses, sweatshirts and other tops with the date 1989, the name of her latest album.
Make Your Money Work Better for You
The launch of Swift's clothing line includes a push into the Chinese market, where 1989 and her initials — TS — could refer to a tragic event in Chinese history: The Tiananmen Square massacre in 1989 during which hundreds of student protesters were killed.
Minaj's clothing line has been in Kmart stores since 2013 and seems to be performing well.
Nicki Minaj's Net Worth Vs. Taylor Swift's Net Worth
When it comes to who's richer, there's no contest. Taylor Swift's $240 million net worth absolutely slaughters Nicki Minaj's net worth of $60 million, as estimated by CelebrityNetWorth.
When it comes to earnings, Swift also proved to be the higher-paid of the two. Forbes reports the pop star earned $80 million in the past year; Minaj's earnings in 2014 were reported at $14 million.
Meek Mill's Net Worth Vs. Calvin Harris' Net Worth
Then there are the main men in their lives. Minaj's boyfriend — rapper Meek Mill — is worth $3 million, according to CelebrityNetWorth.
Swift definitely has the richer boyfriend. Her beau, DJ Calvin Harris, has a net worth of $110 million.
Photo credit: a katz / Shutterstock.com; Joe Seer / Shutterstock.com