I Was Drowning In Debt: Here's How I Turned My Finances Around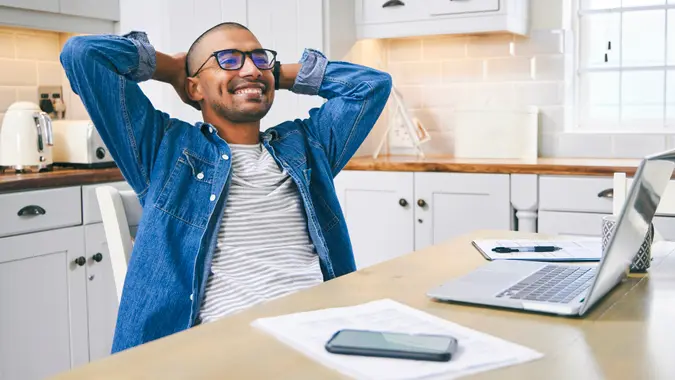 Moyo Studio / iStock.com
Debt is a serious issue in the United States. According to a 2023 study by Northwestern Mutual, the "average American's personal debt exclusive of mortgages is $21,800." 
Owing that much money is daunting, but with dedication, it's possible to pay it off. Three people who did just that shared their experiences with GOBankingRates. 
Leveraging The Snowball Method 
In early 2020, less than a year after Syd Richi and her husband got married, they decided to buckle down and tackle their debt — which hovered over $73,000, a combination of medical, credit card, auto and student loan debt. 
"We didn't want to have this be a part of our life and our marriage long term," Richi, a corporate communications writer and social media content creator who goes by that name online, told GOBankingRates. "There were a lot of things that we wanted to do and experience, and debt just got in the way." 
Richi and her husband were working full-time and essentially humming along with monthly payments. 
"I don't know if I ever considered myself financially off track until I thought about what being debt-free could mean for me," Richi said. "I was in debt, but I was paying my bills every month." 
Richi explained that the "number one" step was becoming mindful about paying off the debt and understanding that it would require research and a plan for that to happen. 
"Otherwise, I would have just been paying those basic monthly payments and probably still being in debt today," Richi said. 
From there, she said that they entered the "planning stage," where they used a debt calculator to see their total debt and created a household budget. 
Make Your Money Work for You
"We chose the snowball method of paying off debt," Richi noted. 
Richi said the first year involved "staying on top of the budget" and "making sure as much money as possible" was being put toward smaller debts so they could pay them off and move on to the next debt. About a year after the two began their debt-free journey, Richi got a new job, which changed the equation. 
"That really helped a lot because it increased my income, and that was an important factor in the speed of paying off the debt," she said. 
She also explained that when examining their monthly budget, when the two saw opportunities to pay beyond their minimum payments, they did so.
In March 2022, the two officially became debt-free. 
"To me, it felt like the beginning of financial freedom," Richi said. 
She said that if someone wants to get out of debt, they've "already taken" the "great first step," which is putting themselves in the correct mindset. 
"Once your mindset is aligned with that desire, your actions will follow," Richi said. "And so now, it's about the discipline. Now, it's about keeping track of your money. Now, it's about seeing how much money can go toward paying off that debt." 
Getting A Job In Residence Life 
Richi's friend, Jasmine McCain, was also in debt for some time. 
Make Your Money Work for You
After getting her undergraduate degree in December 2013, she said that she had about $35,000 in student loans that she paid toward "fairly consistently," albeit she did defer "for a couple of different seasons of life" when she "wasn't bringing in much money." In July 2016, she said, she began a job at a nonprofit, and in December 2017, she began a master's program. 
By the time she graduated in December 2018, she found herself with more student loan debt. She said that her student loan debt from graduate school and her remaining balance from her undergraduate education was around $42,000. Flash forward to March 2019, and she left her nonprofit role to become a freelancer. She learned "very quickly" that she "needed to get another job." 
"So, at this point, I had quite a bit of out-of-pocket expenses to pay off for my wisdom teeth and was living off savings," McCain said. 
Then, she explained that her savings ran out — so in the summer of 2019, she started working full-time again, this time in fintech. That summer, soon after she started her job in fintech, she also found a part-time job in higher education, specifically in residence life at Nebraska Christian College. Thanks to that job in residence life, she was "making a very modest stipend but enough to live off of." She decided that she wanted to use her fintech job to pay off her debt. 
"So I calculated the numbers to kind of be able to do that," McCain said. "And aggressively pay off that credit card debt that I had to get into to be able to pay off my wisdom teeth and just live for those couple of months where I wasn't really working."
Make Your Money Work for You
In January 2020, she left her fintech job, thinking she had the security of her part-time role in residence life. Suddenly, in the spring of 2020, the school announced that it was permanently closed, and she had to look for new work and housing. That summer, she secured a new full-time role in residence life at a different institution.  
She explained that she was "living on another campus for free, making less money" than her previous fintech and residence life jobs. 
"So, at this point, I'm out of credit card debt," McCain said. "I'm actively paying toward my student loan debt, even having lost my job; at that point I was on unemployment, and said, I can still do this." 
Her goal was to pay off her roughly $44,000 in student loan debt between January 2020 and the end of 2021. Since she was working in residence life on campus during the COVID-19 pandemic, she ended up getting an average of 40 hours of overtime work a month, she explained. Rather than directly paying off her student loans, she decided to use a high-yield savings account and "put a monthly payment toward that." 
In September 2021, she got a new job and started living with her parents — and made her final payment on Christmas Eve that year. She wasn't quite in the clear, though. She noted that around that time, she thought she would be eligible for $20,000 in student loan forgiveness for Pell Grant borrowers, but she had to repay it again. 
Make Your Money Work for You
Today, however? McCain is debt-free. 
Putting Shopping Aside 
Renee Benes and her husband had student loans, a car payment and balances on an Amazon credit card and other credit card in 2016; combined, she said, they were about $20,000 in debt. 
Benes, who is a blogger and podcaster today, explained she was a freelance photographer and a part-time preschool teacher, and her husband was working full-time when they decided to be "intentional about getting rid" of their debt. 
The biggest step for Benes? A "huge mindset shift." 
She said that she'd heard about Dave Ramsey's debt snowball method, and she and her husband "kind of started applying that." But then she had a realization. 
"I realized I don't know what I don't know about money," she said. "There's got to be a reason that, you know, we've gotten this far into debt, and we always kind of lived paycheck to paycheck. So we made the decision to pay for financial help, which I think was huge."  
Benes also changed her shopping habits and followed a grocery budget with her husband. 
"I just kind of went cold turkey on buying clothes, which was always probably my biggest struggle," she said. "And we really stopped spending a lot. Before, it was, you know, we were really quick to go out to eat when we felt like it; I would buy whatever felt interesting. We just were really determined to not have that debt anymore." 
Make Your Money Work for You
She explained that it took them approximately one year of active payments to pay off the debt, adding that they did pause "for a few months" to give themselves "a break." 
Her advice to other people who want to get out debt? 
"Just set a small, tangible goal," she said.
More From GOBankingRates