Is Now a Bad Time To Consolidate Debt?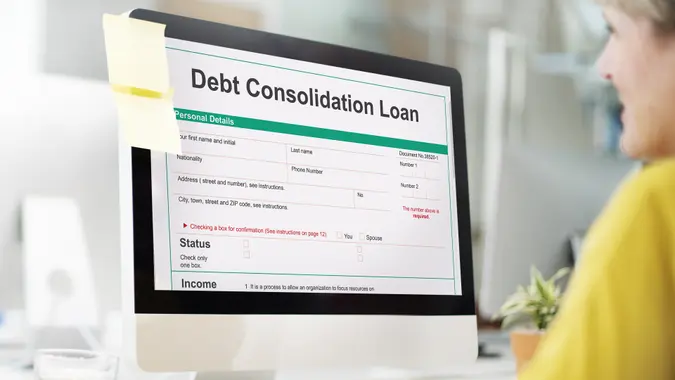 Rawpixel.com / Shutterstock.com
If you're juggling multiple debts — student loans, credit card and medical bills — it may be time to consider consolidating your debt.
Debt consolidation is a process by which you combine all of your debt into one monthly payment at a lower interest rate. This is done by getting a specialized debt consolidation loan, a personal loan or a balance transfer credit card that offers a 0% APR fee for a limited time (typically anywhere from six months to two years).
According to Miles Brooks, director of tax strategy at CoinLedger, consolidation makes the payment process easier and lowers the cost of interest. But with the economy and interest rates constantly in flux, it's hard to gauge whether now is the right time to consolidate. 
Fall Interest Rates
One of the biggest upsides to consolidating debt is potentially getting a better interest rate than the one you currently have. Since 2022, the Federal Reserve has been raising interest rates in order to lower inflation, so you won't find the low, low 2% rates that everyone was scrambling for in 2020. Depending on your credit score, the current rates are between 6% and 36%, Brooks said. 
If you compare this to September's average credit card interest rate, which is hovering around 28.05%, consolidating now — especially if you're struggling with credit card debt — is smart.
Although the Fed reportedly has put a pause on raising interest rates at the moment, economists are worried they may go up again in November. While they may drop in 2024, it isn't a guarantee, making now a great time to consolidate debt and get a better rate.
Make Your Money Work for You
Fall Economy
The constant threat of inflation the nation has endured over the past year has some people worried that we're doomed for a recession. A recession creates lower economic growth, lower wages and employment and higher uncertainty.
It's typically a time to save, rather than pay off debt. That said, while we're not in a recession right now, no one knows what the future holds.
"While the Federal Reserve may have decided not to push the interest rate higher, the rate of inflation is still above the normal rate, which means the cost of living is still high," Brooks said. "With a threat of recession, it is important to deal with debt, especially high-interest debt." 
Fall Deals 
If you have good credit and are looking for a low interest rate: LightStream,
LightStream is rated highly by both Forbes and CNBC. It offers loan amounts of $5,000 to $100,000 with interest rates of 7.99% to 25.49%. LightStream offers flexible terms and no late payment, origination or prepayment fees. It also plants a tree for every loan. The downside is it requires a lengthy credit history and doesn't give you the option to pay your creditors directly.
If you have bad credit and are looking for a quick loan approval: LendingPoint.
USA Today rates LendingPoint highly thanks to its quick approval time — mere seconds — and the fact that it will approve loans for people with credit scores as low as 600. Unfortunately, LendingPoint charges an origination fee and doesn't allow for co-signers.
Make Your Money Work for You
If you have student debt: SoFi.
CNBC rates this lender highly for a variety of reasons. It has a relatively low APR (8.99% to 25.81%) and will give loans up to $100,000. It's great for recent grads as it allows an offer of employment as proof of income and doesn't penalize for a job loss. SoFi also has no origination fees, no early payoff fees and no late fees. That said, like many lenders on this list, it does not allow for co-signers — although it does allow for co-applicants. 
If you're looking to consolidate by transferring debt to a new credit card: Wells Fargo Reflect Card.
U.S. News & World Report ranks this card highly thanks to its lengthy introductory offer of 0% APR for 21 months. This is a no-fee credit card with a balance transfer fee of 5% for a minimum of $5. The downside is you'll need good credit to qualify.
Things To Consider Before Consolidating Debt
Before you make a decision on how to deal with your debt, you may want to consult a credit counselor. This is a free or low-cost service that helps you assess your debt, develop a budget and even organize a debt management plan. 
If you've decided debt consolidation may be right for you, there are a few things to consider before consolidating. First and foremost, you'll want to consider whether you're ready to pay off your debt. If you've been racking up late payments and avoiding creditors like the plague, you may not be in a place where you can take responsibility for your debt. Again, consolidating loans isn't going to make a difference if you're not going to make payments on time.
Make Your Money Work for You
Another thing to consider is why you're saddled with so much debt. If you were overspending, you'll want to make sure you get that in check before you consolidate. The last thing you want is to consolidate your debts only to go into more debt or miss loan payments because of your spending habits.
You'll also want to check your credit score. You'll need a credit score that's high enough to qualify you for a debt consolidation rate that's lower than your current interest rate. 
More From GOBankingRates