History of Cyber Monday: How Much Are You Spending? (Infographic)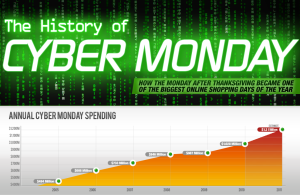 Black Friday may get all the attention, but it's Cyber Monday that's quickly becoming one of the biggest shopping days of the year. Known as the online version of Black Friday, when retailers offer huge discounts online, it's no doubt why the day is such a big deal.
Close to 9 out of 10 retailers will offer a special Cyber Monday promotion, and spending in 2011 topped out at $1.25 billion dollars (yes, with a "b"), making it the biggest Cyber Monday ever.
Below is an infographic detailing the history of Cyber Monday spending since the term was coined back in 2005 (click to enlarge).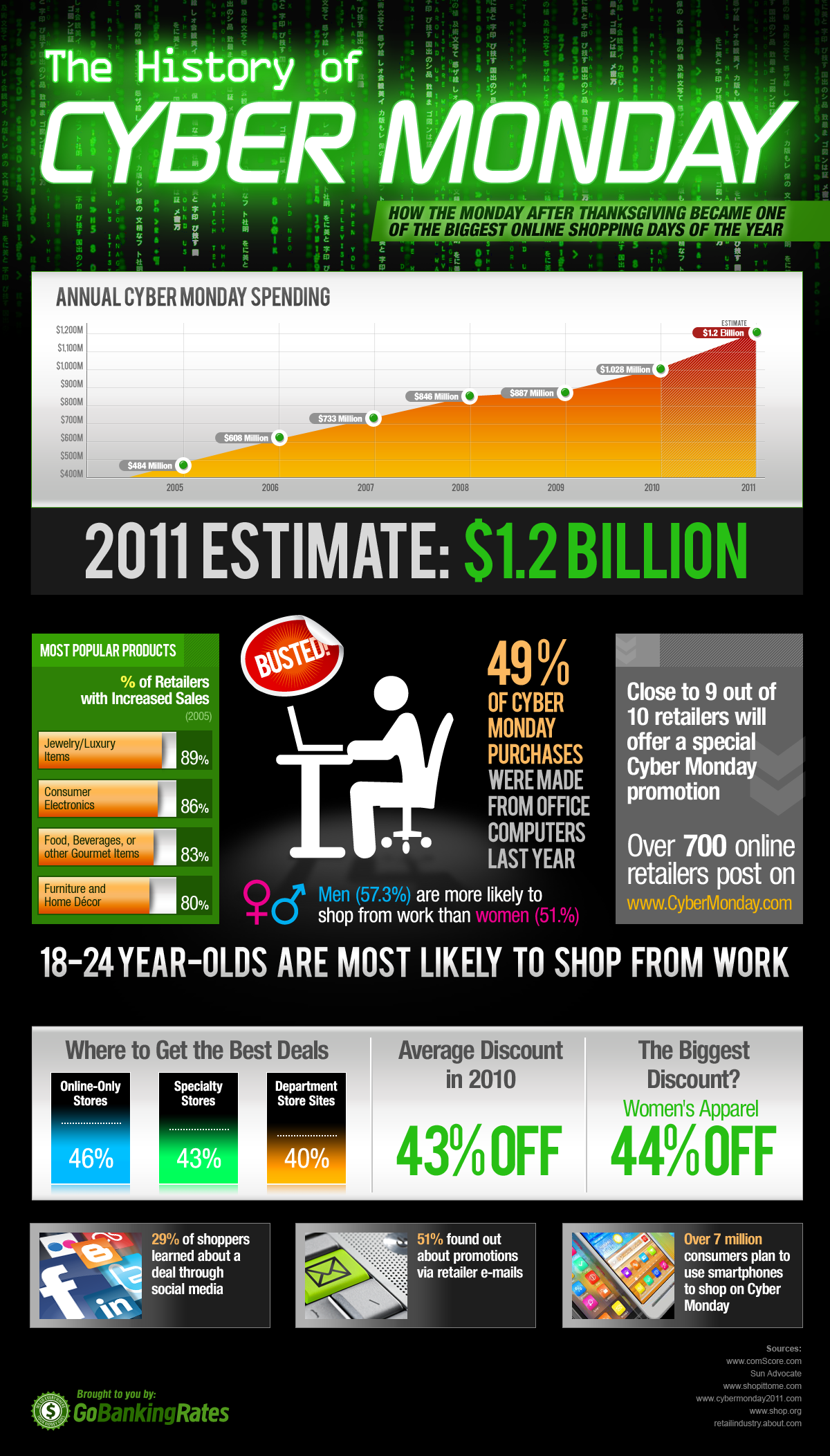 Share this infographic on your blog or website and tell us your thoughts. Just copy and paste this code snippet:
Annual Cyber Monday Spending
2005: $484 million
2006: $608 million
2007: $733 million
2008: $846 million
2009: $887 million
2010: $1.028 billion
2011:  $1.25 Billion
Most Popular Products
% of Retailers With Increased Sales (2005):
Jewelry/Luxury Items: 89%
Consumer Electronics: 86%
Food, Beverages, or other Gourmet Items: 83%
Furniture and Home Décor: 80%
Busted! Cyber Monday Shopping at Work
49% of Cyber Monday purchases were made from office computers last year. There were more men who shopped online from work than women, at 57.3% of all men and 51.% of all women. However, the 18-24 year-old age group is the most likely to shop Cyber Monday deals on the clock.
Where to Get the Best Cyber Monday Deals
Online-Only Stores: Average of 46% Off
Specialty Stores: 43% Off
Department Store Sites: 40% Off
The average discount in 2010 across all categories was 43% off, but women's apparel offered the largest discount overall at 44% off.
How Shoppers Find Cyber Monday Deals
29% of shoppers learned about a deal through social media, while 51% found out about promotions via retailer e-mails. Over 7 million consumers plan to use smartphones to shop on Cyber Monday.