The Net Worth of Amazon's Jeff Bezos

The net worth of Amazon Founder and CEO Jeff Bezos is $81.1 billion, making him the second richest person alive.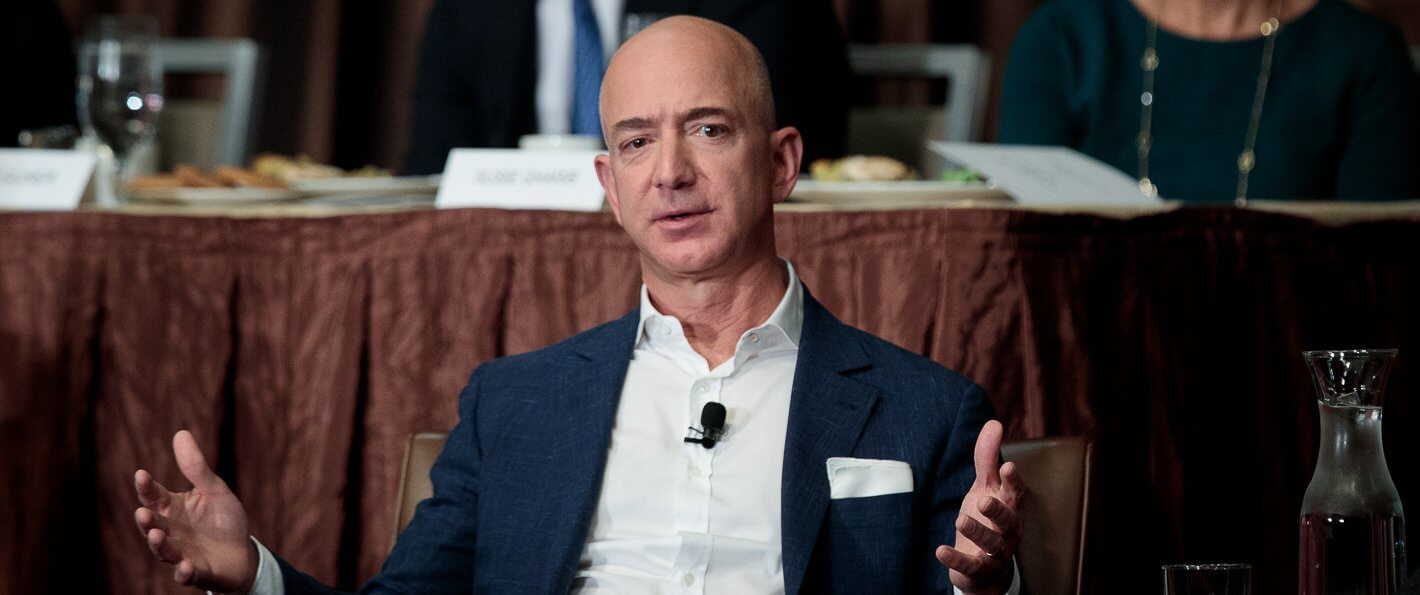 A little more than two decades ago, a hedge fund worker quit his job to open "Earth's Biggest Bookstore." Today, that "bookstore" has become one of the world's largest retailers, and that hedge fund worker has become the second richest person alive. The man, of course, is Jeff Bezos.
With Amazon's worth valued at nearly $300 billion, Founder and CEO Jeff Bezos has amassed a fortune of $81.1 billion as of May 2017. Here's a look at how the fabulously wealthy mogul spends his money.
Jeff Bezos Net Worth: $81.1 Billion
Founding one of the most valuable brands in the world has elevated Jeff Bezos to a level of entrepreneur held only by an elite few. Started in July 1995, Amazon offers a slew of products and services to customers around the globe, which helped it become the fastest company ever to reach $100 billion in annual sales — a feat achieved in 2015.
Amazon issued an IPO in May 1997, but the man behind the online retail giant still retains 17 percent ownership in the company. Consequently, Bezos' net worth is $81.1 billion, making him the second richest person alive — richer than even than Warren Buffett.
While Amazon is Bezos' main focus, the company is not his only business venture. In 2013, he purchased The Washington Post for $250 million. The billionaire entrepreneur also founded the rocket company Blue Origin, which is developing reusable rockets to shuttle passengers to and from space.
In March 2017, Bezos purchased Dubai-based online retailer Souq.com. The final purchase price was not revealed; however, it is known that a bidding war had broken out after Emaar Malls — a Dubai-headquartered mall operator — offered $800 million for the company.
Check Out: 12 Sneaky Ways Amazon Gets You to Spend More
Jeff Bezos' Real Estate
Jeff Bezos takes advantage of his ability to live large by buying multi-million dollar properties and other high-priced status symbols only the wealthiest people can enjoy.
In October 2016, he spent $23 million to purchase the 27,000-square-foot former Textile Museum in Kalorama, a swanky Washington, D.C., neighborhood. The property consists of two historic mansions that are on the National Register of Historic Places. Bezos will transform the mansions into the city's largest residence.
Despite the major investment, the primary Bezos family residence will remain in Seattle. According to The Washington Post, Bezos and his family will use the property when visiting town.
Related: 7 of Donald Trump's Most Valuable Properties
Located in the suburb of Medina, Wash., the main Bezos residence is a 29,000-square-foot compound not far from Amazon's headquarters. Originally a 13,000-square-foot home, Bezos' 5.35-acre waterfront property underwent a $28 million renovation to transform it into a sprawling oasis, according to Forbes.
Bezos has also owned a 10,000-square-foot New York City property since 1999. Purchased for just under $7.7 million, the property consists of three linked apartments in Manhattan's chic Century Tower building. Bezos also purchased a nearly 12,000-square-foot home in Beverly Hills, Calif., in 2007 for $24.5 million.
Along with his impressive real estate portfolio, Bezos has amassed a fleet of private jets — including a Gulfstream and a Dassault Falcon-900EX — for his personal travel needs. His limited liability company, Poplar Glen, paid $5.5 million for a hangar at Seattle's Boeing Field to store his jets in 2015.