Robert Kiyosaki Says This Precious Metal Is 'Most Undervalued Asset of a Generation'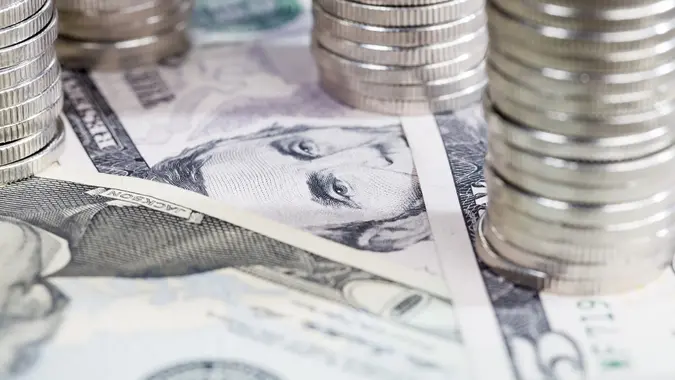 ligora / iStock.com
"Rich Dad, Poor Dad" author Robert Kiyosaki believes that millions of people are missing out on an incredible investment opportunity with a particular precious metal — and it may be already sitting around your house or in your coin jar.
The entrepreneur, writer and founder of Rich Global LLC recently tweeted that silver is one of the best places to put your money right now. In the post, he echoed the statements of Andy Schectman, president of precious metals investment firm Miles Franklin, sharing, "Andy Scheckman says: 'Silver is the most undervalued asset of a generation.' I agree."
In another one of his tweets in 2022, as reported by Benzinga, Kiyosaki shared how he put his beliefs in silver into action, saying, "To profit from the crash of US $ I bought many more US silver Buffalo rounds. Silver is a bargain." The financial whiz has been adamant that the global economy is on the verge of a massive downturn and has been all but pleading with people to put their money into the precious metal as well. "I still believe gold, silver, Bitcoin [are] best for unstable times," he has said.
One person who'd agree with him is Jonathan Rose, CEO of Genesis Gold Group, who believes precious metals are not only valuable investments, lucrative for retirees who divert their savings into silver and gold. As he told GOBankingRates, it's a safe option to boost earnings while the country grapples with ongoing economic windfalls.
Are You Retirement Ready?
"The U.S. hitting its debt ceiling of $31.4 trillion is one of a very long list of issues contributing to a lack of faith in our country's economy […] If the federal government defaults on its loans, that would destroy whatever investor faith might be left in the U.S. dollar causing it to weaken dramatically," said Rose. 
"But when we have rampant inflation, amongst other issues, gold and silver are very attractive as a safe haven asset. These assets perform consistently in the long-term," he added, pointing to the example of the last recession in 2008 when "gold [increased] in value almost 300% and silver 400% in just over three years."
Rose started his career working for Prudential Securities, Morgan Stanley and the London metal exchange in England, but stated that he "always believed in having something tangible" to invest in. So when he moved to the U.S. in 1997, he became involved with gold (as well as working as a financial consultant and commodities trader) and was moved to Genesis Gold Group after seeing the interest grow in precious metals.
"With what's happening in the world today, people are interested in learning more about gold or protecting their retirement accounts whether IRAs or 401(k)s," he said, suggesting gold and even silver are great ways to provide that barrier. "There's a lot more stability in having something tangible than having fear currency."
How it works, Rose explained, is "if you have a retirement account, the IRS lets you roll over your IRA or 401(k) into a precious metals IRA so it's still an IRA, you still get your statements. The only difference is you have physical gold and silver that's held at a licensed depository backed by major exchanges with your name on it so to speak."
Are You Retirement Ready?
Precious metals work in self-directed IRAs (one in which you manage yourself rather than working with a broker, for example). As Rose explained, "People invest real estate in self-directed IRAs, or mineral or oil rights and crypto currencies. There's also equities they can still invest in this way, self-directed accounts just gives them a lot more control."
Per the IRS, you can generally do one tax-free rollover every year so there's also safety in the fact that you can change in and out of investments at any time, including precious metals. "So you can roll it into gold and hold onto it for one year or three to five years (we recommend gold as a long-term hold anyway) and then roll it back into equities, whatever you want it to be invested in."
Rose likened the growing interest in gold commodities to the rise of bitcoin the past few years for anyone on the fence about this strategy — it's just one more unique way to diversify your portfolio.
"The past five years, bitcoin was the new gold with everyone touting it as the next generation of investments. I believe there's space for that and bitcoin is here to stay, but it definitely wasn't the new gold because a lot of these cryptos have lost 70% of their value and people that actually put cryptos in their IRAs and 401(k)s have lost substantial amounts of money," he said. "But now people are coming back to the realization that gold is still going to shine and it's still always going to be a stored value. That's the thing with gold, it's got a track record that's been seen since the dawn of civilization. Whole worlds have been created and fallen on it. It's not going anywhere."
Are You Retirement Ready?
And when you're ready to take distributions, it's pretty simple, said Rose. "It's one of the things I love about precious metals IRAs. If you have an IRA and take RMDs (required minimum distributions), you can actually liquidate the gold or silver and take the cash value and receive the cash or actually take possession of the metals at that point. That's something 90-95% of our clients do who are retired or retiring. Rather than cash it out, unless they need the money, they want to take possession of the metal and hold on to it and store it. It's very simple to liquidate."
Rose does caution that, like any other investment, the value of gold goes up and down and should be seen as a long-term option. "We are not day traders. We have a saying: 'You don't wait to buy gold, you buy gold and wait.' So if you're looking to buy gold and sell it in a month or six months or a year, I'd say gold isn't for you. It's really a long-term hold and should be looked at that way. If you look at gold and silver over the past five years, it's increased 35-40%. And based on what we are seeing, we are very bullish on gold, it looks to repeat those numbers again."
Are You Retirement Ready?
More From GOBankingRates