Senior Discounts To Help You Save More in 2023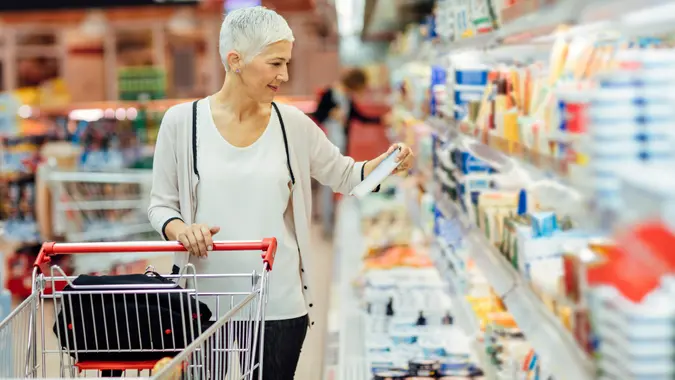 vgajic / iStock.com
Getting older has its perks, including age-related discounts. 
"Typically senior discounts are about 10% to 15% off of purchases, although sometimes they may be higher," said Julie Ramhold, consumer analyst at DealNews. "For instance, travel discounts may include up to 35% off car rentals while flights could be up to $200 off. Cruises and hotels will often have discounted rates that aren't specified, so you won't know until you try to book or call to inquire."
Discounts for seniors aren't just for travel though. Here are some of the best you'll find in 2023. 
Are There Special Requirements To Qualify for a Senior Discount?
Before you head out to take advantage of various senior discounts that are available, it can be helpful to know whether there are any special requirements to qualify. 
"Usually you have to have an ID or a card to a service like AARP in order to prove you're eligible," Ramhold said. "Additionally, something to keep in mind is that AARP is another membership you have to purchase. It's currently around $16 per year, which certainly isn't bad. But, if you're on a fixed income, it likely won't be worth it to buy a membership just to save 10% at your favorite fast food restaurant."
Are You Retirement Ready?
Take Our Poll: Do You Think You Will Be Able To Retire at Age 65?
National Park Entrance Passes
"You can get a lifetime membership pass for $80 or an annual senior pass for just $20 as long as you're 62 or older," Ramhold said. "If you enjoy traveling and visiting different national parks, this is an excellent value."
British Airways Flights
"You can save up to $200 off select fares," Ramhold said, "and you can book online through the company's AARP page, which is a huge plus since some senior travel discounts require you to actually call and book your trip in order to take advantage of the savings." 
T-Mobile 
"The carrier has a selection of 55-plus plans starting at just $55 for two lines that offers a ton of perks for older cell phone users," Ramhold said. "It takes the headache out of trying to figure out a good plan on a reliable network — and $55 per month for two lines is pretty affordable these days."
Amazon Prime Membership
Being able to have items you need delivered to your doorstep within a couple of days can be a lifesaver. Seniors who receive government assistance — from Medicaid, Supplemental Security Income, SNAP or the Low Income Home Energy Assistance Program — can upload photos of their EBT cards or eligibility letters to unlock everything Prime has to offer at a discounted rate of $6.99 per month.
Are You Retirement Ready?
Walgreens 
If you have an AARP membership, you can link your membership to your myWalgreen's account and earn 3% to 10% in cash rewards on eligible products.
Marcus Theaters
The average price of a movie ticket is between $9 and $10; however, at Marcus Theaters, seniors can buy matinee tickets on Fridays for just $6. Other theaters might also discount tickets for seniors. 
Denny's 
If you're an AARP member, you can save 15% off your entire check each time you dine at a participating Denny's location. The restaurant chain also has a discounted menu for people 55 and up.
IHOP
IHOP also has a discounted menu for diners who are 55 and older. Discounts will vary according to what you order. For example, the Breakfast Sampler on the regular menu is $11.30 and the Breakfast Sampler on the 55-plus menu is about $3 cheaper, at $8.29.
Granted, the portions on the 55-plus menu aren't as large as the regular menu; but, if you don't have a huge appetite and aren't counting on taking home leftovers, it's a good deal. 
Are You Retirement Ready?
Fred Meyer
On the first Tuesday of each month, seniors 55 and older will receive 10% off eligible items, including Fred Meyer, Kroger and Simple Truth brands; apparel, shoes, accessories, toys, sporting goods, auto and garden supplies and most electronics. 
Other grocery stores also offer similar discounts. 
Kohl's 
Every Wednesday, seniors 60 or older can snag a 15% discount when purchasing items at a Kohl's location.
UPS Store
If you're an AARP member, you can save 15% off eligible products and services, including printing, packing, office supplies and fax services. You also can save 5% off domestic and international UPS shipping services.
Luby's 
If you live in Texas, you can get a homemade meal at a great price by ordering the Senior LuAnn Special at Luby's. The Senior LuAnn is a meal option that includes an entree, two sides and bread for $7.99. It's available at Luby's locations every day from 3 p.m. until closing.
More From GOBankingRates
Are You Retirement Ready?