How Much It'll Cost You to Retire in These Premium Travel Destinations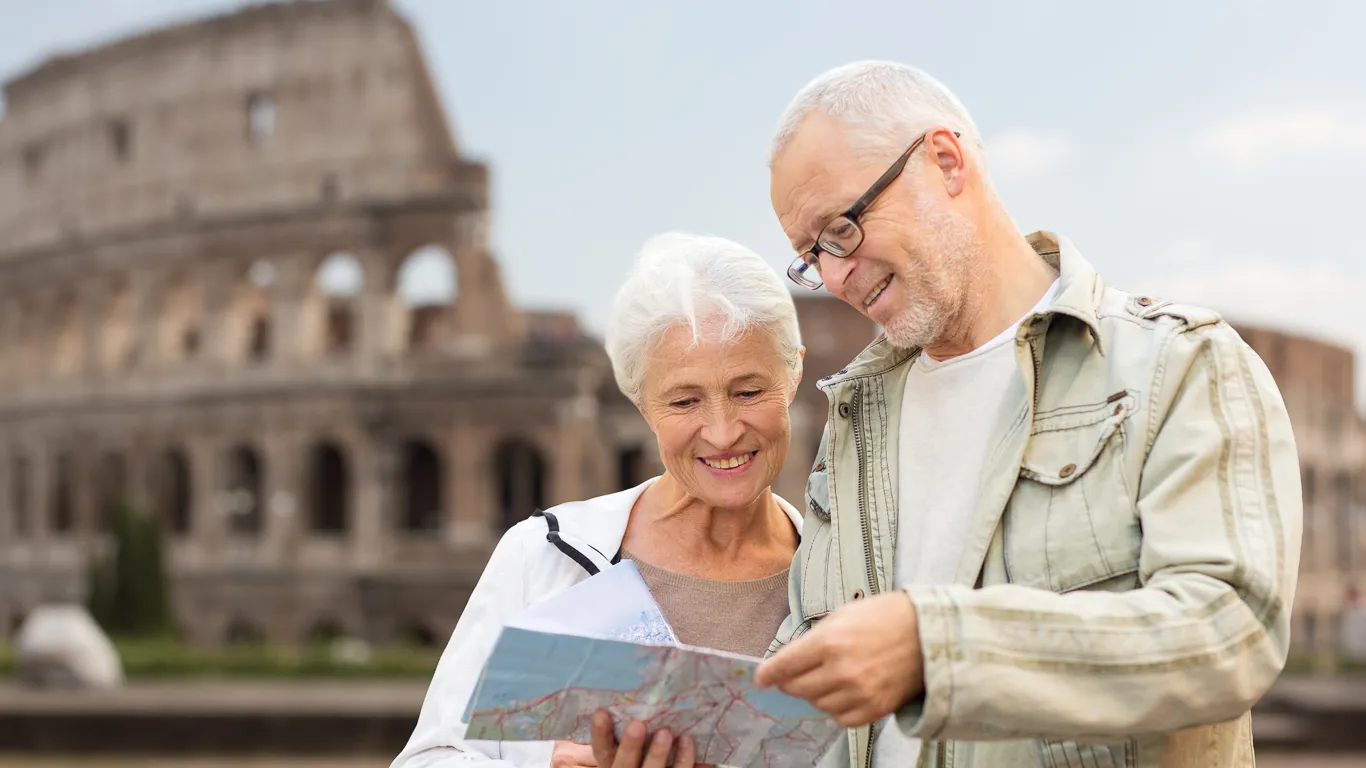 With retirement comes long days of leisure and plenty of opportunities to travel to exotic destinations. But, if the thought of keeping a timetable doesn't suit you, consider moving to one of the world's premier travel destinations.
GOBankingRates looked at top travel spots from around the world to determine your monthly rent and utilities in exotic locations. Click through to see what it costs to live in these destinations.
Kathmandu, Nepal
Rent and Utilities: $205.79
Sing Bob Seger's "Kathmandu" as you retire to Nepal, one of the coolest places to retire.
The capital Kathmandu offers plenty to sing about, from it's low cost of living to Hindu and Buddhist temples. Outside the city, watch wildlife in Langtang National Park or take a weekend trip to Mount Everest.
Playa del Carmen, Mexico
Rent and Utilities: $296 per month
A popular and affordable vacation spot, Playa del Carmen has brilliant turquoise waters and temperatures in the 80s and 90s year-round. When you want to get out of the sun, walk to the town's public square. Treat your taste buds at eateries on La Quinta Avenida. Go snorkeling in the Caribbean, or head out to explore Mayan ruins in Tulum.
Are You Retirement Ready?
Marrakech, Morocco
Rent and Utilities: $299.42 per month
Marrakech offers centuries of history tucked into a city with all the modern amenities. Explore the 11th-century Medina, a UNESCO World Heritage site, to delve into the city's rich history. Or spend your days people watching along the wide boulevards of the Villa Nouvelle while sipping a beverage at a cozy cafe. A mix of old and new ways, see the city by horse-drawn carriage to explore streets lined with mosques and the French and North African culture that infuses Marrakesh with an ambiance all its own.
Bangkok
Rent and Utilities: $316.80 per month
You'll never tire of watching the sun rise or set between the ornate spires of the city's ancient architecture. Or even behind its ultra-modern high rise buildings, with a character as unique as the historic turrets stretching toward the clouds. Discover open-air markets, and tour the city to see towering Buddha statues.
Istanbul
Rent and Utilities: $345.29 per month
As the former seat of the Ottoman and Byzantine empires, Istanbul brims with monuments and historic architecture. The new city grew up amid the remains of the past. It's not unusual to discover a Byzantine church nestled in the shadow of a skyscraper. You can shop in a modern mall, but the real treat are the open-air markets. Spend your days enjoying Turkish treats from street vendors or bartering for folk art.
Buenos Aires, Argentina
Rent and Utilities: $437.70 per month
Dramatic church steeples rise among modern high-rise buildings, revealing Buenos Aires' mix of old and new at first sight. Enjoy many free attractions in the city from exploring the colorful Palermo neighborhoods to the National Museum of Fine Arts. Meander down Paseo del Rosedal to enjoy the fragrance of more than 1,000 species of roses.
Are You Retirement Ready?
Santorini, Greece
Rent and Utilities: $511.92 per month
Spend your days enjoying sea breezes caressing whitewashed houses perched on the cliffs above a blue Grecian sea in Santorini. Lie on beaches awash in black, red and white lava pebbles. Or, take in breathtaking views as you take an ultra-exclusive yoga retreat in Crete.
Lisbon, Portugal
Rent and Utilities: $522.48 per month
Perched on hilltops overlooking the Rio Tajo, Lisbon has an old-world ambiance contrasting modern amenities. Nibble a custard tart and sip coffee in a charming cafe by day before exploring the city. Head to Alfama neighborhoods by night to discover fado bars and listen to the Portuguese version of the blues.
Sliema, Malta
Rent and Utilities: $689 per month
Once home to Malta's aristocracy, Sliema's mild seaside climate makes it one of the best places to live in the world. Charming Victorian buildings dot the once-quiet fishing village, tucked among more modern establishments. When you're not browsing the city's shops or sipping tea at a cafe, head to the beach or Independence Garden to soak in more of the city's beauty.
Barcelona, Spain
Rent and Utilities: $713.40 per month
A city known for its architecture and art, Barcelona offers retirees plenty of ways to fill the days. Visit the Museu Picasso and Fundació Joan Miró to admire creations by the famous artists. Or take an architectural journey of modernist landmarks by Antoni Gaudí.
Killarney, Ireland
Rent and Utilities: $775.93 per month
Tucked on emerald hills overlooking the lake Lough Leane, Killarney has plenty to keep both outdoor lovers and history buffs busy. Head to Killarney National Park where you can boat, bike, ride horses or fish. Dive into the past exploring the ruins of the Innisfallen Abbey on the Innisfallen Island.
Cairns, Australia
Rent and Utilities: $804.98 per month
Live alongside the Great Barrier Reef, and spend your days swimming among 1,625 species of fish. When you're waterlogged, check out Cairn's other sights. Take a train ride through the upper Barron Gorge on the Kuranda Scenic Railway, hike through Barron Gorge National Park or visit koala gardens in nearby Kuranda.
Are You Retirement Ready?
Panama City
Rent and Utilities: $812.83 per month
International Living named Panama the World's Best Retirement Haven in 2016, and Panama City makes it easy for you to live in a tropical paradise. With $1,000 pension per month or more and a clean police record, you'll get discounts through the country's pensioner program, earning you up to 50 percent off nearly anything you buy. That leaves more in your retirement budget to enjoy the country's many sights, including its famous canal.
Tokyo
Rent and Utilities: $857.08 per month
Want to retire rich overseas in one of the busiest cities in the world? You can stretch every dollar by visiting free attractions like the Imperial Palace, Tsukiji Market and Meiji Shrine. Savor local cuisine like ramen and sashimi that will save you money over western dishes.
Rome
Rent and Utilities: $862.50 per month
With fame reaching from its Pantheon to the Pope, Rome will fill your days with a host of architectural, historic and religious sights. Head outside the city to explore natural preserves such as the National Park of Abruzzo. Discover the city's modern side filled with avant-garde restaurants and engaging shops.
St. John's, Antigua and Barbuda
Rent and Utilities: $880.65 per month
As the capital city of Antigua and Barbuda, St. John's is a hub of the best shopping and dining. Visit the Saturday Morning Market where vendors congregate to sell goods ranging from local produce to crafts. Meet visitors from all over the world at the cruise ship docks or venture back into the area's 10,000-year history.
Are You Retirement Ready?
Las Vegas
Rent and Utilities: $940.39 per month
Las Vegas is famous for its casinos and over-the-top entertainment. But you'll find a relaxed side to the city, as well. Take a hike to hidden springs in Red Rock Canyon National Conservation Area or spend time at the Lake Mead National Recreation Area. Visit Vegas museums, like the Neon Museum or Mob Museum.
St. Andrews, Scotland
Rent and Utilities: $992.23 per month
If you love golf, retire to St. Andrews, a city known for having roots in the sport. Book a round at the Old Course or one of 10 other courses in the city. There's much more to St. Andrews than golf, though, and you'll find many ways to spend your golden years.
Stroll through Craigtoun Country Park or St. Andrews Botanic Garden to enjoy the city's natural beauty. Enjoy entertainment at the Byre Theatre, marvel at colorful fish in the St. Andrews Aquarium or kick back with a cold one at the Eden Mill distillery and brewery.
Paris
Rent and Utilities: $1,004.98 per month
Retire in Paris and you'll spend your days people watching at sidewalk cafes near the Eiffel Tower. Undoubtedly one of the best places to live in the world, Paris life reaches far beyond its stereotypes of romantic ambiance and rich cuisine. Amble tree-lined cobblestone avenues along the River Seine to explore museums and churches.
Aruba, Aruba
Rent and Utilities: $1,154.79 per month
Tucked in the center of the island of Aruba, the city of Aruba is perfectly positioned for easy access to the island's many sights. Soak up the sun on the shimmering white sands of Palm Beach, or dive below the water to explore reefs and shipwrecks. Or, strap on your hiking shoes for a trek through Arikok National Park.
Are You Retirement Ready?
Amsterdam
Rent and Utilities: $1,183.93 per month
Amsterdam is easy to explore by bike, making it one of the best places to live for active retirees. Picturesque canals, tasty cuisine and a minimal language barrier — most residents speak English as well as Dutch — add to its charm. Visit famous sites like the Anne Frank House and Van Gogh Museum, or try kitesurfing at the beach.
San Diego
Rent and Utilities: $1,482.01 per month
If you've been California dreamin' on a winter's day, make your dreams come true when you retire to San Diego. You'll find free activities around the city. Hike windswept cliffs at Torrey Pines State Reserve or enjoy gardens surrounding Spanish renaissance architecture at Balboa Park. And don't miss watching the sun sink into the Pacific Ocean from Sunset Cliffs Natural Park.
London
Rent and Utilities: $1,648.85 per month
While London is famous for sights like Buckingham Palace and Westminster Abbey, you'll find plenty of free ways to spend your retirement in the city. Take selfies in front of double-decker buses or the iconic advertising display in Piccadilly Circus. Tread in the footsteps of King Henry VIII at Hyde Park & Kensington Gardens or browse museum displays at London's National Gallery.
Honolulu
Rent and Utilities: $1,662.13 per month
Make every day a Hawaiian vacation when you retire to Honolulu. The city is ranked highly in the U.S. News and World Report's 100 Best Places to Live in 2017. The city took 10 out of 10 points for desirability, and without a doubt it's one of the most beautiful places to live.
But, the city can come with a high cost of living, so take advantage of low-cost deals. Wiggle your toes in the sand at Waikiki Beach, visit the U.S.S. Arizona Memorial or watch the sunset from Sunset Beach for starters.
Are You Retirement Ready?
Key West, Fla.
Rent and Utilities: $1,778.56 per month
Located on the southern tip of the Florida Keys, this city has a lot to offer retirees. Visit Ernest Hemingway's Home and Museum in the heart of Old Town where you'll find more than 40 cats wandering the property. Afterwards, stop in at Captain Tony's Saloon, one of Hemingway's favorite haunts.
Costs sourced from Numbeo.com account for basic utilities and the typical rent for a one-bedroom apartment outside of the city center.