4 Countries That Offer the Most Incentives To Retire There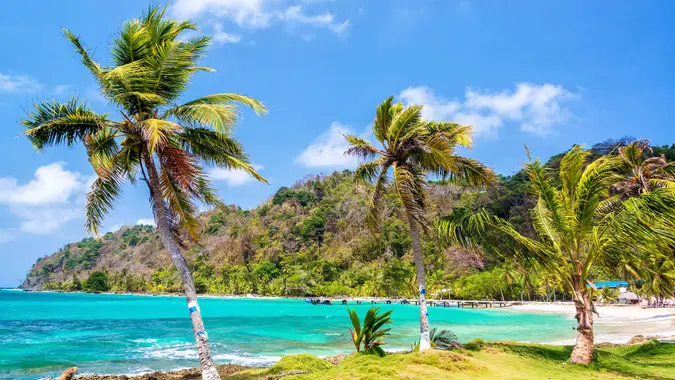 DC_Colombia / Getty Images/iStockphoto
Many Americans view foreign countries simply as places to visit, but a few who are "in the know" understand that they can be great places to retire as well.
In addition to offering a different culture, many countries specifically court foreigners by providing financial and lifestyle incentives to retire there. Retiring abroad is a major life decision, and you'll have to keep your eyes open to all the pluses and minuses that come with spending your golden years overseas. But it's worth taking a look at the perks that you can take advantage of if you decide to take that step.
Here are some of the countries offering the most incentives to retire there.
Panama
Panama has become a mecca for American retirees, thanks in part to its warm climate and relatively inexpensive cost of living. But its Pensionado Visa is the one against which most other countries are measured. Retirees who qualify are granted a host of benefits, including:
50% discount for expenses or closing fees on financial transactions for commercial or personal loans
Exemption from payment of SFIC transactions in personal and commercial loans
15% discount on personal and commercial loans on their names
1% discount on the interest rate of mortgages for housing for personal use
50% discount on passports
25% discount on domestic and international airline tickets
50% discount on hotel rooms Monday through Thursday and 30% discount on weekends
20% discount on prescription drugs
15% discount on dental and optometry exams
30% discount on intercity buses, boats, ships and trains
25% discount on food in restaurants
15% discount in fast-food restaurants, if those are national or international franchises
15% discount of the total bill for services in hospitals and private clinics
20% discount on physicians and surgeon fees
20% discount on fees for technical and professional services
20% discount on all prostheses and all devised and assistive accessories as well
25% discount on electricity, telephone and water bills
50% discount on recreation and leisure activities such as movies, concerts, theaters, sporting events and other public events every day
50% discount on airport tax
20% discount on coffins and urns
Exoneration from import tax (only once) on all goods, belongings and appliances for personal use up to the value of $10,000
Exoneration of the import tax of one car every two years.
Are You Retirement Ready?
This long list of benefits outclasses every other visa offered by a foreign nation to American expats, and you don't even officially have to move to Panama to qualify. As long as you spend at least one day in the country per year, you can maintain your visa status.
Portugal
The Annual Global Retirement Index 2022 dubbed Portugal one of the five best places to retire overseas — and with good reason. A high quality of life, low cost of living and a generous retirement visa all play important roles. With a Portugal visa, you'll have access to the company's healthcare system, educational system for any dependents and the opportunity to acquire permanent resident status after five years.
Belize
If you're 45 or older with a retirement income of at least $2,000 monthly, you may qualify for the Belize Qualified Retirement Program. By meeting just a few other requirements, including staying for at least 30 consecutive days in Belize at least once per year, you can gain access to a host of benefits, from residency status and duty exemptions to tax exemptions, dependent benefits and land purchasing rights.
The beautiful beaches, affordable lifestyle and English-speaking population all add to the appeal of retirement in Belize.
The Philippines
The sun-soaked Philippines are very friendly to foreigners, particularly in terms of acquiring a retirement visa. A quite inexpensive place to live, the Philippines is also home to some of the world's best islands. Acquiring a Special Resident Retiree's Visa entitles an expat to an indefinite stay (with multiple entry/exit privileges), a waiver of import duties and taxes on up to $7,000 of personal effects, and exemption from taxes on pensions and annuities.
Are You Retirement Ready?
SRRV holders also don't have to pay the Philippine Travel Tax when they leave the country. This visa also allows expats access to the PHILHEALTH system.
Other Options
Many other countries offer retirement visas to expats, but some just grant the ability to reside in the country without access to things like healthcare or discounts on services. Individual cities in some countries, including Spain and Italy, may offer financial perks for expats to live and invest in them, primarily due to shrinking populations. With a little legwork, you can likely find an option that is attractive to you. 
More From GOBankingRates