I'm a Financial Planning Expert: Make These 7 Moves If You Have No Retirement Savings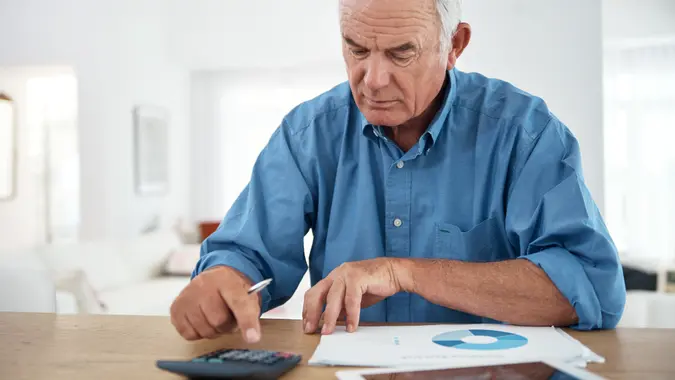 shapecharge / iStock.com
What should you do if you're planning to retire relatively soon, but don't have anything set aside in savings? Rather than panic and dwell on negative outcomes, there are strategic moves soon-to-be retirees can take now to gain a financial edge. 
GOBankingRates spoke to Mark Henry, founder and CEO of Alloy Wealth Management, about the next necessary steps those who want to retire soon need to take for a comfortable retirement. If you don't have any retirement savings, it's time to make these seven moves.
Start Saving Now
Those without retirement savings who want to retire should not wait any longer to get started saving. After all, it's better to contribute some money than to have nothing at all.
A few ways you can catch up, Henry said, include tracking your spending and creating a plan with monthly retirement contributions included, which must be paid every month — no matter what.
Max Out Your Employer-Sponsored Retirement Account
Do you work for a company that offers a 401(k) or 403(b) plan? Maxing out your employer-sponsored retirement account is the easiest way to start saving for retirement. 
If your employer offers a company match, Henry recommends taking full advantage of it to avoid leaving any free money on the table. 
Max Out a Roth IRA
Do you still have some money left in your budget? If yes, Henry said to open a Roth IRA.
Are You Retirement Ready?
There are several benefits in opening a Roth IRA. Anyone can open this account and Roth IRA contributions are taxed upfront. This means the account grows tax-free and gives those who plan to retire soon the ability to increase their retirement savings.
Do keep in mind, however, that Roth IRAs have income limits. Henry said income limits impact the maximum contributions you can make, or whether you can contribute at all. Before opening this account, be sure to confirm your eligibility first.
Make Catch-Up Contributions
Anyone who is over the age of 50 may contribute extra money to their retirement account via catch-up contributions. 
"If you meet the catch-up contribution age requirements, you can contribute an additional $7,500 to a 401(k) [$30k total annually] and an additional $1,000 to an IRA," said Henry. "It's important to keep tabs on catch-up contribution limits every year since 401k catch-up contributions may increase with inflation."
Maintain a Diversified Portfolio
Those who start late in building their retirement savings are well advised not to keep saving in just one vehicle. If all your money is kept in a 401(k), for example, Henry said it may not be as much as you think when taxes are taken out upon withdrawal.
The best approach is to make sure your savings are tax and risk diverse by maintaining a diversified portfolio. Henry recommends working with a trusted financial advisor to assure your money is in the right places.
Create Multiple Streams of Income
In the years leading up to your retirement, it's important to start creating multiple streams of income.
"With less time for compound interest to work to your advantage, it is important to save more aggressively toward retirement," said Henry. "If you find yourself behind, consider your options for earning extra money through side hustles or a part-time job."
Are You Retirement Ready?
Have a Source of Income Once You're Retired
Once you have some savings built up in a retirement account, Henry recommends looking into converting it to a pension.
"A pension provides you with a monthly income similar to the paychecks you've been used to for your entire career," said Henry. "It's a great way to cover day-to-day costs, and any leftover money can be directed to your family after your death. Be sure to shop around for the best pension plan, so that you are getting the best deal in terms of any fees."
More From GOBankingRates