I'm a Financial Planning Expert: Here Are 11 Things To Know About Retiring Abroad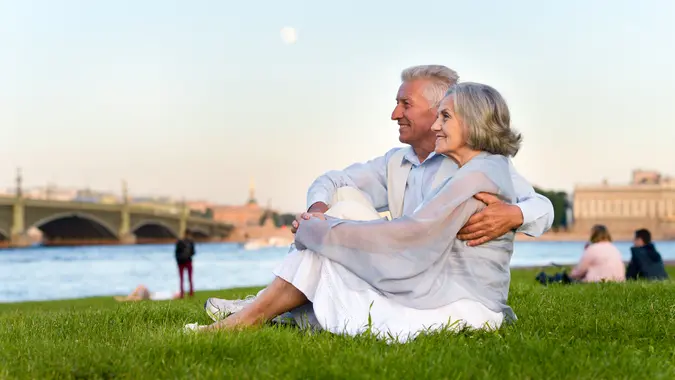 Ruslan Guzov / Shutterstock.com
In many countries, the cost of living is lower than that of the U.S., so retiring abroad could stretch your retirement savings and allow for a higher standard of living. This is one of the reasons boomers prefer to retire abroad.
However, cost is only one side of the equation. Retiring abroad can be an exciting chapter of your life with the opportunity to experience new adventures. However, there are factors to consider before taking the leap to retire abroad.
"No one wants a diminished quality of life in their retirement plan. And deciding where to spend retirement years is a crucial decision," expert financial advisor Jeremy Babeuner.
Based on this, GOBankingRates spoke with award-winning entrepreneur Jacqueline Shadeck, CFP, and she shared the things to consider if you're looking to retire abroad.
Cost of Living
The cost of living can vary significantly from one country to another. Some countries may offer a lower cost of living, allowing your retirement savings to stretch further. However, it's essential to research and consider factors such as housing, healthcare, taxes and daily expenses in your chosen destination. Even the cheapest countries to retire can significantly impact your budget. 
Currency Exchange Rates
When retiring abroad, Jacqueline said you'll likely be dealing with currency exchange rates. Fluctuations in exchange rates can impact the value of your income, pensions, investments and savings. It's important to monitor these exchange rates and consider their potential impact on your finances. Purchasing power and income in retirement include a precursor consideration of exchange rates to understand how they may impact finances.
Are You Retirement Ready?
Healthcare Costs
Healthcare expenses and the availability of medical services vary across countries. Ensure you understand the healthcare system of your destination and evaluate the cost of health insurance, medical treatments, long-term care and any out-of-pocket expenses. Some countries may have excellent and affordable healthcare options, while others may require additional private insurance coverage.
Tax Considerations
Retiring abroad can have implications for your tax obligations. Tax laws and treaties differ from country to country, affecting how your retirement income and assets are taxed. Jacqueline recommended consulting with a tax professional who specializes in international taxation to understand your tax obligations in both your home country and your destination.
Social Security and Pensions
If you receive Social Security benefits or have a pension, research whether these payments can be received abroad and if any tax implications or withholding requirements apply. Some countries like the U.K., Japan, Greece, Portugal, Spain, Italy, Norway and others have bilateral agreements with the U.S. that allow for Social Security benefits to be received overseas.
Investment and Financial Planning
It is important to not only build financial security while retiring abroad but also be able to maintain your stability. The way to this is to, "[r]eview your investment and financial strategy to ensure it aligns with your retirement goals and the implications of retiring abroad," Jacqueline said.
Are You Retirement Ready?
Also consider factors such as diversifying your investments, managing currency risk and selecting appropriate international investment options.
Estate Planning and Legal Considerations
Different countries have varying laws and regulations concerning inheritance, property ownership and estate taxes. Consult with an international estate planning attorney to understand how your assets will be managed and distributed in your chosen retirement destination.
Cultural Differences
Every country has its own unique culture and common lifestyle. Some countries have similar cultures to the U.S. and others have different cultures. These cultural differences include food, public transportation (as many European countries use the bus system), entertainment and climate (many countries have hot weather compared to the U.S.). If you're not acquainted with the culture of a place, you could experience a culture shock that might hinder your ability to settle down quickly and enjoy retirement.
Visa and Residency Requirements
Some countries offer 30-90 days stay to United States citizens without a visa while other countries may require a visa. Since visa and residency requirements vary from country to country, it is wiser to stick to countries that have easy immigration and residency processes for long-term stays. Ensure your research is not only focused on obtaining a visa or residency but the ease of renewal as well. 
Language Barrier
English is the most spoken language in the world when you count native and non-native speakers, however, many are multilingual and speak other languages in addition. Depending on the country, you cannot get by speaking only English and may have to learn another language especially if you're not going to be residing in the major cities of that country. Also, you have to factor in accents. The citizens of a particular country may be fluent in English but their accent may make communication difficult and you'll have to get by with gesticulations and signs until the accent becomes familiar. The language barrier can result in difficulty in making friends and may cause you to be socially isolated or lonely.
Are You Retirement Ready?
Safety and Security
You wouldn't like to spend your retirement years fearing for your safety because of location. Social and political unrest can risk residents' safety. So it's important to consider how the country reacts to such issues. You can consult online communities such as Quora and Reddit to learn how safe a particular city or country is from people who have lived there or currently live there.  
Bottom Line
Conducting your research, planning your finances, understanding financial implications and taking proactive steps help to ensure a smooth and financially secure retirement experience in your chosen destination.
Also, it's always a good idea to spend significant time in the country before permanently relocating. Many retirees decided to retire in a particular country after spending a vacation there. 
Knowing these things helps you to tailor your retirement to suit your needs and ensure you have a quality retirement life without challenges.
More From GOBankingRates