Freelancers Will Be Better Able To Save for Retirement Under SECURE 2.0 Act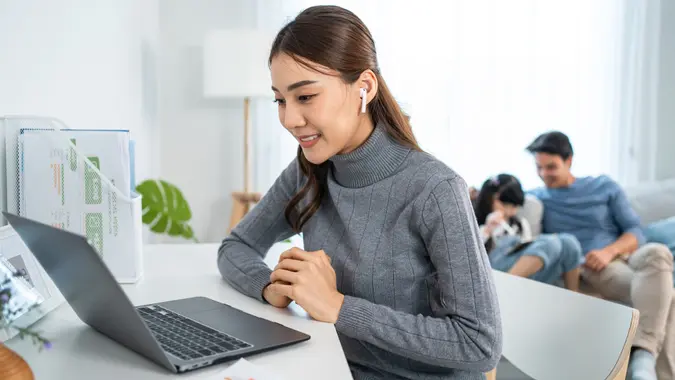 Kiwis / Getty Images/iStockphoto
Saving for retirement is an important part of life planning, as setting aside a particular amount of money every month and allowing it to grow through investments will "ensure that you have enough money to enjoy a comfortable standard of living when you stop or reduce the amount of hours you work," according to America Saves.
See: Unplug These Appliances That Hike Up Your Electricity Bill
Read: With a Recession Looming, Make These 3 Retirement Moves To Stay On Track
Find: 11 Grocery Items To Buy at Dollar Tree
Yet, retirement funding can be more difficult for freelancers, contract workers and sole proprietors because they often miss out on employer-backed matched retirement or pension contributions that many W-2 workers receive.
This trend could soon change as the government is now intervening to help gig workers better save for their future. In December, President Biden signed the Secure 2.0 Act into law. The Secure 2.0 act could alter the way millions of Americans save for retirement, putting a focus on older workers in regards to catchup contributions and offering new options to low- and middle-income Americans and part-time workers, per The New York Times.
Of particular interest to freelancers is the incoming Saver's Match option, wherein the government provides a direct contribution to the worker's retirement account. Per The New York Times, the federal government will provide (up to) a 50% match — $1,000 from the government in response to $2,000 of a worker's contribution to their workplace or individual retirement account.
There are some provisions — single filers cannot earn more than $35,500 and joint filers have a cap of $71,000 in order to be eligible for at least partial value of the match. Further, while individuals can deposit their retirement savings into a Roth IRA or a traditional IRA, government matching funds cannot be deposited into a Roth IRA.
And, unfortunately, the new Saver's Match plan won't go into effect until 2027 — though the IRS currently offers a Saver's Credit that allows workers to take a tax credit for eligible contributions to their IRA (or ABLE) plans. The credit can be applied to a maximum of 50% of your contribution, depending on the adjusted gross income reported for that year (for 2022 taxes, those amounts are $34,000 for single filers and $68,000 for those married, filing jointly). The New York Times reported that the Saver's Match, once in effect, will replace the Saver's Credit.
Take Our Poll: Are You In Favor of More Inflation Relief in 2023?
More: How To Make Big Bucks as a Freelancer in 2023, According to Someone Who's Done It
The IRS website offers helpful information on retirement plans that self-employed individuals can begin to invest into, even before the Saver's Match takes effect. These options include a simplified employee pension (SEP), a 401(k) and a SIMPLE IRA. All have qualifying standards and annual contribution caps. More info can be found at IRS.gov
More From GOBankingRates