Millions of American Workers Are Close To Retiring With No Savings — 5 Ways To Start at Any Age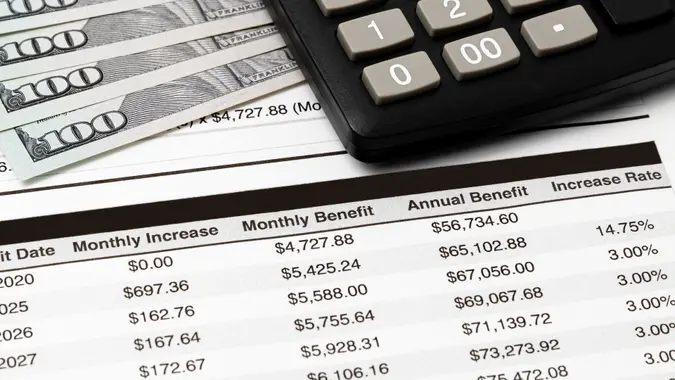 JJ Gouin / Getty Images/iStockphoto
As conversations continue in Congress regarding the fate of Social Security and Medicare, one other big development has come to light that puts the financial health of seniors nearing retirement age in jeopardy.
According to the latest U.S. Census Bureau data, as cited by CBS News, 50% of women and 47% of men in the age range of 55 to 66 have reported they have no retirement savings. This data piggybacks on findings from the Anytime Estimate Retirement Finances Survey that GOBankingRates.com reported on in 2022, which states that the pandemic did a number on individuals' 401(k)s and IRAs.
Because of financial stressors caused by COVID, many Americans either stopped saving altogether or took out money from their retirement savings in order to have funds to get by. The survey also found that the median amount of money Americans had put away as of 2022 was $71,500, while 27% reported they had less than $50,000 and 16% noted they had zero saved.
The new SECURE 2.0 Act passed by Congress in 2022 aims to change these statistics by providing more benefits targeting Americans saving for retirement. Over the next decade, new employees of a company will be automatically enrolled in the business' 401(k) plan while there will be new opportunities for "catchup" contributions for seniors wanting to maximize their earning potential as well as a new perk that allows employers to contribute to worker retirement savings accounts even if the employee is not able to due to paying off student loans.
If you count yourself among nearly half of the country with no retirement savings, there are some steps to take at any age to kickstart your contributions towards your future. According to USA Today, "it's never too late" to do so.
Are You Retirement Ready?
Here are some ideas:
1. Make small contributions and adjust over time
If you are currently working for a company that has a 401(k) plan, it's highly advantageous to take part in it even if you can only make very small contributions. This is because most companies offer an employer match, dollar for dollar, up to a certain percentage point. So even if you can only contribute 3% of your paycheck, companies usually at least contribute up to that same 3% amount, which would mean 6% is being invested each check. Of course, if you get a raise or pay off debt and find you have more expendable income, you can always adjust the amount of money you take out of your check at any time.
2. Open up CDs or high-yield accounts while interest rates are high
If you have a good amount of money saved in a regular, non-retirement account, you might want to consider transferring it over to a CD or high-yield savings account while the interest rates remain high. The Federal Reserve shows no signs of slowing down on raising rates (currently 4.5-4.75%) while trying to get inflation under control so this is a great time to take advantage of getting more earnings. Once interest rates come down (whenever that may be) you could then transfer that into an IRA account.
3. Delay Social Security benefits until age 70
The old adage goes that 'good things come to those that wait,' and nothing could be truer when it comes to Social Security. The longer you are able to hold out from starting to claim benefits the more you'll receive. While you can start at 62, waiting until age 70 will provide a bigger check each month.
Are You Retirement Ready?
4. Take on a side gig or part-time job
According to LendingTree, 44% of Americans currently have a side hustle to bring in extra income. If you have the capacity to take on a side gig or part-time job, and can use the money you make from the position to put into retirement, it could add up quickly. This option is also helpful if you are wanting to retire from your full-time job but want some income to help tide you over until electing to take Social Security benefits.
5. Look at ways to lower your bills
This one may sound like it's easier said than done but if you look closely at your monthly expenditures, you might find ways to cut costs. For example, cutting down a daily coffee run to once a week or canceling subscriptions to things like Netflix and Spotify or even trying to consolidate your debt into one lower payment. For more ideas, GOBankingRates.com compiled a list of 10 things to stop buying in 2023.
More From GOBankingRates