10 Reasons You Should Retire to a Tiny House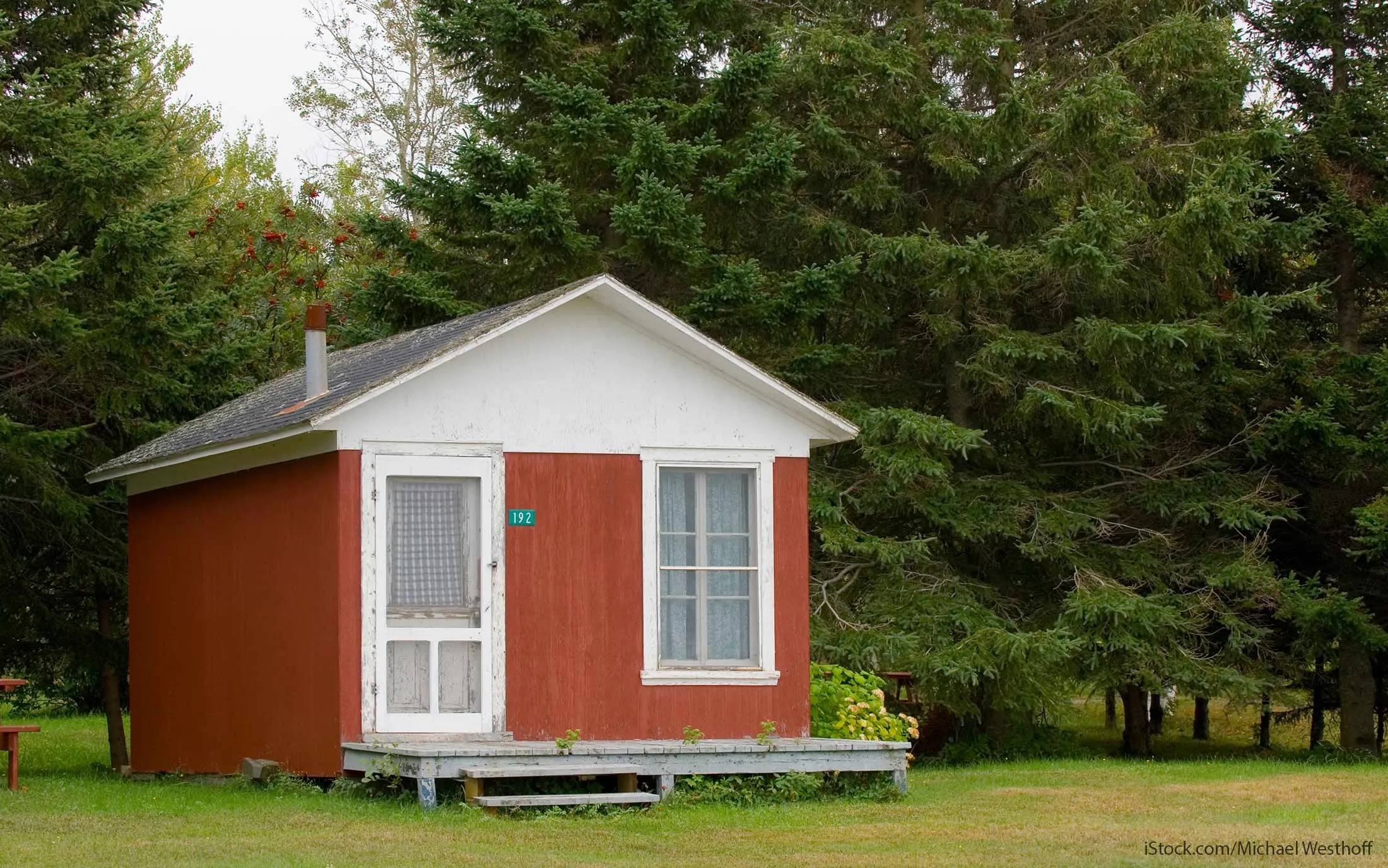 Retirees often opt to downsize to smaller houses. However, some of today's seniors are taking this trend to another level by jumping on the tiny home bandwagon. In fact, 40 percent of current tiny house owners are 50 or older, according to SeniorPlanet.org.
Retiring to a tiny house can allow seniors to reap numerous economic benefits. According to the Integrating Transportation and Community Planning program (iTRaC), 89 percent of tiny house owners have less credit card debt than the average American, and 65 percent have none at all. Additionally, tiny home owners have about 55 percent more savings in the bank. If you want to live a simpler life while protecting yourself from economic uncertainty, downsizing to a tiny house might make a lot of sense.
Here are 10 reasons that you should consider joining the tiny house movement when you retire.
1. Eliminate Your Mortgage
There's a reason that the word "mortgage" means "death pledge" in Old French. If you haven't paid off your house, and retirement is looming, downsizing to a tiny home might be a great way to escape your heavy financial burden. In fact, 68 percent of tiny house owners have no mortgages, reports Senior Planet. If you move to a tiny house, you can downsize your mortgage or pay it off entirely.
Although tiny houses have been advertised for as low as $10,000, it's important to note that the average cost of a mid-range tiny home is between $20,000 and $40,000. As a retiree, you might want to budget more money to pay for necessary upgrades, such as a wall bed instead of a loft bed.
John Weisbarth, host of "Tiny House Nation," said, "Most tiny houses are built with a sleeping loft to maximize the square footage within a small footprint, but not all tiny houses have a loft. A Murphy bed on the ground floor that folds up out of the way is a great way to maximize space. If you really want a sleeping loft, build stairs with a sturdy hand rail and be sure not to waste the space under the stairs…that's valuable storage space."
He went on to recommend that seniors budget $40,000 to $70,000 to build a tiny home on a trailer and at least $80,000 for a home with a foundation.
Are You Retirement Ready?
2. Travel the Country — From the Comfort of Home
Retiring to a tiny house means you can move your home, if necessary. Moreover, tiny houses are preferable to RVs for long-term living, as they are better suited to the cold and can handle more wear and tear.
Although it is possible to move a tiny home, doing so requires a large vehicle and a significant amount of gas. Additionally, tiny homes are not built to survive multiple moves. To keep your tiny house in good shape, opt to change its location only occasionally.
3. Live Closer to Family
When you retire to a tiny home, you gain a great deal of flexibility. If a family member has a baby and you want to help out —or if you fall ill and need help getting around —you have the ability to move closer to loved ones without committing to a lease or home loan.
Still, just because you have the ability to park your house somewhere doesn't mean that you can legally do so in every situation. Some cities have rules about mandatory utilities, while others prohibit the parking of tiny homes in backyards.
4. Less Stuff Means Less Work
The average size of a house built in the U.S. last year was 2,600 square feet, according to a CNNMoney article. A tiny house is about 10 percent of that size. Living in a smaller space means that you'll never have to spend another whole weekend cleaning out the garage or unclogging the gutters.
Tiny homes also make regular housekeeping faster and easier. For example, mopping the floors of a 300-square-foot tiny house takes far less time than cleaning one with multiple stories and bedrooms. So, instead of spending your spare time dealing with all the responsibilities that come with large living, you'll be able to do more of what you love. Opt to visit family and friends, exercise, learn a new skill or volunteer for a meaningful cause.
Are You Retirement Ready?
5. Lower Utility Bills
Depending on where you live, utilities can take up a significant portion of your monthly budget. A FoxBusiness.com article reveals that the average summer energy bill in 2013 was $395. Moreover, energy prices are expected to rise about 13 percent by 2020.
"At its very basic level, going tiny saves you time and money. A smaller home…requires less money to heat, and cool, and furnish," said Weisbarth. "Every square foot of home you own costs you money on a monthly basis. And for many retirees living on a fixed income, cutting down their monthly expenses is an attractive proposition."
6. Ability to Work Part Time
Tiny homes allow for a kind of financial stability that is appealing to many retirees. According to a 2013 Gallup poll, 61 percent of employed Americans plan on working at least part time during retirement. The most popular reasons for working later in life include staying mentally active and earning extra money, reports a Merrill Lynch Bank of America Survey.
Because retirees need less money to live when they downsize to tiny homes, they can often afford to take the jobs they want, as opposed to the ones that pay well. In this sense, living in a tiny house opens up a world of new career options.
7. Fewer Repairs
Another way that living in a tiny home saves money is that these houses necessitate fewer repairs. Since there are fewer appliances that could break and less square footage that requires maintenance, tiny house owners tend to spend less time and money making improvements.
Still, it's important to keep in mind that many of the appliances and fixtures in tiny homes, including refrigerators, sinks and toilets, are customized to fit the smaller spaces. So, if these items need to be replaced, you might end up spending a bundle.
8. Create an Enriching Retirement Experience
Living in such a small space might not be for everyone, but SeniorPlanet.org reports that people who share tiny homes with a partner have more "open communication, understanding and patience."
According to Weisbarth, "It doesn't take a special type of person to live in a tiny house…all it takes to live tiny is a willingness to try something new and an ability to be open to change."
As a member of the tiny house movement, you automatically gain entrance to a new and welcoming community in which you can share your experiences and swap tips. Senior isolation is a major problem for retirees, and the tiny house movement helps individuals stay connected while enjoying a rich and rewarding lifestyle, long after they've left the workforce.
Are You Retirement Ready?
9. Avoid Strict Building Codes
When you build your own tiny house, you can create a home that is unique to your style preferences and full of features that suit your personal needs. Building your own tiny home also gives you more freedom with the structure itself, as these domiciles are not subject to the same codes as traditional houses. According to Weisbarth, numerous counties around the U.S. are realizing the benefits of tiny homes and adapting their zoning codes to be more lenient.
Still, aspiring tiny home builders should do their research. "Every county in America has different zoning laws detailing how big, or little, you can legally build," said Weisbarth.
10. Earn Rental Income
If you aren't ready to dive head-first into the tiny house movement, consider buying a tiny house as a second home or income property. Many tiny house owners rent out their homes on sites like Airbnb for extra cash.
Jeff and Mary Quinn have both a traditional house and a tiny home in the Pacific Northwest. During peak vacation months, they rent out their traditional house and live in the tiny one.
"We love the extra income we get from renting out our larger house. We can't afford to buy two traditional homes in this area, so our tiny house gives us a lot of flexibility," said Jeff. "Plus, it serves as extra sleeping space when our children and their families come to visit. Usually they take over the big house, and we escape to our tiny retreat."