7 Reasons You Don't Want To Retire in Arizona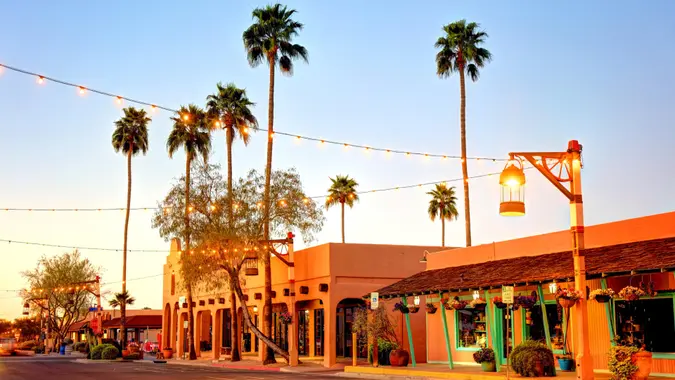 DenisTangneyJr / Getty Images/iStockphoto
Arizona is a popular state for retirees because in many ways it seems to offer the perfect lifestyle. The state has a warm climate, ample recreational activities and a lower cost of living than expensive areas like Los Angeles and New York.
But even with all of these blessings, there are a number of reasons why you might not want to retire in Arizona, and most of them are cost-related. Here are some things to consider before you decide to retire in the Valley of the Sun.
Housing Can Be Expensive
As with most states, there are expensive parts of Arizona and more affordable ones. But if you're looking to live in the greater Phoenix area, as many retirees are, you should prepare to pay a pretty penny for your housing. The average home value in Phoenix proper is $404,818, according to Zillow, about 17% above the national average. In more desirable areas like Scottsdale, home values reach $764,073, 115% over the national average. 
Rents aren't out of control in the greater Phoenix area but still run 6.3% higher than the average rent across the country, with a median rent of $1,456.
Your Air Conditioning Bill Could Run Out of Control
One of the major drawbacks of living in Arizona is that there are about five months per year when it's nearly unbearable to go outside. In addition to potentially curtailing your outdoor activity, it likely means that you'll be running your air conditioning on full blast for nearly one-half of the year. Although utility costs in Arizona are not particularly expensive, that kind of energy consumption can translate to high bills. 
Are You Retirement Ready?
According to the National Weather Service, the first day of 100-degree temperatures in Phoenix is May 2 on average, while the last day is typically Oct. 5. That's an extraordinarily long period of triple-digit temperatures, and it can definitely make cooling your Arizona home expensive.
You May Pay More To Eat
If you're living in Tucson or Flagstaff, be prepared to pay up for your groceries. While groceries in Tucson run about 3.9% above the national average, Flagstaff residents face a 10.4% premium. These costs might not drive you to the poorhouse, but if you're looking to save every dollar by eating at home, some cities in Arizona might eat up more of your budget. 
Flights Can Be Expensive
If your dream retirement destination in Arizona is Tucson, you better enjoy staying at home. According to data from the Bureau of Transportation Statistics, Tucson is the 8th-most expensive airport to fly out of in the United States, with an average fare of $470.
You'll Pay Up If You Want To Spend Your Retirement Golfing
One of the highlights of living in Arizona for many retirees is the proliferation of championship-level golf courses in the state. But if you like playing beautiful courses, Arizona green fees may chew up your retirement budget. At super-peak times, courses like Troon North and Westin Kierland can approach $600, while courses like The Boulders can charge $200 or more on certain weekends. There are certainly more affordable options and times available in Arizona, but if you're not shopping around, you may be in for an expensive surprise.
Don't Overlook Sales Tax
Sales tax in Arizona is 5.6%, but depending on the municipality, your total paid may rise to as much as 11.1% like in Tucson. In most well-known Arizona cities, total sales tax rates run from 8% to 10%. The average state sales tax is just 5.1%, so you'll likely end up paying more in taxes on your purchases in Arizona than you would in many other states.
Are You Retirement Ready?
You'll Need Fire Insurance
Fire insurance can be expensive in high-impact states, and Arizona is certainly one of those. According to the Arizona Department of Forestry and Fire Management, there isn't even a "fire season" in Arizona anymore — fires can occur at any time of the year. The Department notes that there were more than 2,500 fires in 2020 alone, burning in nearly every corner of the state. Depending on where you live in Arizona, you might have to pay up for a "high-risk" policy — and you may even have to shop around to find a company willing to provide it.
More From GOBankingRates