6 Remote Jobs for Experienced, Retired Boomers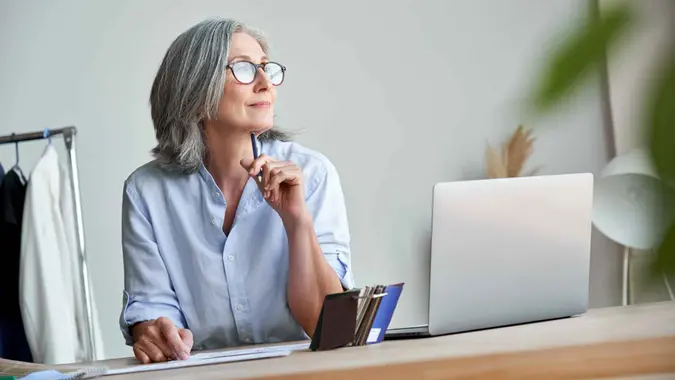 insta_photos / Getty Images/iStockphoto
As a retired baby boomer, you might be looking for ways to prepare for Social Security cuts or just have some extra cash during retirement. A remote job gives you the chance to earn while you put your valuable skills and experience to use. You can also benefit from no stressful commute, a more flexible schedule and the comfort of working from where you'd like.
Remote jobs have become common across many industries, so there's a good chance you'll find a match for your experience. Take a look at these six remote career options for experienced retirees — and their potential pay based on 2022 Bureau of Labor Statistics data.
1. Bookkeeper
With a background in bookkeeping or accounting, you could find a part-time job managing a company's books remotely using an online service like QuickBooks, Wave Accounting or FreshBooks. If you'd like more control over your workload, another option is offering your services independently to multiple businesses locally or online. Bookkeeping jobs pay about $23 an hour on average.
2. Online Tutor
If you like teaching others about your field, an online tutor job can be a flexible and rewarding option during retirement. Online tutoring platforms such as Tutor.com and Wyzant give you access to students after you complete an onboarding process. The platform may assign students or make you market yourself, and you may tutor over text, video or audio. The average hourly pay is around $22.
Are You Retirement Ready?
3. Writer
Whether you have past journalism experience or are just a good communicator, you might be a fit for a writing position. You could cover subjects you have professional or everyday experience in. In addition to applying to part-time remote writing jobs, you might be interested in contacting websites or browsing online marketplaces for freelance work. Writers make around $44 hourly on average.
4. Management Consultant
With significant business experience, you could advise companies as a management consultant and work on contract for flexibility. This is a remote job that does require a willingness to at least occasionally travel to clients and review their company's performance. This is one of the more lucrative jobs for retirees since you could average around $50 an hour.
5. Dietitian
If you currently have a registered dietitian's license, you can seek part-time jobs advising clients on improving their nutrition and reaching their wellness goals. You may communicate with them over video, email and messaging platforms. This remote job can require meeting with clients at night and on weekends. The average hourly pay is around $33.
6. Software Developer
Software development offers plenty of freelance and traditional job opportunities if you have experience working in tech and coding. You could look for a part-time role at a development company working on websites or apps. For more variety, you might advertise yourself locally and take on software projects from multiple clients. Of the six careers, this one has the most lucrative average hourly wage — around $64.
Are You Retirement Ready?
More From GOBankingRates